Patton Oswalt And Meredith Salenger Got Married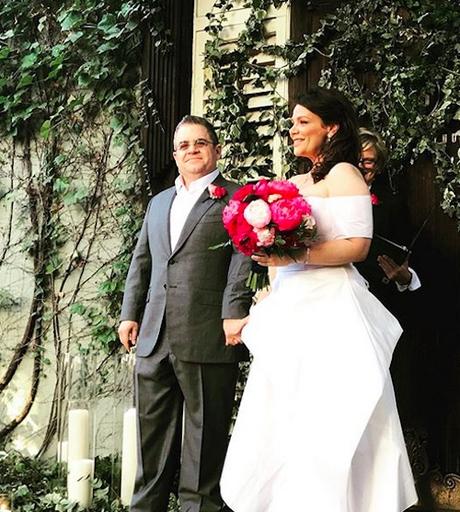 Eighteen months ago, Patton Oswalt's wife Michelle McNamara died unexpectedly in her sleep. Four months ago, he got engaged to 80s teen actress Meredith Salenger. And two days ago, Patton and Meredith got married.
I'm sure some people will be uncomfortable with that timeline, but not me. It's just marriage! It's not like they decided to buy a timeshare together. A timeshare is the sort of commitment you don't want to jump into without experiencing the relationship-testing stress of a couple tax seasons or visits to IKEA. Plus, Patton and Meredith seemed genuinely happy. Although that could just be the faces of two people who have yet to see how much damage their wedding costs have done to their bank accounts.
What'd you guys do yesterday? (Photo @jeffvespa) pic.twitter.com/WMW39tif0I

— Patton Oswalt (@pattonoswalt) November 5, 2017
E! News says the wedding took place on Saturday at the Jim Henson Company Lot in Hollywood. In attendance were Patton's daughter 8-year-old daughter Alice Oswalt, as well as Ever Carradine, Questlove, and the matchmaker who set them up, Martha Plimpton. E! says Patton and Meredith were married by a friend in a Jewish ceremony that lasted for 15 minutes. A source says that Patton and Meredith "seemed blissfully happy and in love." 47-year-old Meredith's marriage to 48-year-old Patton is her first.
There's one thing about this story that bothers me. And it's that Patton and Meredith's wedding took place at the Jim Henson Company Lot and the marriage ceremony wasn't performed by a Muppet. How did that detail get overlooked? The only explanation I have for such a missed opportunity is that Patton and Meredith scrapped plans for a Muppet-led wedding after realizing if they couldn't get the best Muppet of them all – Miss Piggy – then they shouldn't bother at all. I mean, you can't ignore the fact that a pork puppet conducting a Jewish ceremony might be seen as being in poor taste.
Pic: Instagram
Source: Patton Oswalt And Meredith Salenger Got Married
3 total views, 3 views today