Blogging Marathon# 30: Week 1/ Day 1
Theme: Cooking with Curd/ Yogurt
Dish: Patli Dal
I seem to be saying the same thing again and again, but I still can't believe that it's July already and today we begin
30th edition
of Blogging Marathon. My theme for this week is 'Cooking with Curd/ Yogurt'. I wanted to do this theme because I rarely use curd/ yogurt in cooking because of my husband's aversion towards it. He's been traveling which gave me yet another reason to take this theme :-)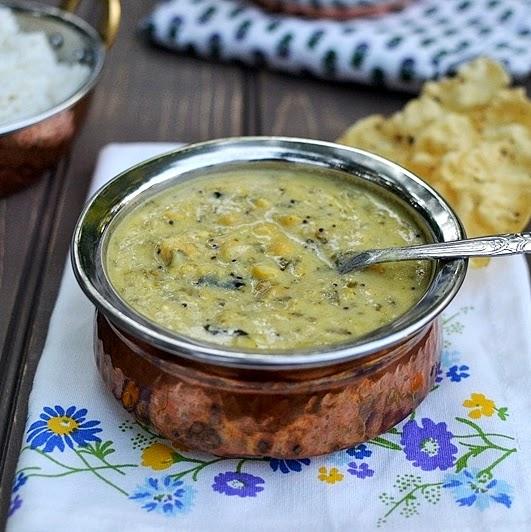 Since I'm the only one eating yogurt in the house, I used to buy yogurt from the store. But when my mom visited us last year, she couldn't get over the stickiness of the store bought yogurt. I never realized that until she mentioned it, I guess after all these years I forgot how yogurt felt or tasted back home. Anyway, long story short -- we got hold of some good yogurt culture and started making our own yogurt at home. Even after my mom left, I kept making it and recently I started feeding my daughter home made yogurt, hoping to have someone to share my yogurt based dishes in the future.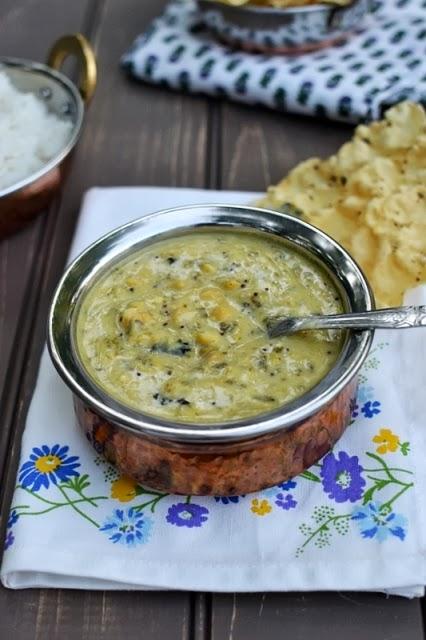 Valli wanted us to make Savory dishes with yogurt and for the first day I made this very interesting dish with dal from
660 Curries
. After reading the title and the ingredients, I was intrigued on how it would taste and I wasn't disappointed. It is a creamy and delicious dish with slight spiciness from ginger and green chilies. Definitely a worth try for all yogurt lovers or for anyone who's looking for a different recipe. Original recipe used spinach, but I didn't have it so I used kale instead.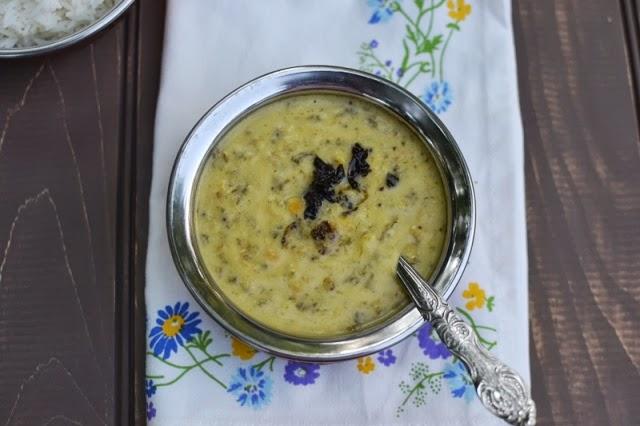 Ingredients
: Chana Dal (Yellow Split peas) - 1cup Kale - 10 oz., roughly chopped (can be replaced with Spinach) Yogurt/ Curd - 1cup Unsalted dry roasted Peanuts - 2tbsp Green Chilies - 2 Ginger - 2" long piece, finely grated Chickpea flour - 2tbsp Turmeric - ¼tsp
Curry leaves - 8-10
Mustard seeds - 1tsp
Asafetida/ Hing - ¼tsp
Salt - to taste
Method
:
Take chana dal and chopped kale in a pressure cooker. Add enough water and cook until both dal and kale are tender, about 4-5 whistles. Alternately this can also be done in a medium size saucepan, in which case, dal and spinach need to be cooked for 30 - 35 minutes.
While the dal is cooking, combine peanuts and green chilies in a mortar. Pound the mixture to a coarse paste with some chunky bits of peanuts and chilies.
Combine yogurt and ½cup of water in a bowl, whisk together. Sprinkle chickpea flour and whisk making sure that there are no lumps. Add turmeric, salt, ginger and peanut-chile mixture. Mix well and set aside.
Once dal and kale are tender, mash them with a potato masher or a spoon to break down the greens and make the dal squishy. Add the yogurt mixture and bring to a boil on medium-high heat.
Lower the heat and simmer until the mixture thickens and loses its raw floury taste, about 15 minutes.
Heat 2tbsp ghee/ oil in a small sauce pan; add mustard seeds and once the seeds start to splutter, add hing and curry leaves. Add this tempering to the dal-yourt mixture, mix well and serve.
I served the dal with some steamed rice and paapad for a delicious meal.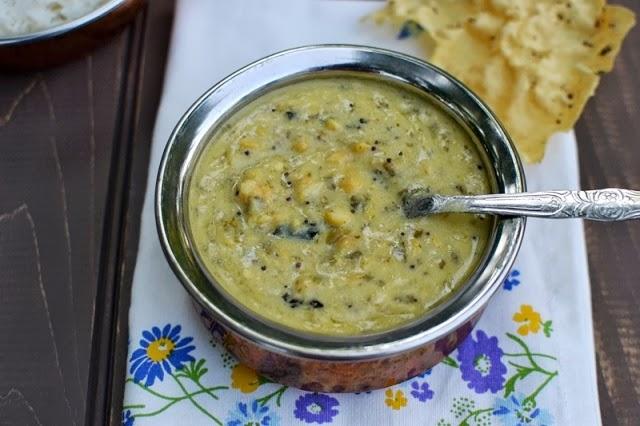 Lets check out what my 
fellow marathoners
 have cooked today for 
BM# 30