Most people who purchase picnic tables for their deck or patio find that they already come with patio umbrellas attached. This can make eating more enjoyable and safer, as overexposure to the sun can cause burns and a host of other skin problems.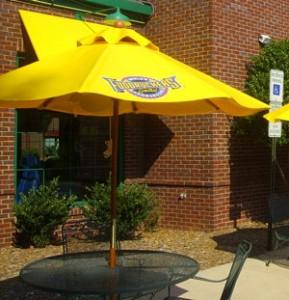 In some cases you may need new patio umbrellas to replace one that has been damaged in some way, or you may want something new for your outside area. You may also want something that is portable so that you can move it around as necessary or take it to the beach or nearby park. This can mean enjoying the outdoors all the more. If you do a lot of entertaining, you may also want a few patio umbrellas so that all your guests can get shade if they so desire and everyone is comfortable.
How do you find the right patio umbrellas for your outdoor needs? What makes ones superior to another, and how do you know if you're getting the best deal? Here are some quick tips to remember before you shop.
Know the options available.
Where and how will you use your patio umbrellas? Some are meant to replace those that go in the middle of deck tables, but others have clamps that are meant to be used on deck railings. Still others are free standing and have a heavy base. It's good to think about their use and how you'll want to keep them when outside. You also need to think about the approximate size you want. If you simply want a few patio umbrellas for added shade for guests, those smaller ones that clamp to the deck rail may work.
However, if you want to take your patio umbrellas to different areas of the outdoors then you will probably want the free standing models and varieties. For seating areas that include benches and tables, you'll want the largest size available so that everyone gets needed shade from those patio umbrellas. Take measurements if necessary so you know what to choose.
It may be best to shop online for patio umbrellas so that you can compare different varieties before you make a decision. If you just shop at your local home improvement store or retailer, you won't see a large variety of sizes and models and so you don't know if you're getting the best, or are getting the best deal. Comparing patio umbrellas online means being able to choose the ones that will work well for you and that are affordable.
Remember when you do compare prices that you want to know you're comparing the same elements, meaning the same materials, sizes, and so on. This is the only way to know if you're getting the right price comparisons on patio umbrellas. Some are more expensive because of better materials or other elements, so note this when you compare. It may be worth a few extra dollars to buy the better patio umbrellas for your outside area.