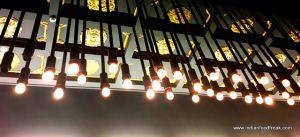 Ceiling lights
The debate, about whether the food industry is indeed going through a change or everything we're witnessing is only a dramatic play of normal events, is an ongoing one.
Either ways, one thing is for sure.  Everyone who has any stake in the business is lifting their game today. Presentation, experimentalism, diner experience, food trends‌. everything seems to be going through a paradigm shift where the paradigm seems to be getting larger and more inclusive.  It isn't either one, or the other.  Rather, layers of interpretations are getting added which makes it a very exciting time for chefs to unleash new ideas on to menus.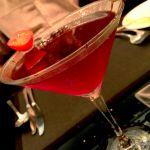 Sangriatini
Heirloom recipes exist in the same world as modernized flavours and at Patiala by Chef Kunal Kapur, they even co-exist on a single menu.
Located in the posh Souk Al Bahar, the restaurant has a completely indoor setup.  The setup doesn't allow you a view but the decor is plush.
It has a separate bar space (I discovered it a bit later into the evening) which, on the start of a weekend night, was surprisingly empty and lacking spirit (well, not quite literally!) The bar menu is actually superlative and the range and the prices are all pretty competitive.  Perhaps a mixologist and some peppy music would help to liven up the space.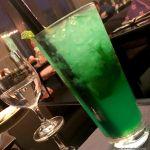 Reloaded
At our table, we ordered a Sangriatini; a wine & vodka cocktail and a mocktail called Reloaded.  While the cocktail was both innovative and impressive in flavours and balance, the mocktail was nothing unusual, a bit too sweet for my liking.  The presentation of both drinks were a slight let down.
The food menu is extensive and divided into two distinct sections.  The traditional section has some typical favourites and some lesser known but time honoured recipes. There is also an innovative section that presents Indian food in a more contemporary format.  The chef's tasting menu, which we decided to go with, is actually a best of both worlds.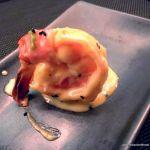 Malai Prawn
We started our tasting with the Malai Prawns – innovatively presented as a starter as opposed to its regular notion of being a main course dish.  The prawns were impeccably cooked with a much desired bite to the meat.  The malai sauce coating the prawn was delicate but more interestingly, absolutely authentic.  The aroma immediately transported me to Bengal, from where this dish may have been inspired.
The Grilled New Zealand Lamb Chops is a dish I have pretty much come to expect on any reputable menu (of any cuisine!) in the Middle East region.  There are also a countless renditions of it but Chef Kunal's version, with the sticky aampapad chutney and micro greens, definitely shot straight amongst the top 3 versions eaten.  And aampapad chutney?!  Can I have some more please?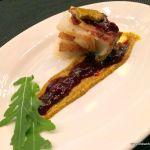 Chilean Sea Bass with Kashundi and Strawberry Chutney
The Grilled Chilean Sea Bass and the Haleem Kebab impressed in flavour and texture.  Combining kashundi – the classic Bengal mustard sauce with a sweet strawberry chutney as an accompaniment for the fish and presenting the paste-like haleem as a tikka were extremely clever ideas to turn main course dishes into starters.
The outlier to this otherwise great course were the Grilled Canadian Scallops.  The flavours I got scallop, pea and an orange chutney, none of which evoked any sense of Indian eating.  I would have been far more excited by a scallop which was either dry fried in Malabari spices or presented with a pungent Indian sauce.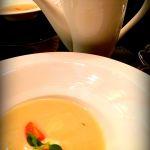 Murgh Shorba
Starters ended to be followed by soup – a course that I honestly don't care much for when it comes to Indian cuisine.  The Murgh Shorba, however, changed my opinion on Indian soups.,The shiny and flavour packed broth came in a teapot and was plated in a classic consommé style dish with cherry tomatoes and bocconcini for garnish.  The bocconcini was a hit idea as it lent a beautiful dimension and texture to a humble soup.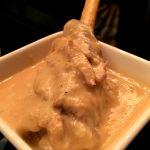 Achaari Gosht
On a non-vegetarian tasting menu one would have higher expectations from the non-vegetarian dishes versus the vegetarian ones.  For the mains, sadly that did not hold true.  The Dal Makhani and the Palak Soya stood as clear favourites.  The texture of the spinach and the strong fragrance of garlic and ghee truly made me reminisce my mother's cooking but the Achari Goshtand Dum Ka Murg were a bit disappointing.  The meat, although cooked to absolute fall-off-the-bone perfection, did not deliver the promised tanginess or pickliness that one would expect given its name.  The yogurt in the curry dominated the dish but without lending much flavour.  The chicken cooked in a nut based gravy was also a bit too rich for my liking, especially so in combination with all the other dishes presented in that course.  In fact, both the lamb, and the chicken were visually, and in terms of texture and consistency, too similar to have existed together.  I'd have preferred, one of them to have perhaps been cooked with a lighter gravy or with whole spices, or using a technique to differentiate it from the other item on the menu.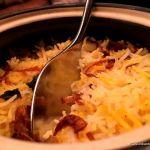 Murgh Biryani
The Murg Biryani was the best of the three non-vegetarian dishes for mains. The beautifully separated grains of rice and the aroma signature to any good biryani were all generously there.
Finally, dessert became the most beautifully plated dish of the evening.  The Bhapa Doi I would pass but the Mango Lassi Ice Cream was incredible! It totally recreated the mouth feel of gulping down cold flavoured lassi.  Though I count in minority as having a strong dislike for mango, I enjoyed my dessert and would easily go back for more.
I believe that food is eaten with all 5 senses.  Flavours are subjective.  At Patiala, I would sum up the evening as one of hits and a few misses.  What I think can be experimented with and amped up a lot more is the presentation and visual dressing up of food .It is an experience well worth a try and you could possibly end up going back too!
Ratings out of 5
Food: 3.5 | Ambiance: 3.5 | Service: 3.5 | Overall: 3.5
Meal for Two without Alcohol: Dhs400 Inclusive of taxes with appetizer and mains |
Alcohol: Yes | Credit Card: Yes|Timings: Restaurant 12:30-0.00 | Bar 12.30-02.00
Wheelchair Access: Yes
Address: P. O Box 123686, Downtown Dubai, Souk Al Bahar, Sheikh Zayed Road, Dubai, UAE
Telephone: +971 4 4519151
Disclaimer: This review was done on an invitation from the restaurant. Due judgement and care has been applied by the author to remain objective and unbiased in the review, but readers need to consider this review keeping this fact in mind.