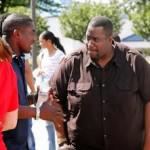 A statement from The Jericho Baptist Church Ministries Inc.'s  six person board said one of the reasons Pastor Peebles was fired and banned from the property was to make sure the church remain compliant "with the requirements of the Internal Revenue Service for a 501(c)(3) religious organization."  I'm not sure how Joel Peebles comprimises 501(c)(3) compliance but ummm, ok.  The board said their decision was made after prayerful consideration and patience.
Even befor the death of Apostle Betty Peebles there were reports of schisms between the Jericho's board and Pastor Joel Peebles.  Now it's come to this and it's a shame.  I'm waiting on more indepth information from insiders. 
According to this video, Pastor Mike Freeman sent word that Pastor Joel Peebles couldn't take anything from the church. Pastor Peebles is heard on this video saying that "Mike Freeman? Ofcourse he's the one that's always wanted this church.  That's how all this started."  Security authorities said that Mike Freeman was on a conference call with someone on the other side of the church.