Pasta with Roasted Yellow Pepper, Tomatoes and Feta
…
our quick quick lunch yesterday
…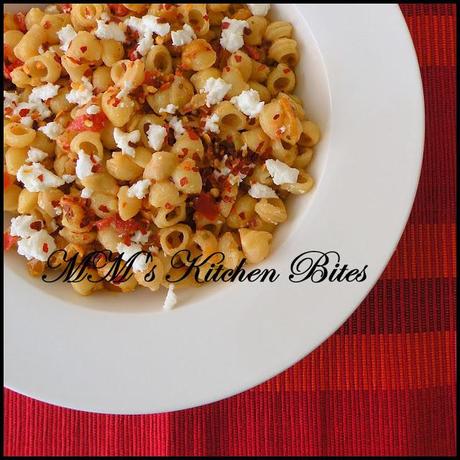 Pasta with Roasted Yellow Pepper, Tomatoes and Feta
Ingredients:
Pasta, of your choice, 100 gms

Garlic, finely chopped, 1 or 2 cloves

Yellow pepper, 1 large

Tomatoes, chopped, ½ large 

Feta cheese, crumbled, 2 tbsp + 1 tsp

Chili flakes, ¼ tsp or to taste

Black pepper, 1/8 tsp or to taste

Dried Oregano, 1/8 tsp or to taste

Salt, only if needed to taste

Lemon juice, about 1 tsp

Olive oil, 1 tbsp
Instructions:
Roast the yellow pepper in a 220C oven until the skin is black and blistered. Remove and place pepper in a paper bag or cover with kitchen towel. Once the pepper is cool enough to handle and the steam created by the paper bag/kitchen towel has loosened the skin, peel it, remove seeds and chop.
Cook pasta according to package instruction / al dente. Take out about ½ cup of pasta water and keep aside. Reserve about a ¼ cup of pasta water.
While the pasta is cooking, start with the sauce.
In a pan over low heat, sauté garlic and chili flakes in olive oiling soft. Once the garlic starts go soft, add tomatoes. 
Let the tomatoes go soft and crush them lightly to break the skin. 
Add the chopped up pepper, cooked pasta, pasta water, and chunks of feta cheese to the pan. Add a squeeze of lemon juice over top, season with oregano, salt and pepper, and toss everything well together. 
Check for seasoning, sprinkle with about a teaspoon of feta on top and serve.
And do remember, to match the size of the veggies with the size of your pasta…chop/slice accordingly