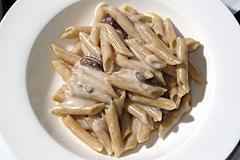 This quick and versatile recipe is another great representative of the cuisine of Northern Italy. With any kind of strong, creamy cheese and a handful of always-ready ingredients, this delicious sauce can be whipped together from scratch in minutes.
In Italy, there is absolutely no Alfredo sauce! The most famous dish that makes use of a creamy cheese sauce is 'Gnocchi al Gorgonzola', but any kind of pasta can also be used - and boxed dried pastas are actually recommended for this dish.
Ingredients for 2 people
- Béchamel sauce
  - 10g butter (1 tablespoon)
  - 10g water (1 tablespoon)
  - 10g flour (1 tablespoon)
  - 100g milk (1/2 cup)
  - some ground nutmeg
  - some ground black pepper
  - salt
- 40g of Gorgonzola, Blue Cheese or Taleggio
- One handful of crushed walnuts, pecans or pine nuts
- 20g of grated Parmigiano
- 140g of dry pasta. In the picture above you can see whole-wheat 'penne', but any dry pasta or gnocchi can be used. Ricotta and spinach, or cheese ravioli also work very well.
Preparation
1) Put butter and water in a saucepan at medium heat.
2) When butter has melted, add the flour.
3) Stir until it sizzles.
4) Gradually add the milk, stirring constantly. Bring to a boil. Add the nutmeg, the walnuts, the Gorgonzola, the Parmigiano, and adjust with salt and pepper.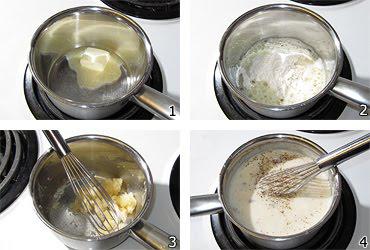 Cook the pasta "al dente", then drain it and put it back in the pan adding the cheese sauce. Mix well and serve in pre-heated plates.