Blogging Marathon# 50: Week 3/ Day 3
Theme: Different Pasta Sauces
Dish: Pasta with Curried Vegetable Sauce
Final day of this week's '
Pasta Sauces'
  is an Indian-Italian fusion dish. I was wondering what to make for the 3rd day and then saw
this recipe
in Tarla Dalal's newsletter in my inbox, so curried vegetable sauce was served for dinner that day.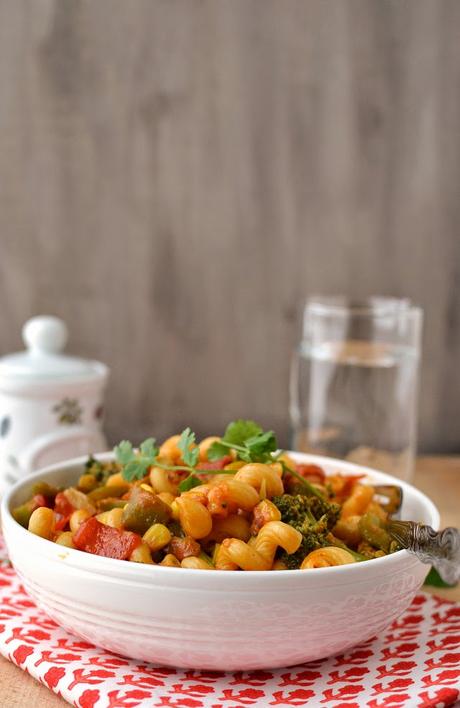 I think curry powder works well in a lot of dishes, so it's not out of place in this pasta sauce. Also adding lot of veggies makes it colorful and filling too. I used peppers, broccoli and corn along with tomato puree in this dish. A splash of cream or half-n-half is added to make the pasta just a little bit creamy.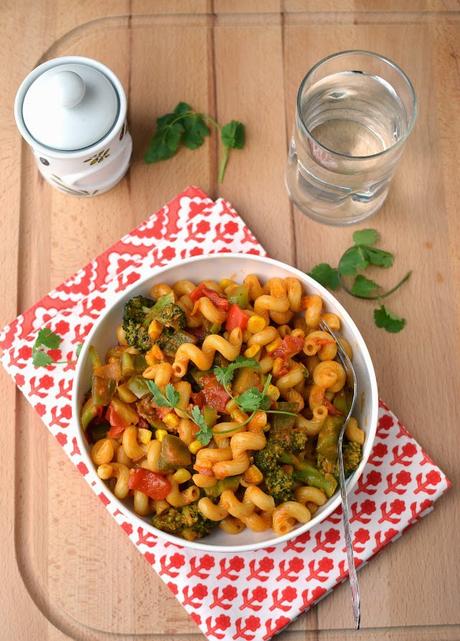 Recipe adapted from Tarla Dalal:
Ingredients
: 
Serves 4
Pasta - 8oz. (any shape & size pasta will work, I used Spinach Rotini here) Corn - 1cup, frozen
Broccoli - 1cup, cut into florets
Red or Green Pepper - 1 medium, diced
Tomato - 2 medium, chopped
Garlic - 3~4 cloves, crushed
Tomato puree - 3tbsp
Madras Curry powder - 1tsp
Red Chili powder - ½tsp (adjust as per taste preference)
Half-n-half or heavy cream - 3tbsp
Salt & Pepper - to taste
Method
:
Cook pasta according to package directions, drain and set aside. Reserve 1 cup of pasta cooking water.
Heat 2tbsp butter in a large saute pan, add the garlic and cook for 30~45 seconds or until golden and fragrant.
Add the peppers, broccoli and corn. Cook on medium flame, stirring occasionally until the veggies are crisp tender.
Add the tomatoes, tomato puree, curry powder and chili powder. Mix well and cook for 2~3 minutes.
Stir in the cream or half-n-half and salt, mix well and cook for 1~2 minutes.
Add the cooked pasta, mix well and cook for 1~2 minutes, while stirring occasionally.
Serve hot!!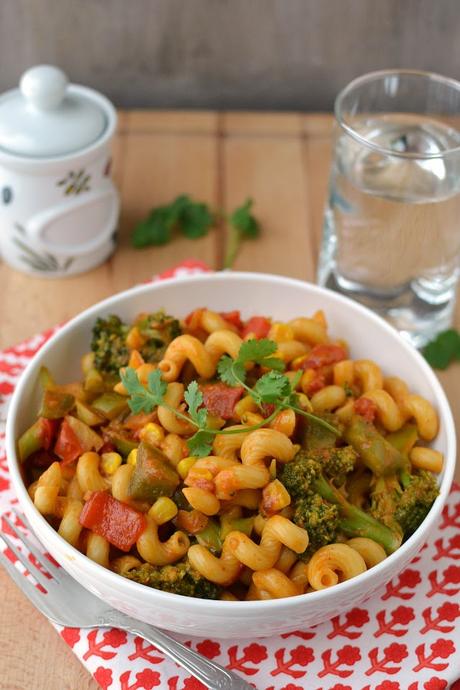 Lets check out what my fellow marathoners have cooked today for 
BM# 50
.