In this atypical post, we will go over some of the most common pasta cuts, and describe the origins of their names. We will use the following template:
Italian Name (Literal Translation)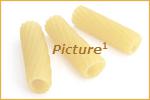 [sounds like]2
root word3
- main use(s) -4
Notes:
(1) A photo* of a pasta sample; the sizes are relative to each other.
(2) Approximately how the pasta name sounds; the accent goes on the syllable in bold.
(3) The root word that inspired the shape; usually the actual pasta name includes a modifier that hints to the cut's size:
-ini/-ine - small;
-oni/-one - large;
-etti/-ette - cute little.
(4) The main use(s) of each pasta type:
dry - boiled in salty water, drained and served with a sauce (e.g.: penne, rotini);
baked - possibly lightly boiled, then baked in the oven with filling and sauces (e.g.: cannelloni);
broth - added to a soup or a broth (e.g.: tubetti, or cut spaghetti).
Bucatini (Little Hollowed Ones) Cannelloni (Big Cute Hoses)
[boo-ca-tee-nee]
from 'bucato' = holed, hollowed
- dry -

[can-el-low-nee]
from 'canna' = hose
- baked -

Conchiglie (Shells) Farfalle (Butterflies)

[con-keel-yay]
from 'conchiglia' = shell
- dry, broth -

[far-fal-lay]
from 'farfalla' = butterfly
- dry -

Fettuccine (Small Ribbons)Filini (Little Threads)

[fay-too-chee-nay]
from 'fettuccia' = ribbon, tape
- dry, broth (cut) -

[fee-lee-nee]
from 'filo' = thread, wire
- broth -

Fusilli (Little Spindles)Linguine (Small Tongues)

[foo-sil-lee]
from 'fuso' = spindle
- dry -

[lin-gween-aye]
from 'lingua' = tongue
- dry -

Mezze Penne Rigate (Striped Half Quills)Orecchiette (Cute Little Ears)

[met-zay pen-aye ree-gah-tay]
from 'penna' = quill
- dry -

[o-ray-kee-ette-aye]
from 'orecchio' = ear
- dry -

Pennette Integrali (Small Whole-Wheat Quills)Rigatoni (Large Striped Ones)

[pen-ette-aye in-tay-gral-ee]
from 'penna' = quill
- dry -

[ree-gah-tow-nee]
from 'rigato' = striped
- dry -

Rotini (Small Twirled Ones)Spaghettoni (Big Cute Twines)

[ro-tee-nee]
from 'roteare' = to twirl
- dry -

[spah-get-tow-nee]
from 'spago' = twine, string
- dry, broth (cut) -

Tortiglioni (Big Twisted Ones)Tubetti (Cute Little Tubes)

[tor-teel-yo-nee]
from 'ritorto' = twisted
- dry -

[too-bet-tee]
from 'tubo' = tube
- broth -
* All photos © Quatro Fromaggio. All rights reserved.