Yes, this can be for breakfast, and that's exactly why I fixed it one morning~~I thought, hey, why wait til dinner, this is about as close to a great eggs and bacon as you can get!  You can pass on the toast because the pasta is your carb, and it's just fun to chow down first thing in the morning!
Caronara is an Italian dish originally from Lazio near Rome. It's a relatively 'new' type of dish starting in the 20th century. Well, that is if Wiki is correct! I love the chives with it, but you can shift that to flat parsley or basil, or heck add them all!  Enjoy and when your family sees this bowl of goodness at the breakfast table, just let 'em know you're cooking with a shot of bohomania!  xoxo ~~ally  PS~~You're not required to use spahghetti~it's your pasta choice!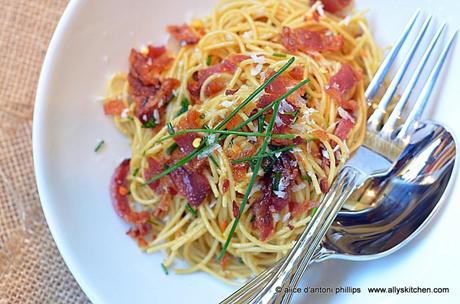 Serves: 3-4
What you need:
8-10 slices fried and chopped/crumbled thick-cut bacon (divided) (I used thick-cut hardwood smoked bacon.)
2 eggs, beaten
1/2 tsp. red chili flakes
1/2 tsp. sea salt
1/2 cup grated fresh Parmesan reggiano (plus more for serving)
1/4 cup chopped fresh chives (plus more for garnish)
12 ounces spaghetti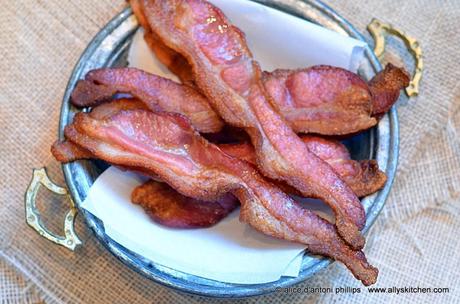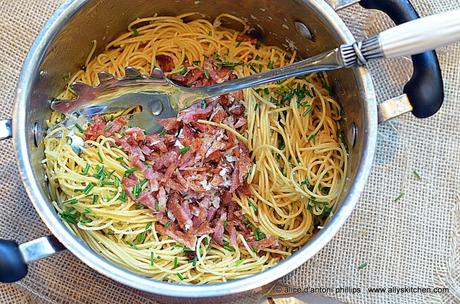 What you do:
Have the bacon, beaten eggs, grated cheese and chives all ready to go.

Cook the pasta al dente according to the package directions. Be sure to salt your water well~~it should taste like ocean water.

Drain the pasta well reserving about a cup of the water just in case you will need it. Return the pasta immediately to the pot and put the pot back on the stove burner (that's still warm). Drizzle on the beaten eggs, chili flakes, salt and toss well with a pasta utensil or tongs. The hot pasta will 'cook' the eggs.

Let this sit a few minutes to absorb into the pasta.  You may want to gently toss again.

Add about half of the chopped/crumbled bacon, chives, and Parmesan reggiano and toss well.
When serving, add more bacon crumbles, Parmesan reggiano and chives. Serve immediately!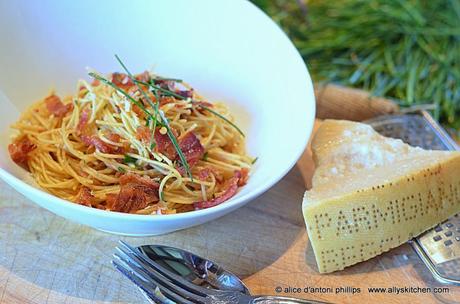 Comments
comments