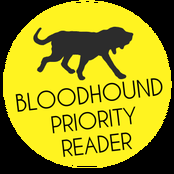 Tasked with finding a beneficiary and revealing a dead woman's secret, Jake Boulder travels to New York with his girlfriend Taylor. He also has to find his estranged father for a life-saving transfusion.
Once there he becomes embroiled in a web of mystery, deceit and violence which sees him pitted against a professional assassin known only as The Mortician. Boulder must use every drop of his courage and cunning to survive the chaos that envelops him.
***
[The four guys who surround me are all holding weapons]
***
(Bloodhound Books, ebook, 348 pages, 1 February 2018, ARC from the publisher and voluntarily reviewed)
***
***
This is the third Jake Boulder book but the first I've read. I loved Past Echoes and now plan to read the other two books. I don't feel I had to read the other books in the series to enjoy this book or understand what was going on.
Past Echoes contains two plot lines that run parallel to each other. Jake needs to find a man whose been left an inheritance by a woman he hasn't seen for 40 years and use information she's provided to expose high-level corruption. He also needs to find the father who abandoned him and persuade him to save his dying brother's life.
I love books with complex, twisting storylines. Past Echoes pulls off the two different storylines with expert skill. It was easy to follow the sequence of events despite all the twists and turns taken. This book is very fast-paced and fairly rattles along. I was gripped from start to finish.
Past Echoes is a fantastic thriller.