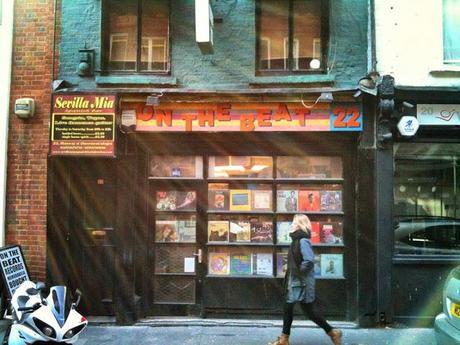 Rock'n'Roll London guide Adam writes…
One of London's finest old school record shops is up for sale.
On the Beat, tucked away in Hanway Street (above), is on eBay for offers over £300,000.
It's a bargain. At twice the price.
And we were delighted to see that owner Tim Derbyshire has used a photo from this very blog on his auction!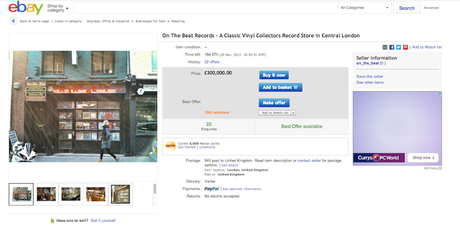 Speaking to The Daily Telegraph, Tim explained he was looking for a buyer who is, "Eccentric and not worried about making ends meet. I don't want someone to do it for the money, I want them to do it for the passion. Nobody's ever going to get rich quick running the place."
I'm leading the Rock'n'Roll London Walk this Friday at 2:00pm. If enough of you join me (and on Wednesday night for the Rock'n'Roll Pub Walk) then perhaps I can raise the money to buy it.
You can view the auction HERE. (Postage hasn't been specified.)
A London Walk costs £9 – £7 concession. To join a London Walk, simply meet your guide at the designated tube station at the appointed time. Details of all London Walks can be found at
www.walks.com
.