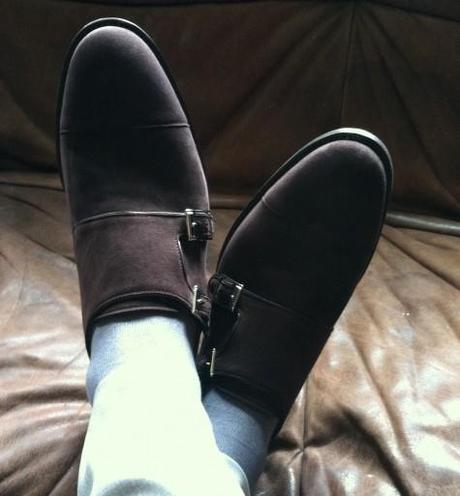 You know that feeling you have when you walk into your home after a long day and all you want to do is kick off your shoes?
Say goodbye to that feeling. My double monks from ShoePassion.com are so comfortable that I hesitate to switch to my houses shoes when I come home. And that's from a guy who has more than one pair of Belgians, too! What's so great about the shoe? Let's start with a timeless, English style. The rounded toe is never going to go out of fashion and is appropriate to all situations.
On to construction.
There is a saying that goes: if you want a car that you're going to drive everyday, go with German engineering. Well, the same may hold true for shoes, if ShoePassion is any indication. My double monks were designed in Berlin and handmade in Spain. The leather is outstanding and there is a lot of it— uppers, inner lining, insole, outsole, and even the heel is made of stacked leather, as it should be. Speaking of the heel — there is an angled cut on each that eliminates the fear of your catching your trouser cuffs  and tearing the material. ShoePassion refers to it as the "gentleman's corner." While they are not the only company to do this, it's a thoughtful detail.
Best of all, these are Goodyear-welted shoes. The Goodyear welt is, as you know, that strip of leather sewn between the outsole and the insole that allows for the shoe to be resoled, prolonging its life. And you're going to want to resole ShoePassion's offerings. They are so comfortable and stylish that they are guaranteed to be among your most worn pairs.
The online ordering experience is easy and the printable sizing charts help narrow down your size to ensure the best fit. Included in your box is a free set of Vibram soles that you can have a cobbler attach should you prefer them to all-leather! Shoe care tips, and shoe bags make care very easy for your new pair. Matching belts are available, too.
Style, comfort (did I mention how nicely the double monk hugs my instep?), great construction, all at a fair price (less than $300 at the time of this writing, excluding shipping.) I'm passionate about ShoePassion.com's offerings.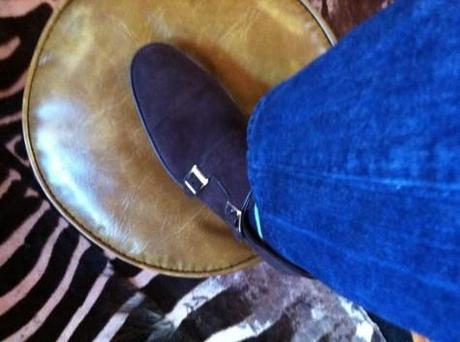 (Full disclosure: I was given the shoes to review. That has not affected my enthusiasm to any extent. These are great shoes that I recommend without reservation.)