Delicious appetizers, these parsley balls are traditional in the Armenian cuisine.
During hot summer days, they go perfectly with cold and lightly salted kefir drink or, if you prefer, beer

I also serve them as a main dish combined with cold yoghurt soup.
Parsley Balls Recipe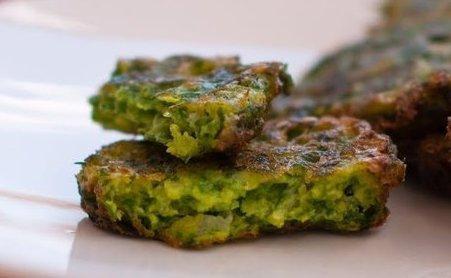 Serves: 8 – 10
Prep time: 45 min.
Cook time: 15 min.
Total time: 1 hour
Meal type: Appetizer, Main Dish
Ingredients
3 bunches parsley
100g white brined or feta cheese
2 eggs
2 cloves garlic
1 stalk green onion
1 tablespoon flour
pinch baking soda
flour (for rolling)
olive oil
Notes
1. I don't add salt to this recipe as the feta cheese I am using is quite salty.
Directions
1. Cut the parsley very finely.
2. Smash the cheese and add it to the parsley.
3. Chop the garlic and the green onion, and add them to the parsley mixture.
4. Add the eggs, the flour and the baking soda. Mix everything with a hand.
5. Allow the mixture to rest for 30 min. in the fridge.
6. Take a spoonful of the mixture and shape it as a meatball. Roll it in flour and fry it in a bit of olive oil for only a few seconds on both sides. Do the same with the rest of the mixture.
7. Drain the parsley balls on a paper towel.
Parsley – Not Just a Garnish
Apart from being delicious, parsley is also an excellent source of vitamin K (healthy bones and tissues), vitamin A (healthy vision and immune system), vitamin C (healthy skin, bones and tissues), potassium (normal blood pressure) and iron (to prevent anemia). It has also cancer-fighting and diuretic properties.