Peas are a fabulous vegetable. Not only are they healthy, but they're super versatile for using in recipes like this parmesan pea soup. Served hot, warm, room temperature or cold, I'm really a pea lover!
Now when I cook peas, I like to use the petite size rather than the larger pea. And, I really think that for any recipe the frozen version is much better. It's color is more vibrant making for more beautiful dishes, and it's healthier because it's frozen immediately rather than put through more processing. Right at the peak of ripeness, the freezing process halts the process of the sugars in the peas being turned to starch. Another thing about frozen peas. Well, that's all you get, frozen peas. No extra water or anything else. Sometimes I wonder about fresh versus frozen versus canned. Well, wonder no longer because Eating Well solves that dilemma for us. And, in the case of peas, frozen comes out on top!
Now, if I can get my hands on fresh peas, I am ecstatic. But, that doesn't happen often. When I see them at the grocer or farmers market, you bet I'm gonna swoop them up! And, I'm sure to use them pronto because those garden-fresh gems start turning the sugar in the peas into starch real fast. This means that they can get grainy and dull tasting. I reckon the bottom line is, frozen peas are the winner. And, that's what I used in this creamy Parmesan pea soup.
There were four of us dining. We ate this entire pot of soup. Serving hot crusty bread with it just put it over the top, but there are some other great options for serving that I'm going to use next time! This creamy parmesan pea soup is a huge winner. Perfect annnneeeee time of the year, it's a bowl of rich dreamy goodliness that's sure to make you a hero in your own home!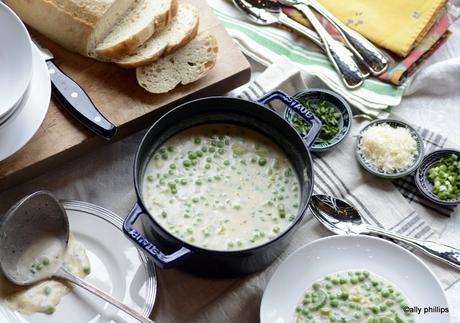 Ingredients
3 Tbl. salted butter
1 Tbl. garlic, minced
¼ cup sweet onions, minced
3 Tbl. rice flour (can substitute sifted all-purpose flour)
3 cups chicken broth, divided
2/3 cup heavy cream, divided
½ tsp. sea salt
1 tsp. coarse ground pepper
2 cups celery + green leaves, sliced thinly
½ cup green onions, sliced thinly
¾ cups parmesan regianno, freshly grated
1 (16 oz.) bag frozen petite peas
¼ cup flat parsley, finely chopped
GARNISH IDEAS:
Freshly grated parmesan regianno
Green onions thinly sliced
Fresh chopped flat parsley
Homemade (or store bought) Croutons

I
Instructions
Notes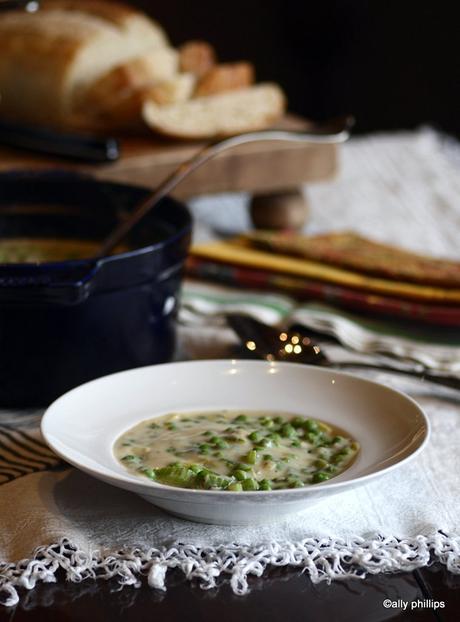 comments