We hate to review a TV series for the 3rd week in a row, but there just aren't ANY good movies lately. And could this show BE any funnier?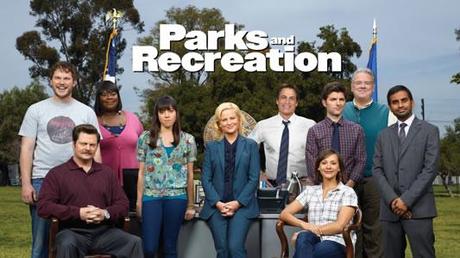 The Parks & Rec gang
In its first season, Parks & Recreation was written off by many as the wannabe little sister of The Office. It's not hard to understand why. The shows were born of the same parents – writers/producers Michael Schur and Greg Daniels – and were both part of the NBC family. They looked an awful lot alike – workplace comedies with rich ensemble casts, dorky bosses, and so-awkward-it's-funny comedic moments. They even dressed alike, sharing the same faux-documentary style.  The resemblance was pretty uncanny.
As with any pair of siblings, people were quick to make comparisons.  General consensus was that Parks & Rec was the less-funny of the two.  The Office was the popular big brother, and Parks & Rec was the ugly duckling little sister. Ahh, sibling rivalry.
For those of us who stuck with these shows, though, we've watched the popular older brother start to age and sag. Meanwhile, the little sister has blossomed into quite the attractive and amusing young lady.
Now in its fourth season, Parks & Rec has hit its stride. SNL-alum Amy Poehler is a large part of its success. She stars Parks employee Leslie Knope, a character who in her first iterations was almost unlikable in her die-hard enthusiasm for government work. By Season 4, Poehler and the writers have revised and perfected the Leslie character. Now, Leslie's an incredibly hard worker, but also someone you'd want to have a beer with. In short, perfect for public office!
Indeed, public office is exactly what Leslie has in mind in Season 4. She's running for City Council, and has recruited her friends/coworkers to run her underdog campaign, with hilarious results. The supporting cast is outstanding, each with unique quirks and the ability to play drunk to great effect. We personally think they out-funny the crew of The Office – there's not a weak link among the bunch.
So, while The Office, Season 8 was also just released on DVD, we have to go with Parks & Recreation, Season 4 as our "You Gotta Check This Out Pick" of the Week!
What do you think??