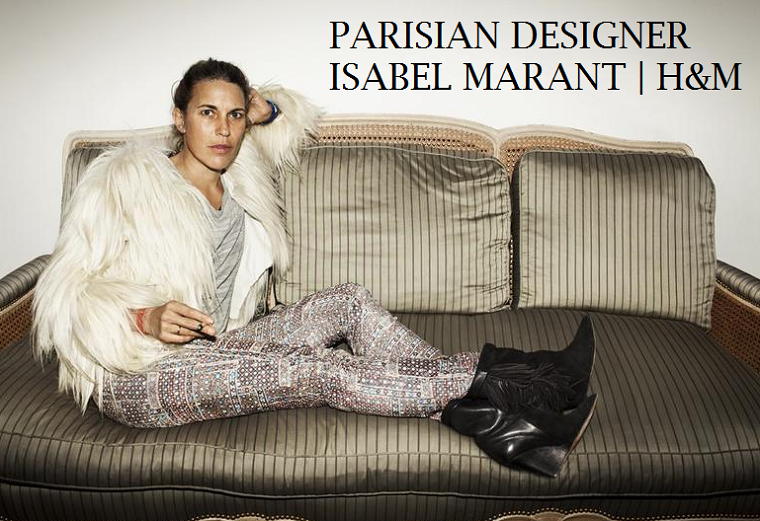 Photograph obtained from here
Words are my own unless otherwise stated.
Whilst doing what I do best first thing in the morning; sipping on my tea (milk with two sugars) and scrolling the news feed of twitter (a routine of many first thing in the morning I'm sure), I was pleasantly surprised to hear the news that
H&M
is set to collaborate with yet another high-end fashion designer. H&M is a globally accessible and affordable fashion label, that through its collaborations, offers the customer a slice of the high life for a fraction of the price. After collaborating with the likes of Karl Lagerfield, Stella McCartney, Marni, Versace, and most recently Beyonce, H&M has announced that its latest design collaboration will be with Famous French Designer Isabel Marant. The collection is set to be minimalist and simple, capturing a collection of essentials that are perfect for everyday wear and one that, of course, will encapsulate her take on Paris Chic. Marant's collection will not only be available to women, but also for her first time ever, for men, and is set to launch worldwide in-stores and online later this year.
If you are not all too familiar with Marant, the iconic hidden-wedge trainer was in fact inspired by the Parisian designers first original creation. In understanding the woman behind the boho chic, effortlessly dressed and minimalist make-up, this snippet from Vogue's website sums up the designer perfectly "You know her. The French girl with the just-rolled-out-of-bed, can't-be-bothered look. She pulls on last night's clothes - slouchy tee, gray jeans. Fingers through the hair, a touch of makeup, and she goes out. Yet she looks smashing. Perhaps it's her ankle boots (scuffed just so), boyish jacket, and lambskin shoulder bag. Or maybe it's the way that skinny chain-mail scarf or mass of bracelets comes off as an afterthought. Equal parts confidence and nonchalance - that's what makes this Gallic girl so enviable, and no one captures it better than Isabel Marant" (You can see more of the article here).
There is little word on the road as of yet, but there are plenty of speculations of what we can expect to see come November 14th. Jess Cartner-Morley, The Guardian's Fashion Editor, has given us a taster, envisaging a collection that would undoubtedly include fragments of Marant's signature pieces. From "peasant blouses with ethnic detailing, cowboy shirts, and bomber jackets in oriental embroidered silk, to cropped skinny jeans and slouchy ankle boots; whilst on the accessories stand, a Navajo-style belt and/or perhaps a fringed cross-body bag seem highly probable" (Read more
here
).
Will you be setting your alarm and queuing up outside stores in order to bag a slice of Marant's Parisian inspired collection? Have you bought from past H&M collaborations? If so, who?

I must just mention that today is British Couture's first birthday, so Happy Birthday ol' blog! I have met some special readers along the way and have also had the opportunity to work alongside some great people and brands, which I hope to continue to work alongside in the future, whilst also exploring and pursuing new opportunities. This is definitely something I want to keep up as it has certainly opened a lot of doors for me this past year. All I need to say is an enormous thank you to everyone who reads, supports, emails and tweet's a darn lot of lovin'. I was going to try and get a website makeover and make some adjustments for it's first birthday, but other things got in the way. I'm just in the early stages of planning and hope to get it sorted as soon as possible. I'm such a perfectionist - I promise I won't keep you waiting too long!