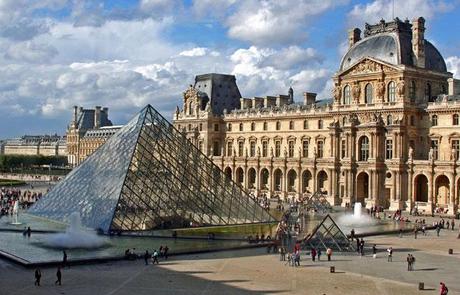 A frequently asked question from my tour clients is "What museums are open on Monday?" I always automatically answer the Louvre and that is satisfactory but I did some research to see what other museums are open on Monday.
Curiously when I Googled "Paris museums open on Monday", all that came up was museums closed on Monday. With a bit more research, I put together a list of museums open on Monday. If you know of any that I haven't listed, please share it in the comments section.
In related news, an announcement was made two weeks ago that the Louvre, D'orsay, and Palais de Versailles will be open seven days a week starting in 2015.
The Louvre
 9AM-6PM
Rue de Rivoli, 75001
Metro: Palais Royal-Musee de Louvre  
 9AM-6PM
Centre Pompidou
11AM-9PM  
Place Georges-Pompidou, 75004
Metro: Hotel de Ville, Rambuteau
Shoah Memorial/Holocaust Museum
10AM-6PM
17 rue Geoffroy l'Asnier, 75004
Metro: St. Paul
L'Orangerie
9AM-6PM
Jardin Tuileries, 75001
Metro: Concorde
Jewish History Museum
11AM-6PM
71 rue de Temple, 75004
Metro: Hotel de Ville, Rambuteau
Cité de l' Architecture
11AM-7PM
Palais de Chaillot
1 place du Trocadéro 75116
Metro: Trocadero
Delacroix Museum
Open 9:30-5PM
6 Rue de Furstenberg, 75006
Metro: St. Germain de Pres
Guimet Museum of Asian Art
10AM-6PM
6 Place d'Iena, 75116
Metro: Iena
Grand Palais
Metro: Champs Elysees- Clemenceau
Gustave Moreau Museum
Open 10:45AM-12:45PM, 2PM-5:15PM
14 Rue de la Rochefoucauld, 75009
Metro: Trinite
Cluny Museum
Open 9:15AM-5:45PM
Metro Cluny-La Sorbonne / Saint-Michel / Odéon
Marine Museum
Open 11AM-6PM
Palais de Chaillot
17 place du Trocadéro 75116
Metro: Trocadero
Natural History Museum- Evolution Museum
Open 10AM-6PM
36 rue Geoffroy- Saint-Hillaire, 75005
Metro: Place Monge, Censier-Daubenton
My Paris Apartment for Rent
I am renting my fabulous Paris apartment in the heart of the Marais near St. Paul metro, from November 30 to December 16, a total of 17 nights. It's a spacious one-bedroom 750 sq. ft. loft style apartment with 12 ft. ceilings, decorated in chic Mid-Century Modern furniture and sleeps two people in a Queen size bed. Amenities include washer/dryer, 16" flat screen TV, dishwasher, internet connection/Wifi and free long distance calls to the U.S.  The apartment is located on the second floor with a large elevator.
The price is 2800 euros/165 per night for 17 nights, 1500 euros for 7 nights, and anything in between 7 & 15 nights, 175 euros per night. Minimum rental 7 nights or 1500 euros. Photos upon request.
Please email me at [email protected] if you are interested.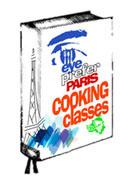 New! Eye Prefer Paris Cooking Classes
I am happy to announce the launch of Eye Prefer Paris Cooking Classes. Come take an ethnic culinary journey with me and chef and caterer Charlotte Puckette, co-author of the bestseller The Ethnic Paris Cookbook (with Olivia Kiang-Snaije). First we will shop at a Paris green-market for the freshest ingredients and then return to Charlotte's professional kitchen near the Eiffel Tower to cook a three-course lunch. After, we will indulge in the delicious feast we prepared along with hand-selected wines.
Cost: 185 euros per person (about $240)
Time: 9:30AM- 2PM (approximately 4 1/2 hours)
Location: We will meet by a metro station close to the market
Class days: Tuesday,Wednesday, Thursday,Friday, Saturday, and Sunday
Minimum of 2 students, maximum 6 students.
Click here to sign up for the next class or for more info.
 

I am pleased as punch to announce the launch of Eye Prefer Paris Tours, which are 3-hour walking tours I will personally be leading. The Eye Prefer Paris Tour includes many of the places I have written about such as small museums & galleries, restaurants, cafes & food markets, secret addresses, fashion & home boutiques, parks, and much more.
Tours cost 210 euros for up to 3 people, and 70 euros for each additional person. I look forward to meeting you on my tours and it will be my pleasure and delight to show you my insiders Paris.
 Check it out at www.eyepreferparistours.com 
Click here to watch a video of our famous Marais tour