Though many have grown to expect the darkness of the avant-garde style normally displayed during Paris Fashion Week, recent years have turned away from this, focusing on lighter themes and colors. This year has continued moving away from the edginess of tight blacks and whites, instead looking to colors and flowing silhouettes. These are two of my favorite shows from over the past week.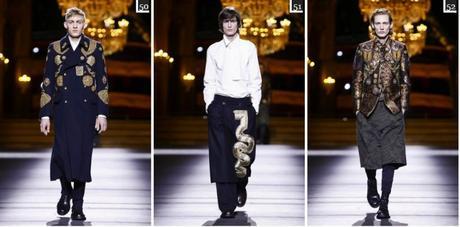 Dries Van Noten was the only member of the famed Antwerp Six to present a collection this week in Paris (Ann Demeulemeester's eponymous label did have a show, but the label is currently headed by Sebastien Meunier). Unlike his colleagues, Van Noten's energy has not shown any sign of slowing down since his graduation from the Antwerp Academy in 1980, and certainly shows none this year, as he presented a Men's' Fall/Winter 2016 collection full of eye-popping eccentricities and flair. Patterns and embroideries snaked and crept across coats, jackets, pants, and shirts, drawing attention with their variety of colors and shapes.
Interestingly, military patches were sewn on sleeves chests, but were turned and mirrored to create new patterns, giving a playful twist to what is normally a symbol of serious authority. Most notably, something closely resembling a bulletproof vest was adorned with a number of colorful patches, giving it the appearance of a majestic knight's armor. Slim and loose trousers alike found their way on to the runway, sporting a variety of silky, starched, gleaming, smooth textures. While the show seemed like a mixing pot of colors, details, intricacies, and ideas, it seemed to boil down to a wearable fantasy. The beautiful uniqueness and details Van Noten adds fit with the standard format of pea coats, bomber jackets, trench coats, and button-down shirts to create something amazing and new.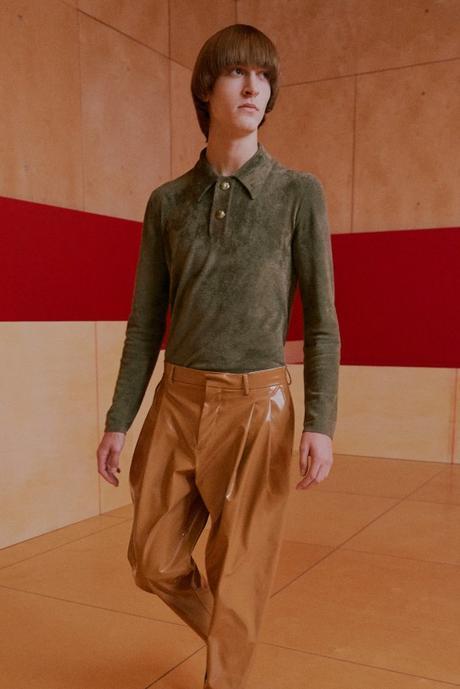 Swedish brand Acne Studios has always ridden the fine line between contemporary wear and high end fashion, with their minimalistic and highly wearable basic pieces next to their more innovative and runway-esque designs. This season continues with a blending of the two styles, showcasing simple coats, suede button-downs, wool cardigans, and pants decorated with oversized buttons, extra buttons, and buttons as seams. On top of what seems to be a button motif, there were stitched on strips of fabric and a few intentionally undone extra long cuffs on the wrists of shirts.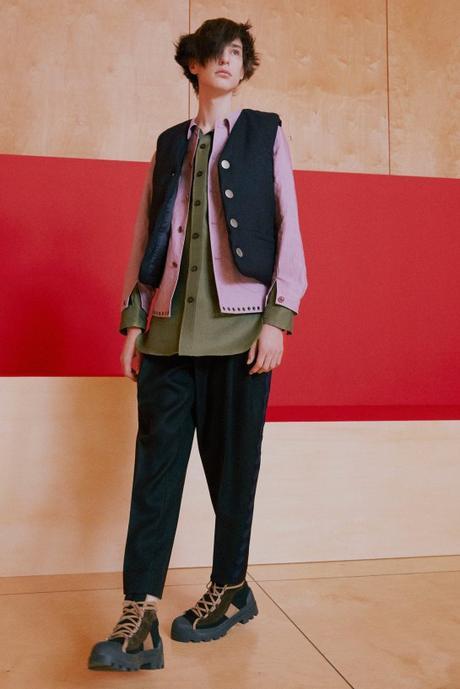 Boho chic inspirations were obvious here with the loose and relaxed vibes of each silhouette. Large sections of uninterrupted fabric showed off the rich textures on each garment: the visible fuzziness of a navy oversized wool coat, the softness of a casually unbuttoned suede vest, the shining smoothness of bright green pair of leather pants. Long hair, often covering eyes, and bandannas adorned heads and necks, following the hint of 80's resurgence set by the high-waisted and loose pants many looks featured. One thing that may surprise those familiar with Acne Studios is the lack of a heavy androgyny focus the brand displayed in other recent collections. Regardless, the show stayed true to the core characteristics of the brand, with its minimalistic but unique focus.