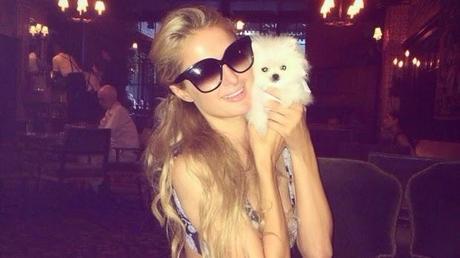 Photo via Twitter @Parishilton 
Paris Hilton spends $13K on the world's smallest Pomeranian
By Stacey Gonzalez
*UPDATED*
Fashion icon, DJ and heiress 
Paris Hilton
is well known for being a fan on small, tea-cup
dogs
. Her newest pet is Mr. Amazing- an adorable pup that is alleged to be the world's smallest Pomeranian.
Hilton announced the arrival of Mr. Amazing via Instagram and according to a Sept. 12 report by 
TMZ
 the dog cost a pretty penny- $13,000 for the tiny Pom.
READ MORE!
Joanne Pauze of 
Betty's Tea Cup Yorkies
 in Calgary claimed to 
CBC
 that Hilton's new dog is the smallest of its breed in the entire world. The dog is alleged to weigh 11.6 ounces and stands 2.5 inches tall."My baby just arrived! I am so in love!!!" Hilton posted to Instagram on Sept. 12.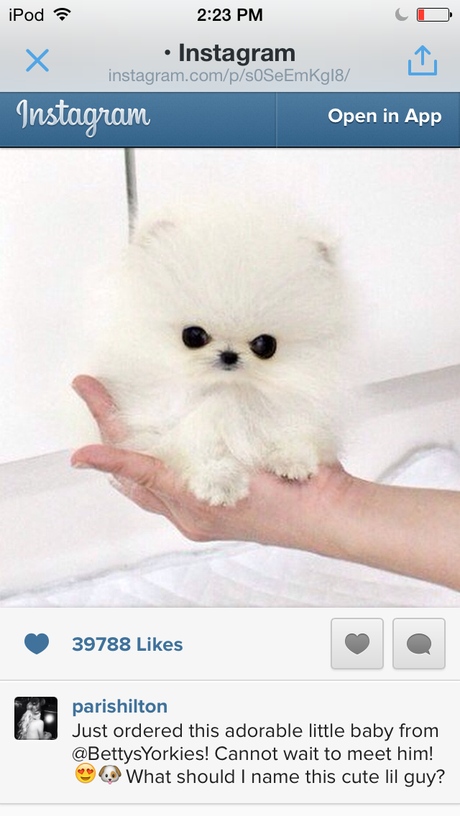 Photo via Instagram @Parishilton 
The 5 month Pomeranian was bred in Calgary at Betty's Tea Cup Yorkies and traveled to Bowery Hotel in New York Friday night to unite with his new pet parent Hilton. The dog was coined Mr. Amazing by the breeder but Hilton has reached out to fans via Intsagram for advice on what to name the pup."He's so perfect! I need the perfect name for him!" Hilton posted to Instagram. "Does anyone have anymore name suggestions for my precious lil angel baby?"Many fans have offered suggestions but no name has been officially chosen. Fans of the heiress will have to stay tuned to see if Hilton will announce a new name for her most recent furry family member.
*UPDATE*
Hilton's tiny Pomeranian now has his own Instagram account
and is living the charmed life with his 'mommy.' He appears to have been names Prince Hilton.