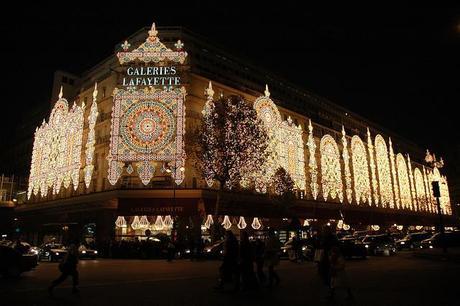 Galleries Lafayette – Photo by Bretwayn
Christmas in Paris, Just saying the words creates an image of wonder and excitement. Nowhere else in all of Europe can you experience the beauty and bounty of dazzling lights, surrounding historical monuments, churches and museums as well as all over the streets and in every shop window. More than three hundred sites all over Paris come alive with vibrant, creative colours, themes, displays and aromas. Even the lodgings, from a cheap Paris hotel all the way up to the most expensive five star accommodations will dress up for the holiday season. The glamour envelopes the entire city and it all bursts forth with the beginning of the Christmas Market season.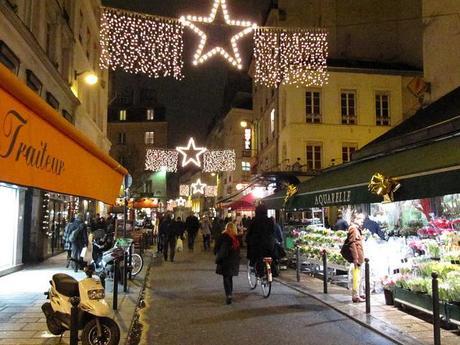 Photo by Dhaun.
The cold crisp temperature is the perfect environment that allows the pleasant odours of open fires, roasted chestnuts, scented candles, spices and perfumes to waft through the air and delight your senses. The aromas of Parisian chocolate, vanilla and liquors float out of the local shops where their essence lingers to entertain your nose and moisten your palate. Coffee shops and tea rooms demand your entrance when the drifting flavours of deep brewed roasted beans, slow seeping tea leaves and melted cocoa encircle you. You are helpless to resist.
When the traditional European Christmas markets began really depends on who you ask. Some people believe it began in Dresden in 1434; some say in Bautzen in 1384; while others say the tradition began in Alsace in 1570. Regardless of when the markets began it is safe to say that it is an old tradition that stands strong in our present time.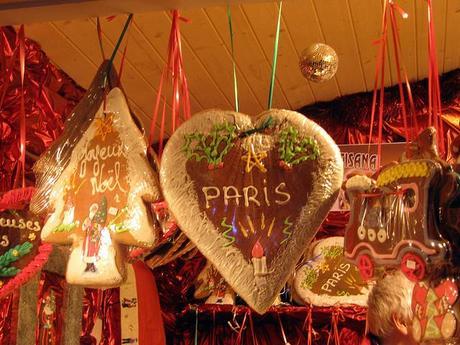 Photo by Visiting EU
The Paris Christmas market season, called Marches de Noel, is an annual month long holiday all to itself, beginning in late November and going throughout the month of December. Every year there are new creations in clothing, cosmetics, cologne, edibles, home furnishings, electronics, leather goods, art work and homemade wines. For those who have only dreamed of a Christmas vacation in Paris; this year, at this time, during this holiday season is the absolute perfect time for that trip. The economic environment is at a point where travellers have the upper hand. Flights are very reasonable, top quality hotels are offering luxurious suites at bargain prices and the American dollar to the Euro exchange rate is currently stronger than in the recent past.
Paris, the city of lovers and designer fashion, is home to the most glamorous department establishments in the world. Printemps on Bouleward Haussman is a shopper's haven for clothing, jewelry, cosmetics, and home accessories. It is located in an original Belle-Epoque building that includes a rooftop terrace with a breathtaking picturesque view of all of Paris. Its holiday decorations are exquisite and delightful. Whether shopping is your aim or sightseeing, this building is not to be missed. Another Paris department store is the Galeries Lafayette, opened in 1893, is a world renowned icon for its location in a magnificent Art Nouveau structure as well as its housing of designer clothing, cosmetic, and jewellery shops plus the enormously famous food market, Lafayette Gourmet. The holiday decorations are vibrant and dramatic, rivalling all holiday decorations throughout the country. You do not need to make a purchase to come and view the holiday displays.
There are endless unique, individual treasures to be found throughout the various Paris Christmas markets. The most notably recognized location, Champs-Elysees, is the background for the Champs-Elysees Christmas market located on the Avenues des Champs-Elysees. The merchants are housed in storybook size white chalets and there is a carousel for the children. The air is permeated with the aroma of crepes, waffles, wine, fruit and chocolate. The lights and decoration alone are worth writing home about. Maison d' Alsace Christmas Market, also located on Avenues des Champs-Elysees, specializes in wooden toys and handmade Christmas tree ornaments.
One of the largest and most colourful Christmas markets, with over three hundred and fifty stands, is the market at La Defense, on Parvis de la Defense near the Grand Arch. The Jardins du Trocadero Christmas market, on Place de la Trocadero, is situated in the shadow of the Eiffel Tower. There are over one hundred stands specializing in handmade gifts and ornaments, mouth watering mulled wine and hot chocolate and French gourmet delicacies. As you walk from one stand to another, perhaps a warm drink in your hand, bundled up against the cold crisp air; you can observe the skaters on the ice rink or watch the Eiffel Tower as the sun sets and the monument is illuminated in its brilliant nightly robe of lights.
The magic of Paris during the Christmas holiday is ready and waiting for you. Whether a cheap Paris hotel or a five star accommodation; make your reservations today for the trip of a life time. Who knows, you just might make Paris your annual holiday home.
This article was brought to you by a guest writer for AnyTrip.com, the budget travel specialists. If you want to visit Paris yourself, check out AnyTrip's selection of cheap hotels in Paris.