For certain, Paris saw me making those tourist moves across the city during my first official day in the French capital. Although my schedule was packed, I was never allowed to miss any meals! Oh yes, those servings were dished up to me in other forms than food or drink because Paris gave me that vibe, anything was possible! Paris, I was ready for my Breakfast, lunch and dinner!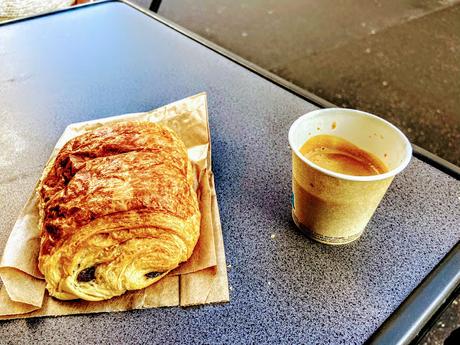 Fresh from my visit to the Lourve, Paris had me wanting some breakfast! I didn't have any options to be shy, I walked into one of the first 'Pâtisserie's' after that 'Mona Lisa' moment because I was hungry! Not envious of those baked goods, I did my best to order a 'Pain au chocolat' and a 'Café espresso' in French. First of all, my interpretation of those numbers in French had me thinking that my 'first' breakfast of the day would cost me €25.00 instead of the actual price, which was €2.50! I needed to re-learn those denominations in French with the quickness! Taking a seat street-style had me feeling that 'Paris Breakfast Fantasy!' That chocolaty baked treat had me tasting pure buttered pastry with a healthy chocolate sensation. The coffee almost knocked my head off my shoulders, that stronger than strong coffee had me flying! Best of all, those Sunday morning settings allowed me to appreciate that Parisian city thoroughfare at a chilled pace. That breakfast had me feeling much better. You're a star, baby!
Walking through those city streets with the Pantheon in my mind, I had cravings for another breakfast! Yes, I wanted to flex those French skills whilst purchasing another sweetened snack! 'Maison Grégoire' stopped me in my tracks because I wanted to experience a true Parisian 'Pâtisserie-Boulangerie-Traiteur' all in one visit! Ordering my very own 'Tarte aux Pommes' and 'Café long' in French once again allowed me to try speaking more in that local tongue. Complimented by some ladies who were behind me in the queue was a great feeling, I thanked them all the same. Baby, that second breakfast hit different with such views and energy of the city as that lazy Sunday scene turned into a more lively view. I adored that sweetened apple tart, I will definitely be making my own during a future 'Recipes With... Miss France!' The second coffee wasn't as potently strong as the first had tasted, I enjoyed that secondary caffeine boost with Paris getting on its groove. Two different looks both appreciated the same. Tellement chic!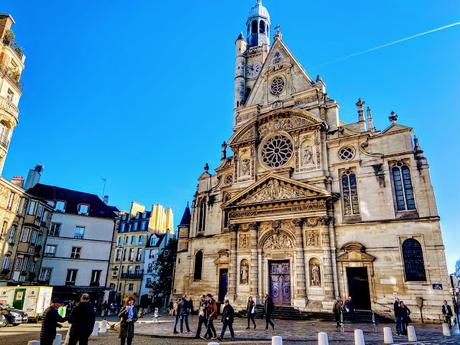 Walking up from 'Maison Grégoire' towards the Pantheon, I had no idea my next meal would be served to me in culture form with an extra serving of 'Like A Prayer' essence. Serving a certain 'Sunday Service', out of nowhere 'Place de la Contrescarpe' spoon fed me my first serving of my 'cultured' lunchtime meal. My two breakfasts had no time to digest before that darling square in the round had my attention, I was ready for that Parisian looking meal! 'Gaston' in bistro form was clocked! I had already had food but in place of that I visually devoured those views. The square had me feeling the French fantasy without any warning and I wasn't angry about that one bit. I would get used to eating and drinking outside during that five day Paris, France sojourn. Happy Hour was it? Advertised it certainly was but I wanted to know more about a certain 'Québéc style' bar! Those 'Vieux-Montréal' vibes influenced that Parisian view once again! That culturally themed 'snack' had me temporarily feeling full, I wanted more of that moment! Oui! 
Did I need to find a new salvation? I wasn't sure? Did I need to build a new foundation? That was the question? In front of  me was Paris's 'Église Saint-Étienne-du-Mont' for me to marvel at! I had also found the Pantheon as that church stood behind it with protection ensured. With the Pantheon visited, my ultra busy day planned in Paris wouldn't be breaking my soul, I had motivation! A door was open at the church in-question, creeping in with the quietness I was able to take a pew. Those church-going folk were the ones receiving their own kind of Sunday 'salvation' and that was fine with me. I was able to catch the last five minutes of their service, heaven sent for some it was an unexpected serving of something for me. Lunch had been served up once again but in a spiritual sense with that church service taking place amongst Paris's 'Place Sainte-Geneviève!' Had I been served 'fresh air?' No, that lunchtime moment had served up a culturally, historically and spiritually filling meal! Paris tasted delicious! Délicieux? Yesss!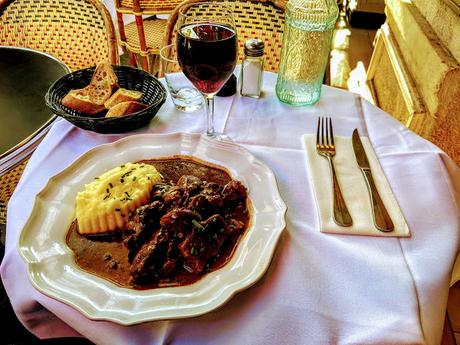 Done with the Eiffel Tower, I made my way to 'Passy' on Paris Metro's Line 6 to make a move towards the Arc de Triomphe. Resurfacing from the underground at 'Boissière' felt correct, I needed something to eat and I wanted to hang back from my next major 'Destination' landmark. It didn't take me two seconds before I clapped my eyes on 'Le Kléber Brasserie', surveying their menu with my hunger pangs in-consideration I had already made my choice. I ordered the 'Boeuf Bourguignon' because it sounded divine, sure as anything it tasted just as amazing as I had imagined it would! Served with piped creamy mashed potatoes, the rich sauce and favourable beef chunks had me in a 'foodie' heaven! To accompany that chosen winning meal, I went for a medium glass of red wine. In Paris those wines had different names and for that meal I can't remember that choice. No, it was a 'Pinot Noir!' Of course, I remember my wines! Paris kept me satisfied, with breakfast, lunch and now dinner enjoyed I wanted something extra! OK!
My meal at 'Le Kléber Brasserie' didn't cost me the earth, even now I still can't get over how rich and delicious my 'Beef' dish was! Getting into the habit, I embraced enjoying my 'glass of wine' with just a sip each time. No, Paris had me under a spell because I was finally appreciating drinks rather than knocking them back! Help! No, it was fine! Or was it? Taking the train up to the Arc de Triomphe allowed me to absorb one hell of a view in whilst I enjoyed a deliciously sweet Crêpe. My dialog with the street vendor was a lovely cultural moment, I referenced the obsessive photo-taking tourists as the previous customer proceeded to document every second of her pancake being cooked. It was nice to order my pancake in French and to thank 'Drag Race France' for jogging my French vocabulary back into action! Filling the gaps in from my 'Destination' post, I can feel a sense of achievement that the food and culture enjoyed that day has been duly noted and celebrated. Oh, the 'Champs-Élysées' was nothing to shout about. Soz! 
What's Wrong? It's Dinner & Tea! 
Desperately Seeking Adventure