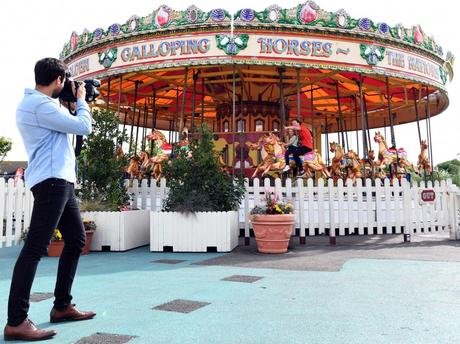 PARENTS are missing out on precious holiday moments - as they spend all their time behind the camera.
A new study of 2,000 parents shows that mums are usually the ones trying to record every moment of a holiday on their smart phone, to ensure family moments don't get forgotten.
But by spending more than 40 minutes every single day of a holiday behind the lens taking adoring snaps of their little ones, mums are failing to join in the fun.
Which means when the final photos do emerge, dad and the kids appear to have had a fantastic holiday, minus mum.
Researchers found that mums are taking an average of 24 photos a day of their family while on a break, and spend just under two minutes getting each shot right.
And mums will upload at least six family snaps each day to social media while still on holiday, in a bid to share the good times.
Dermot King, managing director of Butlin's, which conducted the study said: "We know there is incredible pressure on families today to share their lives on social media, especially whilst on holiday, and we're as conscious as they are that this eats into their precious family time.
"However we also know that family photos have and always will be a treasured possession and therefore we wanted to help redress the balance.
"We are delighted to launch out new generation of roving photographers this summer - Butlin's has always been able making and cherishing family memories."
The study shows that in the average family, in 50 per cent of cases it will be mum recording all moments on the smart phone.
Dads will take up to 27 per cent of the family snaps, followed by one of the children (seven per cent).
Six per cent of parents say no one person takes control of the camera on holiday, and instead they opt for a selfie at every destination.
Natural images of the family interacting and playing together are the most common photos taken by mum, while 23 per cent like to take the odd family portrait with everyone posing.
But 12 per cent of those polled admit they do take too many photos when everyone is together, and 21 per cent say the days they are having the most fun on holiday are usually those where no photos have been taken at all.
Sadly one in 10 parents say their children have complained and asked them to stop taking photos because they are ruining family time, while a further seven per cent don't remember some events they have been to because they were behind the lens.
However, when looking back on family holidays from their childhood 64 per cent of adults say the only way they remember them is through the printed photographs, whereas only 28 per cent remember everything from memory.
As such, 15 per cent of mums and dads feel taking lots of photos is a ways of creating memories with their family, and 19 per cent would like family attractions to offer a free photo-taking service to free them up to have fun.
In response to the research, Butlin's has introduced photographers to three of its resorts to help families have fun while still capturing the best moments of the holiday.
Royal photographer Samir Hussein, who trained the photographers before their placement at the holiday camps said: "I've seen family photos move from stiff, unnatural poses to fluid, in the moment images which really capture a family's time together and I think the 'Wills and Kate' effect has had a big impact on this, with over half of families we asked saying they prefer natural photos.
"Almost one in ten also want help to take fewer but better photos to free them up so parents can put down the camera and spend time with their children and I'm delighted that Butlin's is championing this approach; as a new dad myself I couldn't agree more."
ENDS