Planning to do a newborn photoshoot? I have photographed newborns since 2010 and would like to share with you this little Parents guide on how to prepare for a newborn photo session. It will cover the most aspects to consider prior to coming for the photoshoot.
If you are still on maternity stage, don't forget to check out my DIY Maternity Photos at Home guide HERE.
1. When should you schedule newborn photos?
Some people are a little superstitious, wanting to wait until the baby has arrived before booking the shoot. At the end of the day, it's up to you to decide when you're comfortable booking in. Just keep in mind that you'll get more choice on times if you book earlier.
2. Should you do newborn photos?
This is obviously a personal choice. Have you seen these sleepy curled up squishy newborn baby photos before? Are you mesmerised? Or are you repelled, wondering why anyone would want these? That's probably your answer right there.
Some parents really don't understand why you'd want to take baby photos when they're asleep. Especially during those first 10 days. They want awake baby photos when the babies are full of character. These photos should usually be taken after the four-week mark.
Which of these baby photography stages do you like?
When my first baby arrived we simply couldn't manage photos in the first couple of weeks. My wife had to stay for a while in the hospital and our life became a blur. We were so exhausted that newborn photos were at the bottom of our list. We finally managed to get professional photos, but only after week three.
3. When should I get newborn photos taken?
This can be a controversial topic. There are so many factors that can affect the timeline of when newborn photography should be done. This answer could be a whole blog post on its own.
What if you're really struggling with breastfeeding? I always suggest waiting until feeding is well established. A hungry baby is not a happy baby in a studio. If you're having difficulties, perhaps wait two weeks and plan the session in the third or fourth week.
I'm also perfectly happy to photograph older babies. I've done styled/posed newborn photos for babies up to six weeks. If you're planning a candid home session, then you have even longer to get these images done. You could probably wait until the baby is around five weeks as they will be reaching and looking at you a lot and as a result you'll get some really cute interaction shots.
4. What age is considered newborn?
From a photography perspective, I would say the newborn stage is up to around six weeks. But this depends if the baby arrived on time or was premature. It doesn't really matter, but I'd photograph a newborn up to six weeks and the next stage that is particularly good for baby photography is around 14 weeks when they begin to roll on their tummy and start lifting their heads.
5. Is it safe to take photos of newborns?
6. Is the camera flash bad for newborns?
7. Managing your expectations
If you're considering getting your own newborn photos done, you have very likely looked at loads and got a few ideas. Parents send me all sorts of poses and ideas grabbed from google or Pinterest boards. My take is very simple: whatever we want from the photoshoot is not necessarily what the baby wants.
Prepare for accidents and pauses to clean up or calm down the baby. A lot depends on baby feeds and calming techniques, whether we are doing a simple candid session at home or a more styled session in the studio.
8. Know what kind of newborn session suits your particular needs
Decide whether you'd like a candid home session or a styled photo studio session. These will look quite different and have a very different feel, so it's best to work out what suits you and the baby. If you're doing a home photoshoot, you of course don't have to leave the house, which can take a load off, and you'll end up with a very natural intimate scene.
If you'd like something a bit more fancy and styled, the studio session may be for you. Here we can use props, a variety of different poses and different background photos, possibly all during one session.
Some photographers can bring studio equipment to the house, but this would entirely depend on how much space you have for lights and posing. Lighting is a very important factor, so if the house doesn't have a good daylight, then the studio may be the better option.
I have also made a DIY guide for parents who want to take better photos on their phones. Check it out here.
9.Plan for the end result
This is an often-overlooked point, but one that is nonetheless very important. It is very wise to think about what you want to do with your photos before you create them.
How is the lighting in these locations? Will it be window light, or are you planning to install interior lighting to get the best results from the portraits?
Do you want to match a particular colour scheme in the house? If the wall is a particular colour, say grey, do you want the image tonality to be the same? You may want photos in black and white, with grey frames etc.
I offer a bespoke service to my families and can help with these decisions. I always ask parents about colour schemes and if we are creating light or dark tone portraits. I would not recommend mixing them. Darker tone images will always be much stronger than the light ones.
10. What do you take to a baby photoshoot?
I always send the following checklist to my clients. The checklist is focused on families who come to my studio for my usual three-hour newborn photoshoot.
Bring a snack and water for yourself and any siblings. The photoshoot will be long and you are in the warm room.
If siblings are coming, bring some entertainment for them. Don't forget some bribing material for cuddly sibling shots.
Bring at least two changes of clothing, one for the official family photos and one just in case any accidents happen. I have a clothing guide on what to wear for newborn sessions here.
Bring a couple of wrapping blankets for the baby, to keep them warm during feeds.
Bring everything for changing and feeding the baby, including any creams you use or special eco materials.
If the newborn has long hair, bring a brush.
Any toys or props you would like to add into the photos.
This one can be a bit controversial, but I always suggest bringing a dummy (pacifier). I know many parents are moving away from using these, but if chaos breaks loose and the little one doesn't want to cooperate, the dummy can help us get through the session.
Try to keep your baby awake on the way to the session. Good practice is to arrive, feed and get going with the session.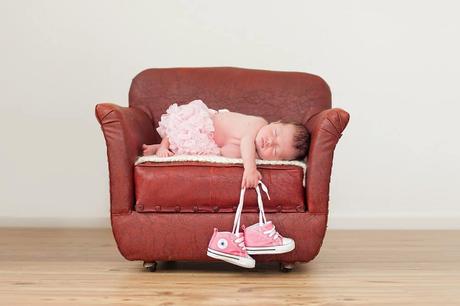 I hope you enjoyed all the information here. Did this guide make you think a bit more on how to prepare for your newborn photo shoot? You can also check out my guide on how to choose your newborn photographer and what to ask.
Thank you all and keep an eye here as I will keep bringing out more guides for parents.