When the Queenager was about 7, she informed me that I was THE only mother who didn't put a note in her lunch bag. I remember being completely baffled by this. What kind of note could she mean? Something for the teacher, asking her to make sure the Q ate her sandwich as well as the dessert  perhaps? Or a note to the Q herself reminding her not to thrown the metal spoon away? Close, but not quite.
Apparently the other mothers were putting little "love notes" in the lunch boxes, boosting their kids self esteem with simple phrases like "Have a GREAT day, sweetie. Mommy loves you", and "See you later lovebug. xxx". How the heck was I to know? I was raised with English "school dinners"; the whole event was more like a prolonged torture session.
And last week I came across the perfect thing for would-be loving parents who just don't have the time for it all.
Lunch Mail.  Here look -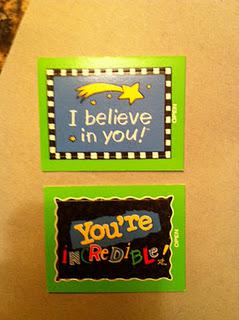 So you pop one of these cards into the lunch bag. They're about 1.5 times 1 inch big.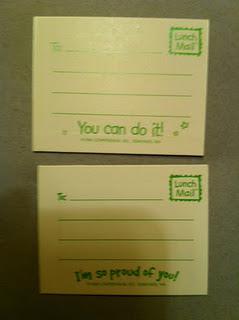 On the back, they look like tiny postcards, so you can write your own personal self-esteem-boosting message.
And then - the front opens out for yet more inspirational verbiage:("Isn't it great how everyone in the world smiles in the same language").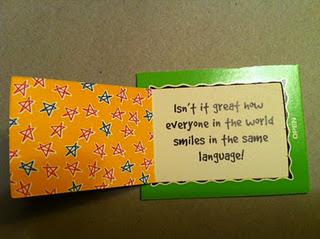 My neighbor was throwing these out so I grabbed them. The Queenager is going to get one in every package I send to her at college. Whether she wants one or not!