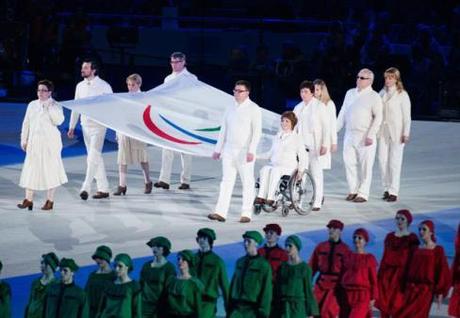 Image from http://au.sports.yahoo.com
Athletes from all around the world are gathered together in Sochi this week to represent their countries and compete for a gold medal in the Paralympics, but they are not receiving as much TV coverage as the Olympics.
The United States will have 52 hours of TV coverage this year, ten times as much coverage as it had for the London 2012 Paralympics, but less than a quarter of the amount of Olympic coverage. In Rio 2016, there will be 66 hours of Paralympic coverage.
Eric Edling, a former wheelchair basketball and sled hockey player for national and regional leagues in Texas, petitioned NBC in 2012 on change.org to give the Paralympics full coverage. He said that he is excited about the increased amount of TV coverage, but believes the ratio of Paralympic coverage to Olympic coverage is not okay. He said that he believes that the Paralympics should be seen as equal to the Olympics.
"You're looking at athletes who just like their Olympic counterparts are working for a gold medal and just like their Olympic counterparts, they play in the exact same arena they have the Olympics in," he said.
Beth Haller, former editor of Disability Studies Quarterly and author of "Representing Disability in an Ableist World: Essays on Mass Media", told Candor News that she believed the Paralympics would be seen as equal to the Olympics if it received full coverage.
"I think that if it was consistently covered like all the other sports that we covered, people would start focusing on [the fact that] these are top athletes," she said, "Top sports are top sports and I think that people would see that these are elite athletes and not just disabled athletes."
Anne Golden showed in her 2003 article in Disability Studies Quarterly that there were more foreign reporters covering the 2002 Salt Lake City Paralympics than Americans and that news coverage of the Paralympics. According to Sportspromedia.com, Russia and England will each have over 150 hours of Sochi Paralympic coverage, whereas other nations will have cover closer to that of the United States. It is being broadcast in over 40 countries.
Haller said that she believed that finding commercial support shouldn't be a problem.
"I know that television is driven by advertising, " she said, "but a lot of advertisements are sponsors of the Paralympics and I'm sure they'd be happy to put their ads in the coverage."
Gary Zenkel, president of the NBC Olympics, reportedly by The Guardian, said during the Royal Television Society's Digital Conference in London in September 2012 that the Paralympics should be rescheduled further away from the Olympics instead of immediately following it in order to gain commercial support.
"Commercial support is very difficult. It is also fatigued and very difficult to re-engage the sponsor base to support the coverage," he said, "We respect and believe in power of the [Paralympics] and how it can inspire. We'd love to do more. It needs to be positioned, at least in the US, when the audience will gather and commercial sponsors return."
Haller said that people called into a BBC radio show in London that she was on in 2012 to say how much they appreciated the Paralympic coverage England had.
"They were so happy that the Paralympics coverage was so available because they enjoyed it,"she said.
Over 300 hours of Paralympics coverage can be found on Paralympic.org and teamusa.org. The full schedule for Paralympics TV coverage can be found here.