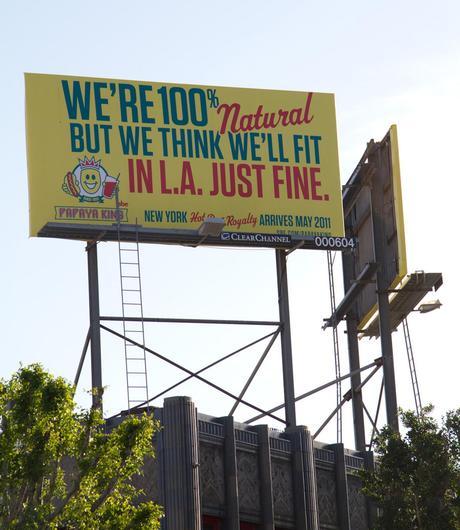 I lived in LA for 8 years, and one of the things that was always so interesting to me about the place is that only about 1 out of every 100 people you meet is actually from there, and yet somehow, everyone was so very LA. People take themselves seriously, yet they don't. It's a place with a hugely diverse culture and a personality that you can't pin down. Having said that, I still love these new boards from Papaya King. They obviously play to stereotypes, something I tell my clients to do all the time. Figure out who your audience is, what they think about themselves, and talk directly to a caricature of them. This is a brand talking with the voice and mind of a person from back East. A person who hasn't experienced the diversity of the city yet but wants everyone to know that they've arrived and that they're ready to join in on the self-deprecating fun.  A quality that I'm certain LA appreciates wholeheartedly. From Ads of the World:
Campaign launching New York City's most iconic and beloved hot dog chain, Papaya King, into Los Angeles, the first market outside of New York. The campaign focused on a strategy of leveraging the New York heritage of the brand while at the same time hitting on observations uniquely LA. A Papaya King food truck was mobilized to hit key neighborhoods with two roles: 1. Drum up excitement about the store's opening date. 2. Sample product to those connected to the brand through social media. Meanwhile outdoor boards with a New York attitude blanketed Hollywood communicating the big news to locals.

Advertising Agency Mistress, USA
Now, if anyone from Mistress is reading this, I think you should do another campaign after Papaya King has been there for a few months, that hints at how they're assimilating into the Hollywood/LA culture. Can't say what that would look like, but just that they've changed in some way.