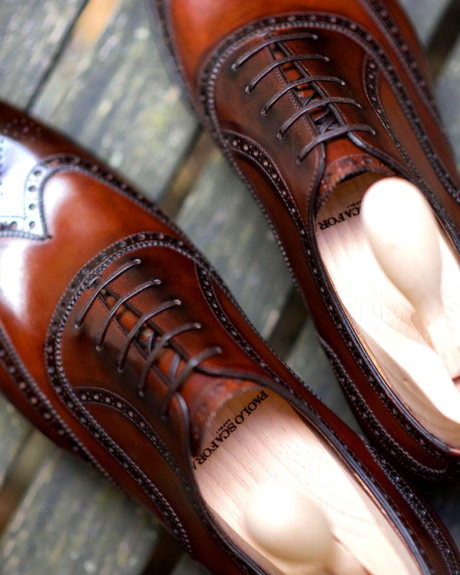 Most of us think of clothes in discrete categories – ready-to-wear, which is what you find hanging on racks, with some companies offering simple customizations through made-to-order programs. A step up in customization is made-to-measure, where a CAD pattern is adjusted to your measurements. And finally there's bespoke, where a garment is fully made from scratch and then honed-in through a series of fittings. 

In reality, these categories are better presented along a continuum than in discrete boxes. Especially for shoes, where some makers sit between the worlds of ready-made and bespoke. Vass and Enzo Bonafe, for example, can make nearly anything you want so long as you like their lasts. Saint Crispin's can do the same, as well as adjust their lasts through a clever prêt-à-porter program, so they're close cutting designs will fit your feet. 
Another maker in this regard is Paolo Scafora, a medium-sized business in Naples located just outside of the city's main centers. I actually had plans to visit their workshop a few years ago when I visited Naples, but had to cancel because my schedule was too packed in Chiaia – the seafront neighborhood where you'll find most of the city's better known tailors. Scafora's location outside of the area isn't just about rent, it also represents their position in the market. Whereas Chiaia has small bespoke workshops butted up against international brands, Paolo Scafora isn't really about either.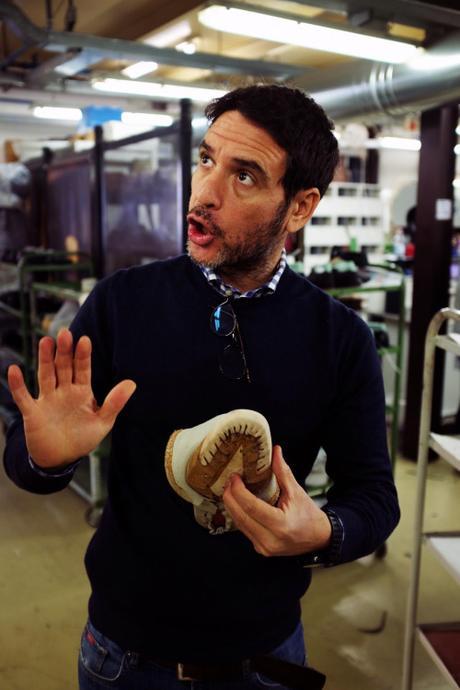 Last week, I chatted with Paolo, the namesake of the company, about his family's work. "My grandfather, Gennaro, founded the business," he says. "He was a Neapolitan shoemaker, back when workshops used to double as people's homes. In the morning, everyone would be working to make shoes, then in the evening, the spaces were cleaned up and people pulled out the beds. People lived day to night in the same spaces like that."
In the 1970s, Gennaro left to start his own business, simply named Scafora, which focused on industrially-made Blake-stitched footwear. Business was brisk until the 1990s, when their export markets collapsed and one of the managing uncles passed away. At that point, the Scafora family had to go back to the drawing board.
"If you want to be competitively priced, you have to make a certain number of shoes per year," says Paolo. "That's how you can get the price down per shoe, otherwise you'll never be able to sell on the market. We knew we couldn't compete against big brands, but we also didn't want to fight in the bespoke market. So, we came up with the idea of producing artisanal shoes – completely handmade, to the standards of bespoke – but in ready-to-wear form."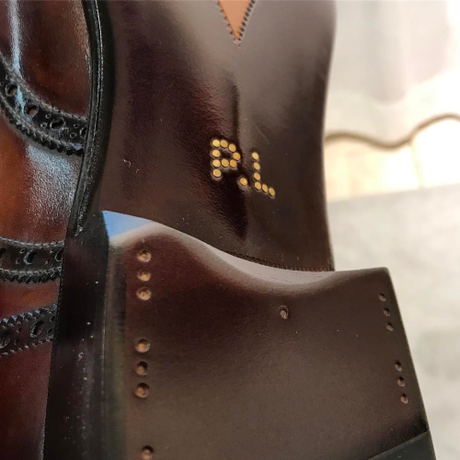 Effectively, that means a few things. First, all Paolo Scafora shoes are handwelted with machine-sewn soles, which pushes them closer to bespoke shoemaking than factory production (the second of which typically relies on Goodyear welting or Blake-Rapid stitching). Handwelting is nice in that it offers a bit more flexibility and comfort out-the-box, as it doesn't have as much material between the insole and ground. It's also a little more durable, which means you can resole it more often.

Additionally, Paolo Scafora uses real leather stiffeners at the heels and toes, which differs from the thermoplastics and leather boards you find in most ready-made footwear (everything from Loake to Edward Green). Leather stiffeners are nice, especially at the heel, because they mold to your feet and can be easily repaired if they get distorted. On the downside, they're more expensive to produce, as the uppers have to be hand-lasted and the stiffeners hand-shaped. Most factories today use celastic stiffeners, a kind of impregnated plastic, because they're easier to install and come pre-formed. 
Most of all, however, Scafora has a really nice customization program. "We can adjust our lasts by adding or subtracting here and there," says Paolo. "We can also make changes to the design, maybe adding a cap toe or an apron. It's totally up to the customer." At prices hovering around $1,000, this is a surprising amount of customization and handwork given that high-end Goodyear welted shoes these days – completely factory produced and machine sewn – can get above $1,500.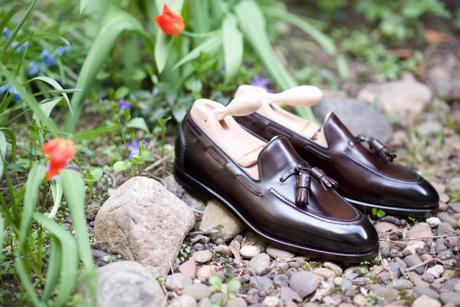 I admit, in the past, I've shied away from Scafora's shoes because they can look a little bold. The unusual designs, coupled with the heavily patinated toe caps, look like they're better suited to the streets of Florence during Pitti Uomo than getting dinner in San Francisco. Recently, however, Oliver at Skoaktiebolaget commissioned the tassel loafers you see above. They're still hand painted – as Paolo Scafora mostly uses natural-colored crust leathers – but they look a bit more discrete and subtle. Certainly something I'd wear with a casual suit. 
Interestingly, when I asked him about his favorite styles, Paolo says he also prefers simpler designs. "My favorite is a black oxford, made as simply as possible. I prefer if the design relies on just the last and construction. For me, I don't think handmade is necessarily better than machine-made; it's just different. Some people are happy with a Goodyear welted shoe; some prefer hand welting. This is something for people who want to wear something for their own enjoyment – to know that something was completely handmade, from the coloring of the uppers to the internal construction." 
Paolo Scafora's ready-made shoes nowadays can be found at Skoaktiebolaget (an advertiser on this site, although this isn't a sponsored post). The store can also take custom orders at a 15% upcharge from the nearest model's base price. If you want something made with a fully personalized last, Paolo takes bespoke orders a couple of times a year in New York City and Milan. Alternatively, you can see him in Naples. Just give yourself a day to get away from Chiaia.