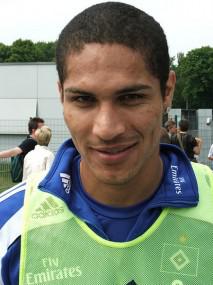 In football there are times that you can truly see when impotence sets in. Peruvian international Paolo Guerrero was in the middle of this one in Hamburg's 4-0 loss to Stuttgart. In the 54th minute the former Bayern Munich man showed his frustration and came from behind in a vicious challenge against goalkeeper Sven Ulreich.
The two players met near the touchline as the ball was rolling out of bounds and the cleats-up challenge went straight into the back of Ulreich's leg. Fortunately for Ulreich the injury was not as serious as it could have been and Guerrero was obviously saw straight red.
Definitely not a good run for Thorsten Fink's men for sure.