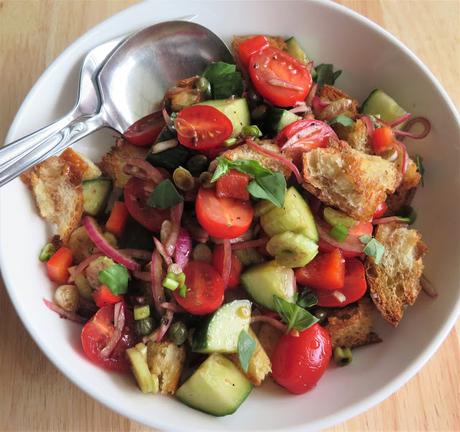 Tuscan Panzanella is one of those summer salads that I just adore.  It is a delicious Italian solution to overripe tomatoes and stale bread!  In Italy is is known as a Peasant type of a salad.
All I have to say about that is that Peasants eat very well in Italy!  Today I decided to small-batch my favorite recipe for this delicious salad so that it feeds only two, and feeds them very well.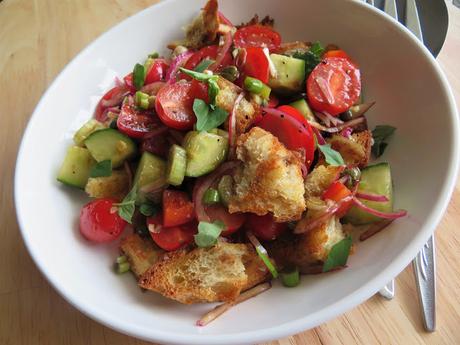 One thing you can say about Europeans is that they have some of the best bread in the world.  They know their bread.  Every country you visit has beautiful bread.  At least that has been my experience.
I am a carbaholic and I have loved the bread in every single European country I have visited.  Italy has beautiful bread, not too dissimilar to French bread, but there are some differences.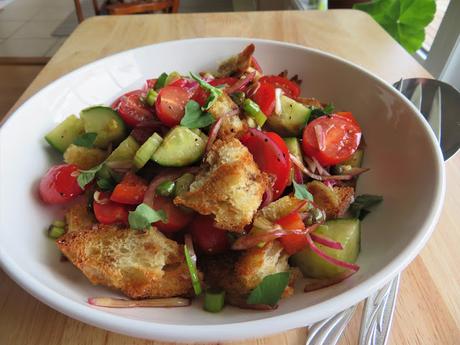 French bread is longer and crisper, whereas Italian loaves tend to be a bit larger, fuller and shorter in length. French Bread will be the same pretty much all over France, with the exception of specialty loaves such as a fougasse or coronne.
By law French bread cannot contain any fat.  Just flour, yeast, salt and water. Brioche is not considered to be a bread, but a pastry.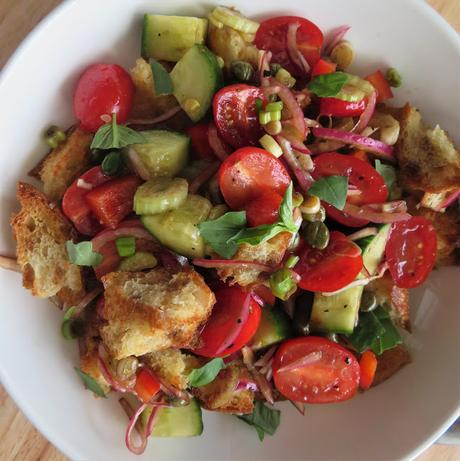 Italian breads can very quite a bit from one region to another.  In one region you might find  loaves with crusty tops and in another soft loaves topped with sesame. Italian bread often contains milk or olive oil and a bit of sugar.
I love them both and would never turn down a slice of either one.  Neither would I turn down a slice of French, nor a slice of Italian bread.
I just love bread, which is probably why I really love this fresh tomato and bread salad! It is a brilliant combination of textures and flavors.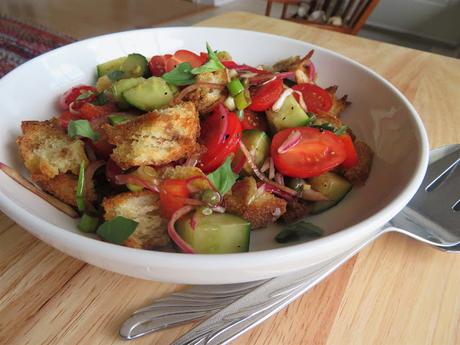 The Italians never waste anything.  Stale bread is used as crumbs to toss with pasta as sort of a poor man's cheese, and it is used here to fill out a very simple salad.
You begin by tearing bread into cubes.  Rough shaped. Some big and some small.  Tearing it is important because you end up with all sorts of craggy edges, perfect for sopping up any dressing and juices from the salad.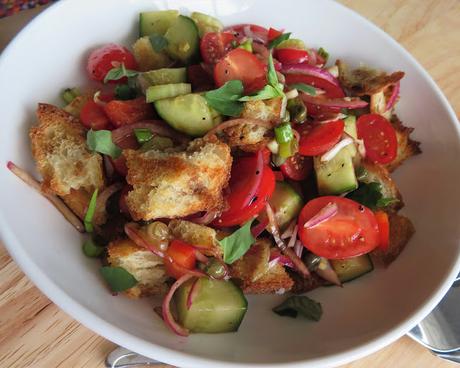 I used a large crusty round bread here.  About 3 slices including the crusts from the end.  You just tear it up and pop it onto a baking sheet.
On the baking sheet it gets tossed together with a tiny bit of olive oil and some salt.   It will be toasted in a fairly hot oven until golden brown and crunchy.  Keep an eye on it as it can turn really quickly, and bear in mind it will continue to cook a bit when you take it from the oven.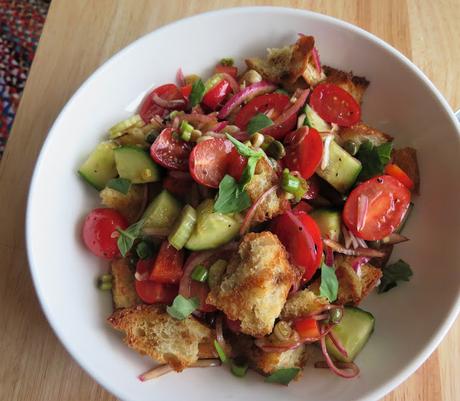 What you are looking for is bread that is nice and crunchy and golden brown on the outside, with the larger pieces maintaining a bit of softness inside.
I don't know about you, but I really don't like bread that tears my mouth up.  (Too much like Captain Crunch!  Which I do love, but no longer eat because of the sugar and the way it cuts at your gums and mouth.)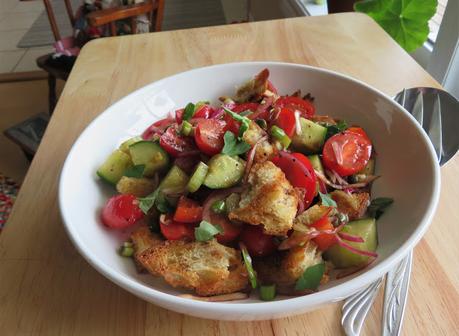 But I digress.  Don't be tempted to use ordinary white bread in this. You will not get the same result at all.  In fact it will disintegrate in the dressing. This is something you don't want. 
That's why you need a sturdy bread.
The dressing is a really simple one.  Red wine vinegar, good olive oil, fresh garlic, some chili flakes and a bit of seasoning. Oh, and a tiny bit of sugar to help cut the acidity of the vinegar. Simple.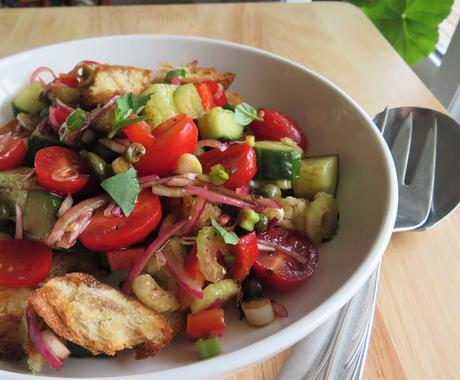 Next to the bread, it is the vegetables which are the stars in this salad.  Tomatoes, cucumber, celery, onion, peppers.
You want to use really ripe tomatoes in this. I always keep my tomatoes on the counter at room temperature. Tomatoes are always picked on the under ripe side to make up for being transported and then sitting in the shops.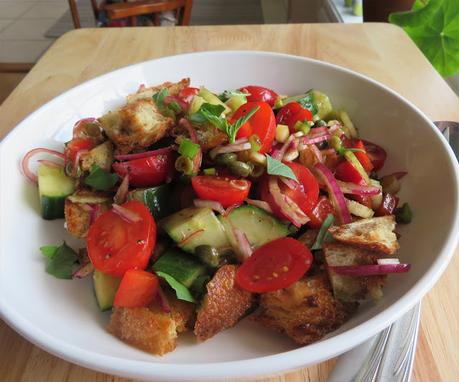 They are one of the few fruits that continue to ripen after they are picked. (Yes, they are a fruit, not a vegetable.)
This won't happen if you keep them in the refrigerator.  Keep them in a bowl on the counter top and then just enjoy them as they ripen. My mother taught me this and I have always done it.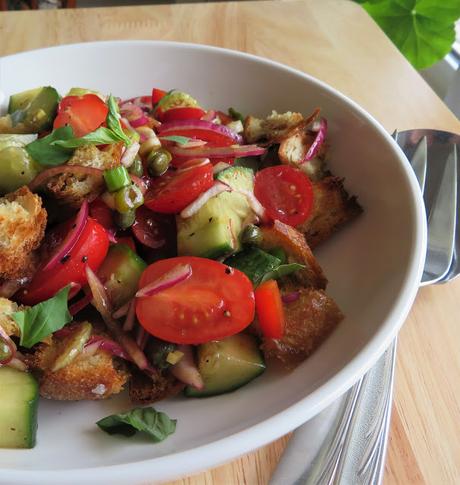 This simple action can restore beautiful flavor to even the most insipid super-market tomato.  For this salad the riper the tomato the better. It uses baby plum tomatoes.  Very, very ripe baby plum tomatoes.
These get washed clean and then cut in half lengthwise. Easy peasy.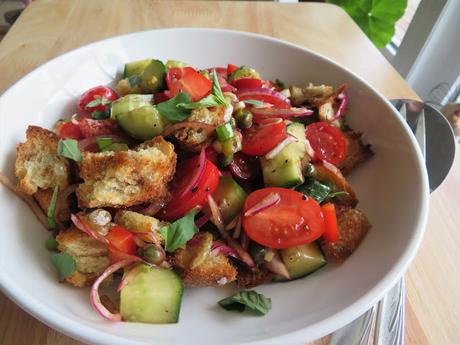 Another prime ingredient is cucumber.  English, seedless cucumber. Did you know that the cucumber is also a fruit?  They are.
Classified as such because they contain tiny seeds and grow from the flower of the cucumber plant. I think they are pretty close to melons both in flavor and texture, although not as sweet obviously.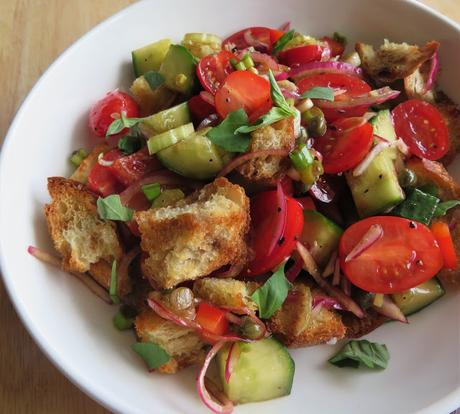 You will not need a whole cucumber. Only about  a four inch length.  This needs to be quartered lengthwise and then cut into bite sized chunks.
One of my pet peeves is salads where they leave the vegetables and leaves, etc. far too big to put into your mouth in one bite. You should never have to cut your salad or try to cram overly large leaves, etc. into your mouth in a most unattractive manner!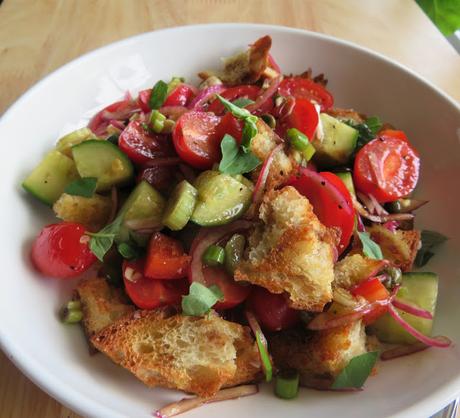 Bite sized is always best.  There are two kinds of onion in this salad.  Spring onions, or scallions as they are also called and red onion.
Onion can have a really sharp flavor. Even red onion. Make sure you slice them really thin.  That way nobody ends up with a big chunk of onion in their mouth. Onions
are
vegetables. lol From the allium family, along with garlic.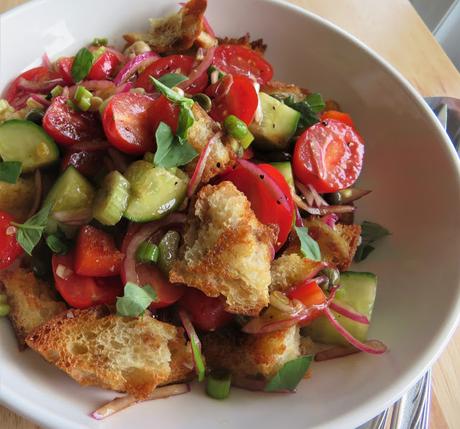 There is also celery in this salad. One stick, trimmed, washed and very thinly sliced.  About 1/4 of an inch in thickness.
I like to de-string my celery.  This is something I have always done. De-stringing it makes it much more palatable, and easier to chop.  
Just grab the strings on one end of the stick with the side of a sharp knife and pull down.  It will come off really easily.  Throw them away.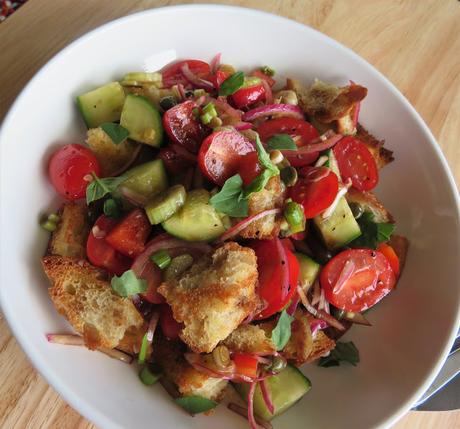 Another key ingredient for this salad that you really don't want to leave out are capers.  Capers are the immature, un-ripened flowers of the caper bush.  Picked before they bloom and cured in either a pick bring or salt, capers have a unique and pleasant flavor that I really enjoy.
I use them for all sorts.  Piccata (
chicken
, fish or pork) is one dish I love them in.  Also
Puttanesca
pasta sauce.  They are an integral part of my
Tartar Sauce.
They have a tangy, almost lemon type of flavor, quite similar to green olives.  You can use green olives in their place if you wish, or if you are worried you won't be able to use up a jar of capers.  (They do keep virtually forever.)
You can find them in the pickle section of your grocery store. If you buy the salted ones, you will need to rinse them off.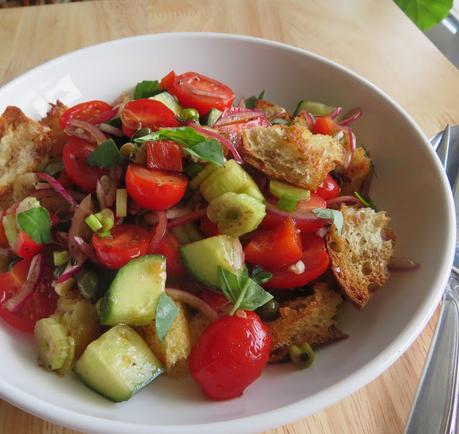 And that is basically it.  Very simple basic ingredients, not too out of the ordinary (except for the capers).  This is a salad that you can make the dressing and the croutons for several days  ahead of time, ready to toss together with the other elements of the salad just prior to serving.
This makes it great for entertaining.
Myself, I like to enjoy it as a lovely light lunch, or as a side dish with some grilled chicken or fish.  I find it quite delectable to say the least!  Easy and delicious. This is perfect summer food!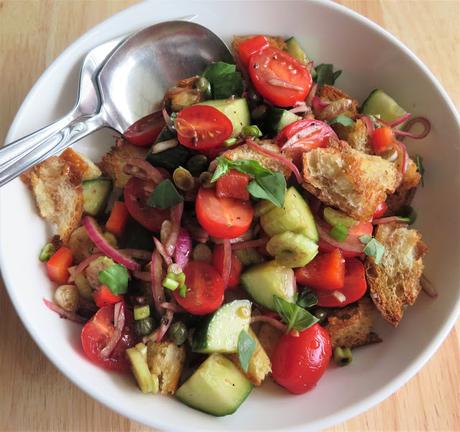 Tuscan Panzanella
Yield:
2
Author:
Marie Rayner
Prep time: 10 Min
Cook time: 10 Min
Total time: 20 Min
Panzanella is one of my favorite summer indulgences. Filled with loads of flavor, color, crunch and heat it never fails to please! This is a small-batch recipe. To feed more, simply double the quantities.
Ingredients
4 thick slices of a rustic country style bread
sea salt and freshly ground black pepper to taste
1 very small clove of garlic crushed
a pinch of red chili flakes
1 1/2 TBS red wine vinegar
1/8 tsp granulated sugar
1/4 cup (60ml) good extra virgin olive oil
8 ounces (225g) very ripe baby plum tomatoes, halved lengthwise
1/2 of a small red pepper, trimmed and cut into small chunks
1 (4-inch piece) of an English cucumber, unpeeled, cut into quarters lengthwise and then into chunks
1 stick of celery, trimmed and finely sliced
3/4 TBS of capers, drained
2 spring onions, trimmed and chopped
1/4 of a red onion, peeled and thinly sliced
1 sprig fresh basil
Instructions
Preheat your oven to 400*F/200*C/gas mark 6.  
Tear your bread into chunks, some big, some small. You want them to vary in size.  Place onto a rimmed baking sheet.  Drizzle with a bit of olive oil and season with some coarse sea salt.  Toss together to distribute the oil and seasoning amongst the bread. Spread out into a single layer.
Toast in the preheated oven until golden brown and crunchy, about five to 10 minutes, depending on the size of your chunks, and the density of your bread.  Set aside to cool.
To make the dressing, whisk together the oil, vinegar, garlic, chili flakes, sugar and some seasoning until amalgamated.
Place all of your vegetables, as well as the capers, into a bowl.  Pour the dressing over top and toss together to coat. Taste and adjust seasoning with salt and pepper.
Place about two thirds of the toasted bread chunks in the bottom of a large shallow salad bowl, or a deep platter. Pour the salad along with its juices over top.  Scatter the remaining bread over all. and garnish with torn basil leaves.
Serve immediately.
Did you make this recipe?
Tag @marierayner5530 on instagram and hashtag it #marierayner5530Created using
The Recipes Generator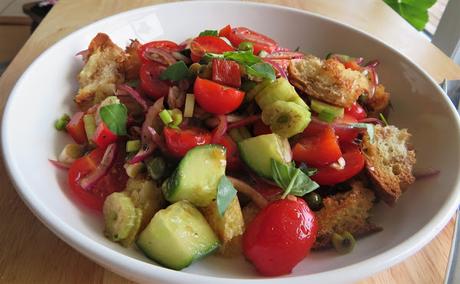 This content (written and photograph) is the sole property of The English Kitchen. Any reposting or misuse is not permitted. If you are reading this elsewhere, please know that it is stolen content and you may report it to me at mariealicejoan at aol dot com. 
Follow my blog with Bloglovin