Today I had one of those "oh s**t" moments, where I thought that the Boston Marathon was next weekend and I was worried that I hadn't even picked out my throwaway sweatshirt yet. I also haven't ordered another pouch for my running belt (my current one is falling apart). I thought, "darn it, now I am going to have to pay for two day shipping on Amazon".
Then I realized, not only is the marathon not next weekend, it's not even the weekend after that OR the one after that. It's three weeks and three days away. Cue the panic.
I like to plan ahead. I lay out all my clothes and things a week beforehand and check them off my list (literally). Then I check to make sure I did not miss anything on the list. Then I check my bag again. I have found that this saves me running around at the last minute wondering what I have forgotten. It also saves me forgetting things like my toothbrush or my contacts. I hate feeling unprepared. I hate it. I feel a lot better when I have a nice tidy list and everything is all checked off.
However, I have this feeling that I am forgetting something, that I will forget something, or that I haven't trained enough (cue the laughter from all my non running work friends who think I am crazy when I run 6 miles even!). I know, its the taper madness, but really? I am not even done with my high mileage week yet! However, this week does mark the end of the high mileage. This week is my highest yet, and then comes the dreaded taper.
What will I do with myself when I am not running for several
dozen
  hours a week? Maybe I will take up the harp, or actually read a book this month. Probably I will spend more time at the gym, and by the time taper is over, my arms will look like this. You know, since I am supposed to be resting my legs.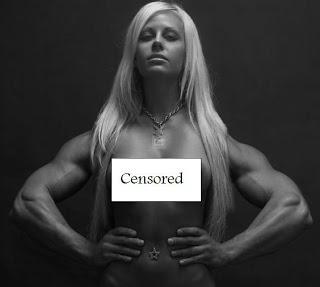 source
**title inspired by
this song
Is anyone you know running the Boston Marathon? Are you running the Boston Marathon? 
When you are leaving for a trip, do you pack beforehand? Have you ever felt like you are unprepared for something even when you were actually ready?