The moment I stepped on Dumaluan Beach's soft white shore and saw its clear blue waters, I immediately wanted to come back. Maybe the perfect weather added to its allure. Maybe—surely—the absence of crowds dispelled my not so fantastic impression of Panglao, particularly and mainly because of Alona Beach, the only beach I ignorantly knew in the handful of times I have been to Panglao. So, I thank my friend for taking me to this postcard pretty part of Panglao Island.


Dumaluan Beach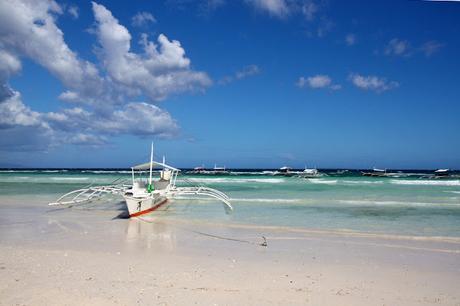 I haven't left, but I already miss it. For my future and yours, I did not let the searing sun bother me as I happily let my feet sink in the sand and walked along the stretch of beach to take note of the resorts found along it:
South Palms Resort Panglao (038) 502 8288 / 0917 716 7609
Bohol Beach Club (038) 502 9222 / 0927 452 7054 / 0999 992 1880 / 0923 250 7828
Dumaluan Beach Resort II (038) 502 9092 / 0917 883 4888
Whites & Greens Beach Resort (038) 502 9433 / 0908 958 6878
Dubay Panglao Beachfront Resort 0917 841 3637
Bolod Beach Resort (038) 502 4046 / 0920 603 9927 / 0915 682 3187
PJ Prime Beach Resort 0939 258 7408 / 0936 223 9240
Dumaluan Beach Resort I (see below)


Fan Room at Dumaluan Beach Resort I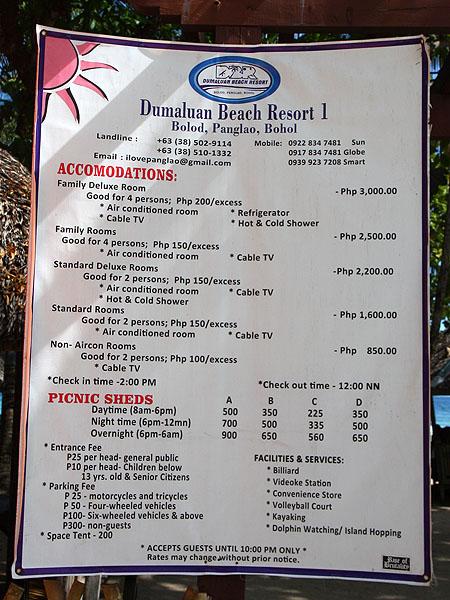 Dumaluan Beach Resort I price list
If you have high standards, choose either South Palms Resort Panglao or Bohol Beach Club, the high-end resorts on Dumaluan Beach. If your standards are not that high but you are not as as cheap as I, then you have four choices: Dumaluan Beach Resort II, Whites & Greens Beach Resort, Dubay Panglao Beachfront Resort, and Bolod Beach Resort. Cheapos like myself, looking to spend less than Php 500 a night per person for a two-person room, can go for Dumaluan Beach Resort I. Their 850-peso fan room was all right by me. As long as I have a bed to sleep in and a bathroom, I am good. It was the beach itself, that all these resorts shared, that mattered to me.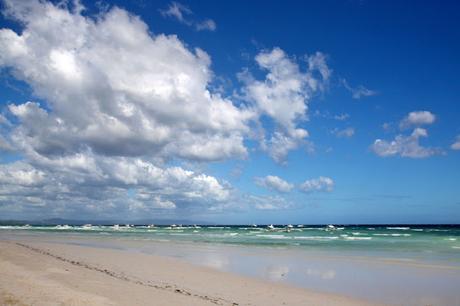 I will be back Dumaluan Beach!


Bohol Bound

Bohol Local Hot Cold Spots: Canawa Cold Spring and Badiang SpringThe Usual Bohol Land TourTagbilaran Heritage WalkAbatan River Firefly Watching TourPanglao Island's Dumaluan Beach (you're here!)Dolphin Watching and Island Hopping (Balicasag Island and Virgin Island) (soon)