I have strong attachment to food from the Philippines, and I wanted to built a list of good recipes so that in the future, my child can refer to them.
I particularly like, Ensaymada but I have no recollection whether I had Pandesal before, so today, I shall bake some since this is also a popular bread that the Filipinos eat.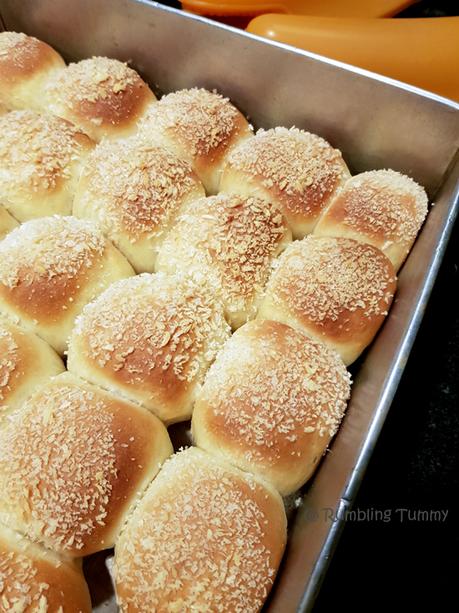 Findings: As compared to Ensaymada, these buns are plain and best accompanied with jams or butter.
I particularly like it when it is either fresh out of the oven or a quick toast in the toaster to crisp up the bread crumbs.  Goes really well with jam or in my case, I pair it off with Green Tea Spread.  
Source
What you need:
Yield: 24 rolls
2¼ tsp instant yeast 1¼ cup (305g) fresh milk, warmed to 37°C
410g plain flour 210g bread flour1½ tsp sea salt 45g unsalted butter, room temperature 65g sugar 2 large eggs, lightly whisked
breadcrumbs, as needed
Method:
In a mixing bowl, dissolve yeast in warm milk. Add 2 tsp of sugar. Stir to combine. Let stand for 5-10 minutes until yeast has activated and mixture is foamy.
In a large bowl, whisk together plain flour, bread flour and salt.  Set aside.
Add remaining sugar, butter, and lightly whisked eggs.
With the mixer running on low speed, add the flour mixture in three additions. Once all the flour has been added, increase speed to medium. Continue to knead until dough comes together to form a smooth ball.
Remove from mixing bowl and transfer to a lightly oiled bowl. Cover with plastic wrap and let it proof for 1 hour.
Punch dough down and divide into 24 portions.
Roll dough into balls and dip the top of the bread roll into breadcrumbs.
Place rolls breadcrumb side up on a parchment lined baking sheet.
Cover dough with plastic wrap to prevent from drying out. Allow bread rolls to rise for 15-20 minutes, until double in size.
Preheat oven to 180°C.  Bake for 20-25 minutes until fragrant and golden brown.
Eat bread rolls warm or at room temperature.
If you have enjoyed this post by
Rumbling Tummy
, be sure to follow this Rumbling Tummy on
Facebook
, Instagram, Pinterest, Twitter and
Google+
.