I like pillowy texture Swiss Roll, just like Polar's.  In fact, at one time, I was crazy over their sugar rolls.  With increasing prices, these days, eating cakes is expensive. 
Guess that is why more and more people are baking at home.  It is more economical and also healthier as we will use the best quality ingredient and no preservatives in our bakes.
I have made this for hub's meet up session with his classmates and they all like it.  Unfortunately I didn't take any pictures. 
So today, I am baking this Pandan Swiss Roll just for the family.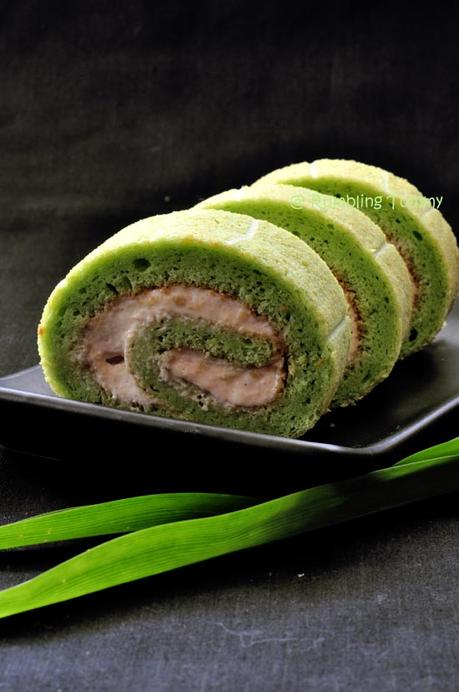 Findings: I should have tap the tray a little harder to release the air bubbles.  The cake is moist and compact and the pandan flavor is there.
I have not use any articial flavouring or colouring.  The color came out just the way I like it.  Adding in sugi leaves help to intensify the color.
Talking about sugi plant, initially I was looking for it.  Came across a lady who bragged about hers during a baking class.  When I approached her for a stem cutting, she behaved as if I was asking for money.
Subsequently, a kind friend gave me a pot.  For those who are interested to grow, please let me know.  Now I have got plenty and am glad to share it with you.
Drop me a note in the comment box or head over to my facebook page if you are interested. (only in Singapore)
What you need:
Group A:
1 egg
3 egg yolks
1 tsp vanilla extract
12 pandan leaves
8 sugi leaves
3 tbsp water
Group B:
40g coconut oil
50g plain flour, sifted
10g cornflour, sifted
70ml coconut milk + pandan juice
Group C:
3 egg whites
85g caster sugar
Method:
Preheat oven 180°C. Lined a 11″ square cake pan with baking parchment.
Wash the pandan and sugi leaves and cut them into 2-3" length. Blitz them in a blender with a little water.  Extract juice.
Add pandan juice and top up coconut milk to make 70ml. Set aside.
Whisk egg, egg yolks and salt well.  Set aside.
Sift the flour and cornflour twice.
Heat coconut oil in a pot. 
Add sifted flours to the hot coconut oil immediately and use a wooden spoon or spatula to stir it until it is cooked through (just like a roux).  Once the dough leaves the side of the bowl, it is done.
Transfer the flour mixture into a mixing bowl.  Then add egg mixture gradually, whisking to combine until you get smooth batter.
Next, add the coconut milk/pandan juice, a little at a time, stir to incorporate.
Using a sieve, strain the above batter to remove any lumps, and set aside.
Whisk egg whites in until foamy. Gradually add in the sugar and whisk at high speed until stiff peaks.
Fold

⅓

of the meringue into the egg batter.  Then add in the remaining meringue in 2-3 additions and fold gently with a spatula until mixture is just incorporated.
Pour batter gently onto the prepared pan and spread evenly with spatula.  Give it a gentle bang before putting it into the oven.
Bake for about 20 minutes, the top should be golden brown and the skewer comes out clean.
When the souffle sponge is out of the oven, cover the pan with cling wrap immediately. (using the steam to keep the cake moist and pliable, making it easy to roll without cracking).
Allow the sponge to cool down entirely before assembling it.
Gula Melaka creme chantilly
What you need:
160ml cream, at least 35% fat1 tbsp coconut cream
30g gula melaka*, shaved if using blocks
1 tsp vanilla extract
Method:
Melt the shaved gula melaka over low heat until it has completely dissolved into a syrup. Leave it to cool completely.
Whisk the cream on high speed and slowly drizzle in the gula melaka syrup in and coconut cream when it is starting to achieve soft peaks. Whisk at high speed until firm peaks.
To assemble:
Turn out the cooled sponge onto a new piece of baking paper.
Slice off the top end at 45

°C. (to ensure a nice end)


Spread the creme chantilly onto the sponge using a palette knife, leaving a small margin on the side furthest away.
Gently roll the sponge. Apply a little pressure on the end nearest to you and follow up by gently motion while rolling.
Wrap up the swiss roll with the baking paper. 
Chill the swiss roll in the fridge for an hour. 
Trim the two ends of the swiss roll.  
Slice the swiss roll while it is cold.  Serve cold.
If you have enjoyed this post by Rumbling Tummy, be sure to follow this Rumbling Tummy on Facebook, Instagram, Pinterest, Twitter and Google+.