Kulath ki Dal from Uttarakand
: Horsegram is a completely new ingredient for me. I bought it just before April's Mega marathon in the hopes of using it in one of the dishes, but I didn't use it for any of the dishes. But luckily I found quite a few interesting recipes using it and here I am with the very first dish I made with Horsegram.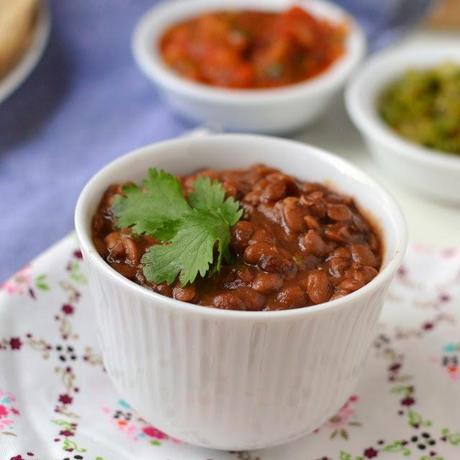 This dal is from Uttarakand and it is a very simple and earthy dish which is very mildly spiced. Using rice flour makes the dish thick and creamy.
Recipe from Valli and Vaishali
.
Ingredients
: Horsegram - 1cup Rice flour - 2tbsp Ginger - 1" piece, finely grated Garlic - 2~3 cloves, finely minced Cumin seeds - ½tsp Ground Coriander - 1tsp Red Chili powder - 1tsp Turmeric - a pinch Asafoetida/ Hing - a pinch Salt - to taste Cilantro - 2tbsp, finely chopped
Method
:
Soak horsegram for 4~6 hours or overnight. Pressure cook with enough water until soft. Once the pressure subsides, open the lid and add the grated ginger, minced garlic, turmeric, salt, ground coriander and chili powder. Mix well and simmer for 3~4 minutes.
Mix rice flour with 3tbsp water and form a thick slurry. Add this to the simmering dal and cook for 5~7 minutes or until the dal is thick and creamy.
Heat 2tsp oil in a small pan, add cumin seeds and hing. Once the seeds splutter, add it to the dal and garnish with chopped cilantro.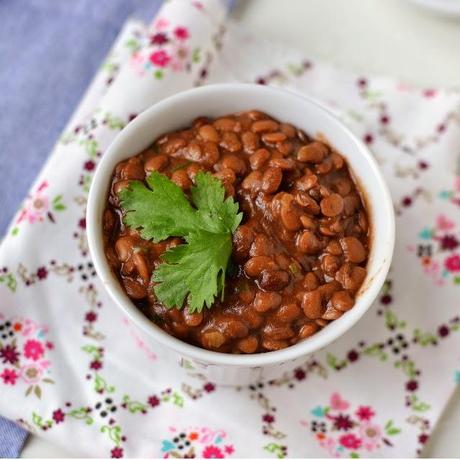 Panch Phoron Tharkari (Mixed Vegetable Curry with Panch Phoron)
: This was one of the most popular dishes that was posted for North eastern states -- Arunachal Pradesh, Tripura, Bengal etc. Panch phoron is a mix of 5 seeds -- mustard, fennel, nigella (onion), fenugreek and cumin. The addition of panch phoron to tempering gives any dish a lot of flavor. This is a very simple semi dry curry that can be made with any combination of mixed vegetables. I used sweet potato, eggplant and regular potato. Traditionally pumpkin is used in this curry, but butternut squash or any other winter squash can be used instead. This curry goes well with rice or roti.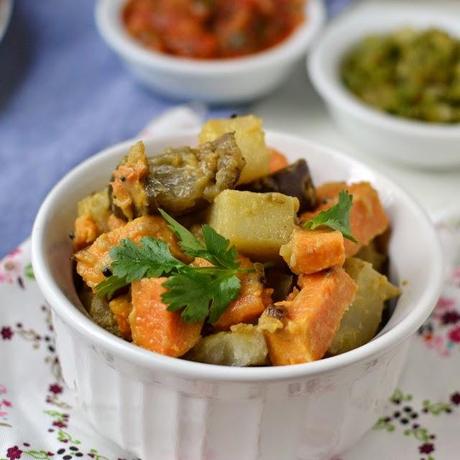 Recipe from Sandhya & Valli
.
Ingredients
: 
Serves 2~3
Sweet Potato - 1 medium, peeled and diced Potato - 1 medium, peeled and diced Eggplant - 3 medium, chopped Dry red chilies - 2~3 Bay leaves - 2 Green Chilies - 2~3 (adjust as per taste) Milk - ½cup (add more if needed) Turmeric - ½tsp Panch phoron - 2tsp (mixture of cumin, fennel, mustard, nigella & fenugreek seeds) Salt - to taste
Method
:
Heat 2tbsp oil in a pan, add the panch phoron, bay leaves and dry red chili. Once the seeds start to splutter, add the green chilies, turmeric and all the veggies.
Mix well and cook covered till the veggies for 5~7 minutes. Add milk to the veggies, cover and cook till the veggies are tender; this will take another 8~10 minutes.
Season with salt. Cook till all the milk is absorbed and the veggies are cooked through.
Serve hot with rice or roti.