With a few store-cupboard ingredients, this tasty Pancetta and Broccoli Pasta dish will come together in under 30 minutes. Perfect for a speedy mid-week meal.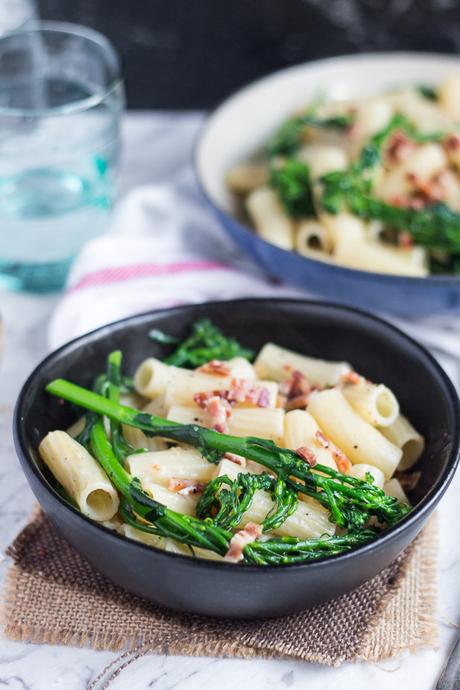 The broccoli harvest is tailing off now, but at its height I was putting broccoli in almost every meal. One week I discovered a new broccoli pasta recipe, and slotted it into that week's meal plan. However, when it came time to cook dinner I realised that the recipe in question required me to sweat onions, steam broccoli, cook pasta and then fry off pancetta and bread - each in a separate pan.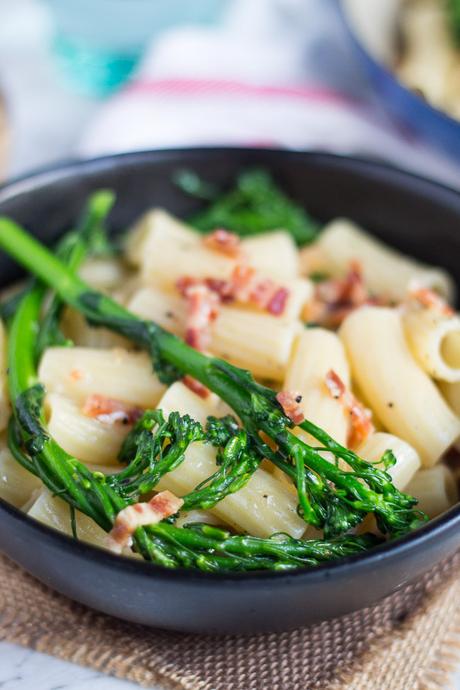 Now, while it may work very well for a recipe developer who probably has someone washing up for them to use four pans for a recipe, the strategy in my own kitchen is to use as few dishes as possible. Combine that with the realisation I had forgotten to bake bread for the croutons, and I was faced with either making major substitutions, or cooking something completely different. I went with something completely different.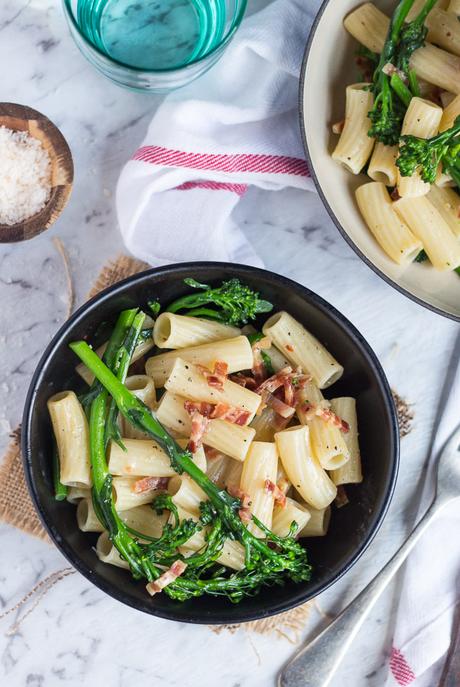 When I first taught myself to cook, I would purchase all of the listed ingredients in a recipe, and slavishly follow every step. This strategy led to a lot of opened jars and bottles that I had no further use for and a sink full of dishes. Nowadays my preference is to keep a few store-cupboard staples, like pasta, Parmesan cheese, sour cream and some form of cured meat, on hand. My current approach ensures that when dinner plans go pear shaped I can still pull together a meal, such as this easy pasta dish.
The sauce for this Pancetta and Broccoli Pasta comes together in the time it takes to boil the pasta. And by dropping the broccoli into the pasta pot in the final minutes of the cooking time you can avoid dirtying another pan to steam the broccoli. Win!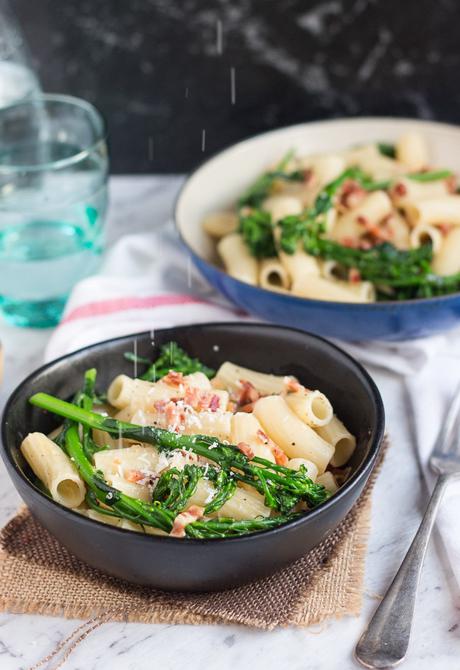 Whilst it didn't occur to me at the time, I later realised that this dish is really just a riff on my Zucchini & Pancetta Pasta. The zucchini version is on high rotation in summer when the zucchini harvest is booming, so I was very happy to discover a new family-approved way to use up next year's broccoli harvest. And I only have two pans to wash.
5 minPrep Time
20 minCook Time
25 minTotal Time

Save Recipe
Ingredients
500g dried pasta
150g pancetta, chopped into 4mm lardons
2 cloves garlic, crushed
1 red chilli, chopped
1 head broccoli, cut into small florets
100g (1 cup) Parmesan cheese, grated
Salt & pepper
Instructions
Bring a large pot of water to the boil, and cook the pasta according to the package instructions.
Whilst the pasta is cooking, place the pancetta in a frying pan over a medium - low heat. Cook slowly for approximately 8 minutes until the lardons are crispy and the fat has rendered out of the pancetta.
When the pasta is almost ready, add the broccoli to the pasta water.
Add the garlic and chilli to the pancetta and cook for one minute.
Drain the pasta and broccoli, reserving a cup of cooking water.
Tip the pasta and broccoli into the fry pan with the pancetta.
Scatter a large handful of Parmesan over the pasta, season with black pepper, then toss thoroughly to mix the pancetta through the pasta.
Add a little of the reserved cooking water if the pasta seems dry.
Serve immediately with the remainder of the Parmesan
Notes
http://thecookspyjamas.com/pancetta-broccoli-pasta/