This post may contain affiliate links. As an Amazon Associate, I earn from qualifying purchases. Please read my disclosure.
Who loves pancakes for breakfast?! My super easy Pancake Tacos recipe is a creative take on a breakfast classic! It's vegan, packed with protein, easy to customize with your favorite toppings, and is ready in less than 30 minutes!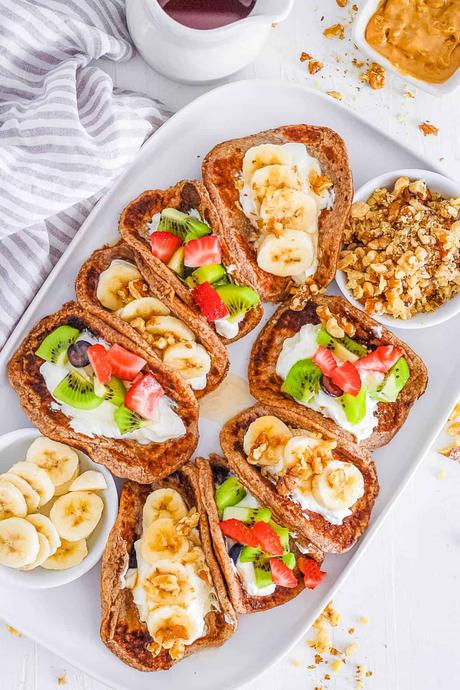 These unique vegan pancake tacos are versatile, soft, fluffy and make the perfect breakfast treat! They are slightly thin, with a slightly more flexible texture, so that they can be easily transformed into a taco and topped with your favorite fillings.
Latest Recipe Video!
Made with a simple mixture of oatmeal, banana, vanilla protein powder, unsweetened soy milk and flaxseeds, this recipe is a good source of whole grains, fiber and will keep you full until lunch thanks to the added protein!
Enjoy these Vegan Protein Pancake Tacos at your next family breakfast or brunch gathering, and feel free to customize it with your favorite toppings. You can even make a big batch of the pancakes to enjoy all week, and put out different toppings every day to enjoy!
The best part? You don't need a knife or a fork to eat these delicious taco pancakes! It's a great option for picky eaters and is sure to be your family's new favorite recipe!
👩🏽‍🍳 Why This Recipe Works
Less than 30 minutes of cook and prep time!
Simple recipe everyone will enjoy!
Can be tailored to even the pickiest of eaters with many different topping options
Great for those lazy Sunday mornings!
Good source of protein, fiber and healthy fats
A great vegan pancake alternative
Super fun breakfast for kids!
Can be easily reheated for a quick on-the-go meal
Best pancake taco recipe ever!
These simple pancake breakfast tacos require just a few ingredients that you are likely to have on hand. Be sure to have a good food processor at home to get the fine oatmeal powder this recipe calls for.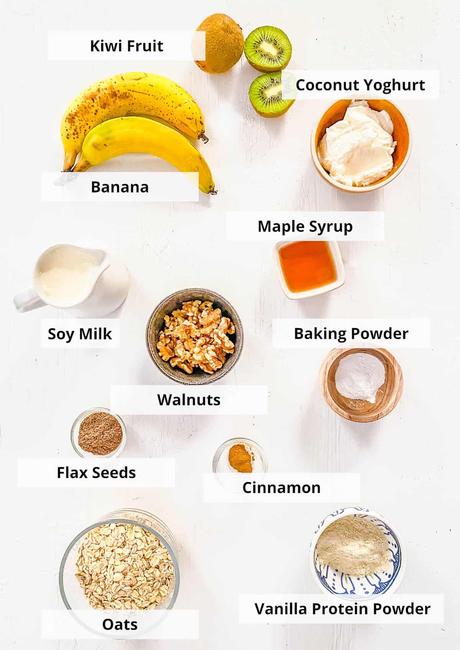 Oatmeal: Old Fashioned oatmeal or instant oats can both be used in this recipe. Old fashioned oats have a higher fiber content and are a healthier, lower glycemic index option for diabetics.
Banana: Be sure to use a ripe banana in this recipe to bring out the sweetness of these tacos.
Vanilla Protein Powder: Choose a protein powder that has a high amount of protein (20 grams per serving), which helps to make this a filling meal. I like vanilla protein powder (instead of plain) since the vanilla brings out the sweet flavor we all know and love in our pancakes!
Flaxseed: Used instead of eggs for this vegan pancakes recipe.
Cinnamon & Salt: Cinnamon adds a nuttiness and salt brings out the sweetness of these pancakes - I love using cinnamon in so many breakfast dishes! It's a warm spice that is absolutely delicious.
Maple Syrup: For sweetness, but did you know that maple syrup has more to it than just sugar? It has several good for you minerals including potassium, calcium, manganese, phosphorus, iron, and selenium.
Baking Powder: Baking powder and baking soda are leaveners typically used in pancakes and other baked goods. They are responsible for the bubbles in the batter, and for making them lighter in texture.
Soy Milk: One of the other key ingredients in this recipe, soy milk is a great plant-based milk that can be used as the liquid in this recipe to help blend everything together.
Pancake Fillings
There are so many ways to fill your breakfast pancake tacos! Here are some of the fillings I love:
Fresh Fruit: Sliced banana, small pieces of apples kiwis or pears, blueberries, raspberries, strawberries, or even cherries!
Nuts: Walnuts, sliced almonds, or pecans all taste great!
Spreads: Try peanut butter or almond butter
Savory Toppings: Try scrambled eggs topped with shredded cheese and a drizzle of hot sauce or salsa!
Yogurt: Coconut or oat milk yogurt would make a great creamy filling. If you don't need these tacos to be vegan, you can also use plain Greek yogurt.
You can modify these taco pancakes in so many different ways! Here are a few of my favorites:
Fiber And Healthy Fats: Increase the fiber and healthy fat content by adding a few teaspoons of ground hemp hearts or chia seeds into the batter of your healthy pancake tacos.
Add Your Favorite Fillings: This is where the fun comes in. Try using a variety of fillings including strawberries, blueberries, bananas, peanut butter, vegan cream cheese, coconut yogurt, coconut shavings or nuts.
Substitute Oat Flour: You can sub oat flour for the oatmeal in this recipe.
Make a Lower Carb Version: You can use almond flour instead of oatmeal to reduce the amount of carbohydrates.
This recipe requires very few ingredients, a food processor, skillet and medium bowl to whip up these pancakes in a pinch!
Process the Oat Mixture: Place the oats into a high-speed food processor and blend until it forms a fine powder. This oat flour takes the place of all purpose flour - it's a healthier, higher-fiber, gluten free alternative that still keeps these pancakes nice and fluffy!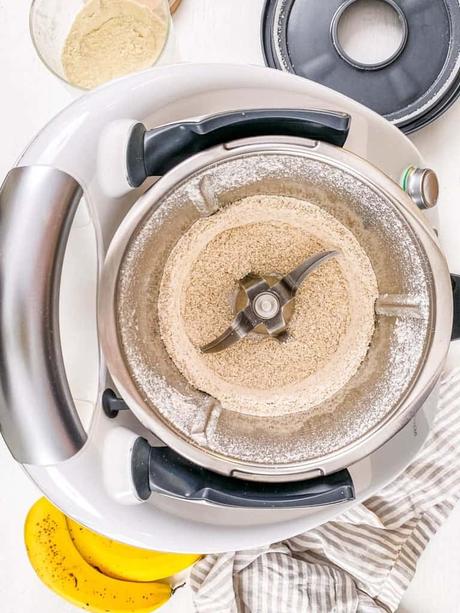 Mix Dry And Wet Ingredients: Add all remaining pancake ingredients, blend on high until smooth. Remove and allow to sit for 5 minutes before using.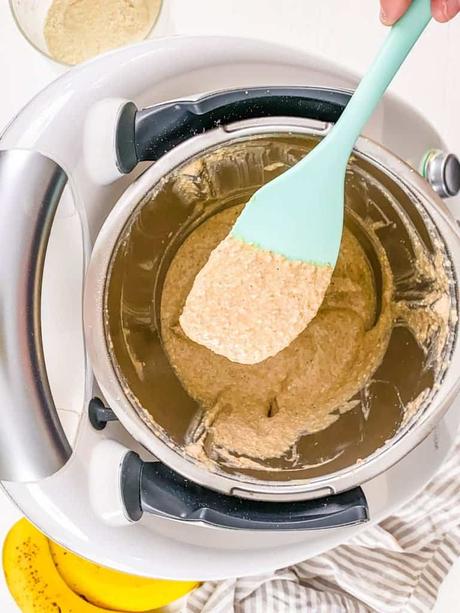 Cook On A Large Skillet: Heat a large frying pan over medium-high heat and lightly spray with nonstick cooking spray or oil. Spoon ¼ cup of pancake mix into the skillet and spread to form a circle.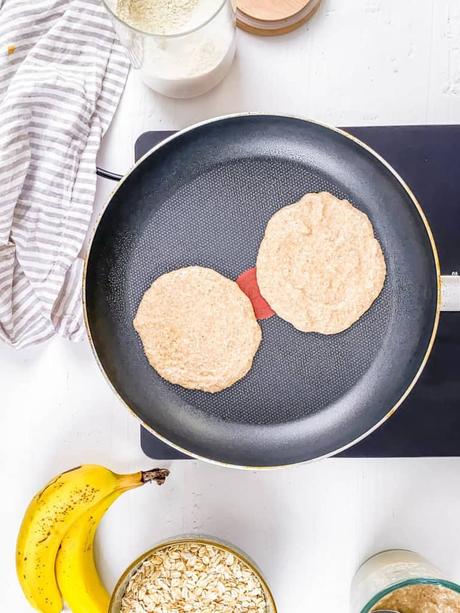 Watch For Bubbles & Finish Cooking: Lower heat to medium heat until bubbles start to form, flip and cook for a further three minutes until golden brown. Repeat with the remaining pancake batter. You want to make relatively thin pancakes, that are easy to fold into a taco shape - but not too thin that it falls apart when you add the toppings!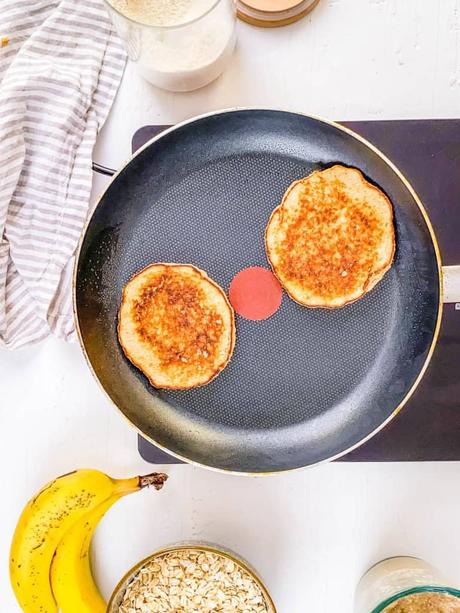 Let Cool & Assemble: Place finished pancakes on a baking sheet to cool as you make the remaining batter. Take a pancake and fold it into a taco shape. Place it either in a taco holder, or on a large serving platter. To keep it in a taco shape while you fill it up, you can use a cup on each side of the taco pancake. When you make your next taco, you can just move the cup to the outside of both tacos (and so on, for every subsequent taco).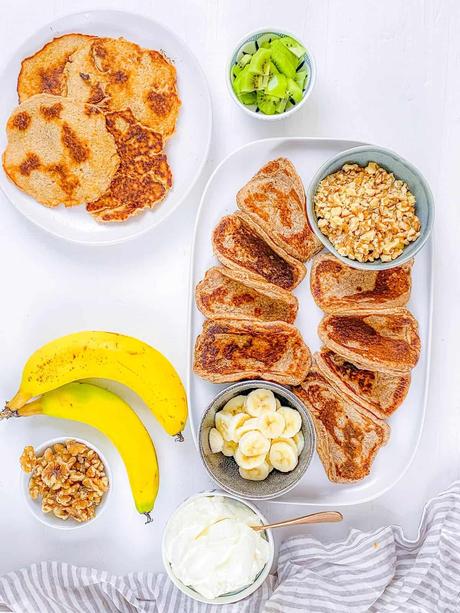 Add Toppings: Add coconut yogurt to the center of each pancake, and top with your favorite fresh fruit, crushed nuts, warm maple syrup, vegan whipped cream or nut butter.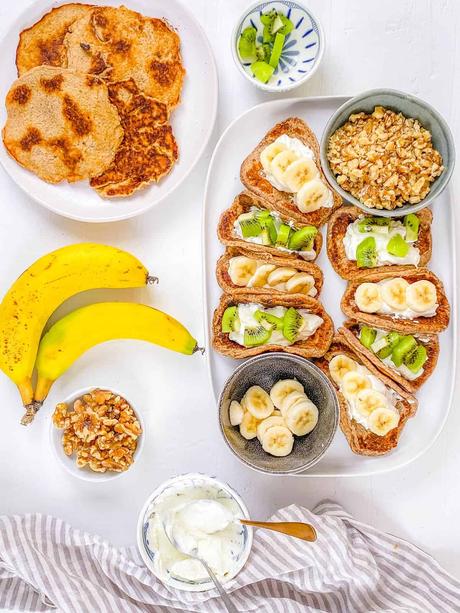 How to Store and reheat these taco style pancakes?
To Store: This recipe can be stored in the refrigerator for 5 days in an airtight container, or frozen for up to six months.
To Reheat: to pop them in the microwave for a couple of minutes or reheat in the oven at 350 degrees until heated through. You can also place them on a hot griddle, warmed over medium heat with melted butter.
HOW DO YOU SERVE A VEGAN PANCAKE?
These pancake fruit tacos can be served in a variety of ways with a myriad of toppings and fillings. Some of my favorite variations include starfruit, strawberries with vegan cream cheese or bananas and walnuts. They are great served with sides of fresh fruit, fruit compote or vegan breakfast sausage.
HOW MANY CALORIES ARE IN THIS TACO PANCAKE RECIPE?
This vegan version contains roughly 220 calories per serving (for two tacos!)
ARE SAVORY PANCAKE TACOS HEALTHY?
The answer is - it depends! Most breakfast foods are often a combination of unhealthy refined flours and highly processed meats, which can leave you feeling sluggish and overly full.
But not this breakfast choice! These fruity pancake tacos are made with healthy whole grains, are high in protein, contain heart-healthy omega 3 fats, are plant based, and are low in calories!
These pancakes are not meant to be fluffy, they are designed to be somewhat thin so that they can be flexible and used as a taco shell.
Allow the batter to sit for 5 minutes to help evenly absorb the liquids.
If you find the batter is too thick add an additional tablespoon of soy milk.
You can sub out the oats and use oat flour instead.
Any plant based milk works well in this recipe.
The key to making a great pancake taco lies in creating a fine meal with the oatmeal by using a food processor. This helps keep the texture of these pancakes thin and flexible, making it easier to create that taco-like container to hold all of your yummy fillings!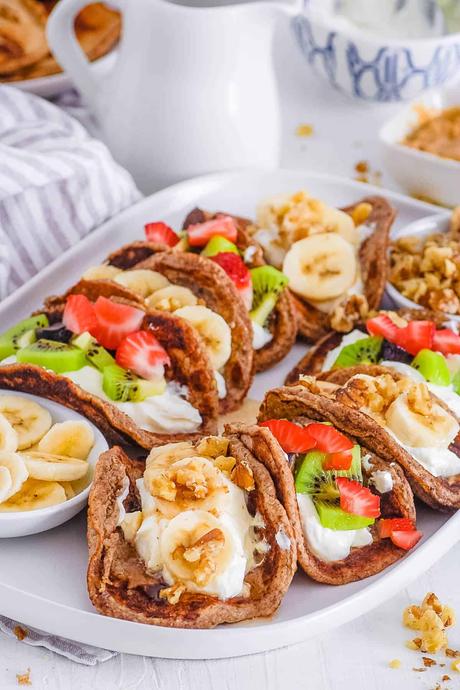 🥞 More Delicious Breakfast Recipes!
Pancake Tacos Recipe