Happy Pancake Day! Food holidays always call for a big celebration, and considering how much I love a good pancake (especially with chocolate chips! Mmm…) I thought I would share a roundup of my favorite pancake recipes from around the web to help you all celebrate. Since I'm essentially kitchen-less at the moment, my pancake celebrations will have to be at a restaurant. But, as long as I get pancakes, I'll be a happy girl! Now, enjoy these pieces of pancake beauty from around the web!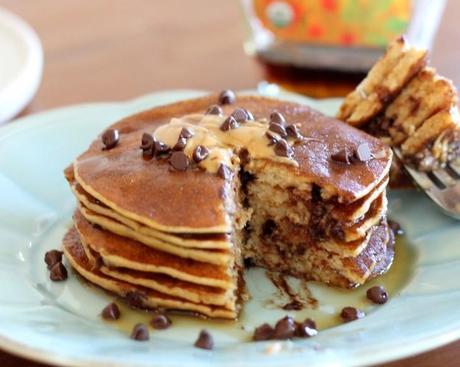 These 2 ingredient pancakes from top with cinnamon look amazing. So healthy, SO easy, and totally customizable.
These chocolate chip oatmeal cookie pancakes are making me drool. Let's repeat that: chocolate. chip. oatmeal. cookie. pancakes. (no butter or sugar, and can be made GF/vegan!)
As if rice krispie treat pancakes weren't enough Tieghan of Half Baked Harvest added BROWNED BUTTER SYRUP. dead.
Chocolate hazelnut pancakes…because it's nutella in pancake form.
These ricotta and lemon pancakes remind me of a pancake favorite from a restaurant in san diego. So fluffy!
Bacon buttermilk pancakes, because bacon + anything is a winning combination.
Mmm…banana pancakes. Must listen to jack johnson while making/devouring these. Also, GF/DF.
These mini peanut butter ricotta pancakes with chocolate chips are just too cute for words.
Strawberry and sprinkles buttermilk pancakes. Sprinkles in pancakes, need I say more?
This apple pancake, made in a skillet. Pancake perfection.
I made banana, peanut butter, chocolate chip protein pancakes (gf) once, and they were AWESOME. (seen above!)
Rocky road pancakes. These look unreal.
For the savory lovers, bacon, cheddar, and green onion pancakes. Serve with maple syrup.
I hope you're hungry! What's your favorite way to enjoy pancakes? What kind are you eating today?!
P.S. do you guys like posts like this?! I loved writing it – let me know in the comments if you want to see more recipe roundups/favorites posts on Bakerita!