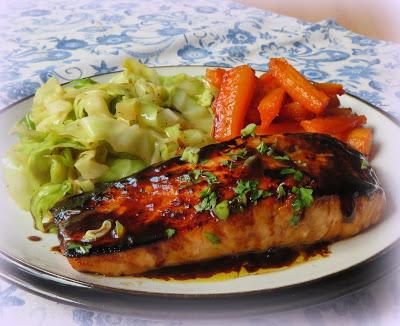 Last month we received a beautiful box of fish from
Seafresh Quality Foods
.  Seafresh is an on line fish monger, which sells quality fish, seafood, poultry and meat.  If you can recall, I was very impressed with both their product and their delivery service!  There was absolutely nothing that I could fault with any of it. Feel free to read about
my experience here
.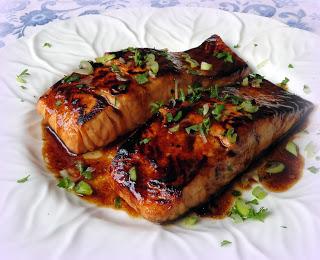 I had used some of it previously when I made a lovely fish pie with it.  Today I decided to use the remainder of the salmon and give it somewhat of an Asian treatment.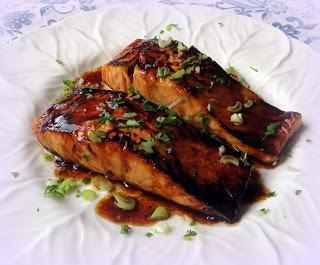 All
Seafresh
Salmon Fillets are center cut fillets, meaning that you get the thick part of the fish, not the tail.   The skinless and boneless fillets are sourced from the clear waters of Scotland and the Faroe Islands., These high-quality center cut fillets flake beautifully when cooked and taste amazing which makes them a favourite, always a popular fish. I am not fond of fish that comes from the tail area, especially Salmon, as it is usually a lot fishier tasting than the center cuts.  These beautifully cut fillets fit exactly  with my tastes, and you can buy them at the moment on offer at a slight reduction. Bonus!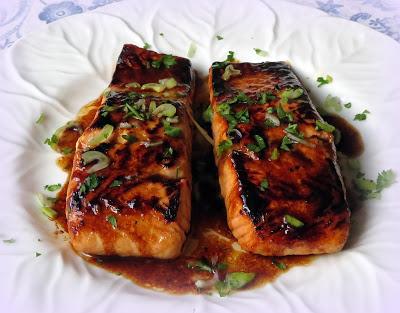 Salmon is one of those foods, like boneless, skinless chicken breasts, that everyone seems to like.  This fabulous Asian marinade that I used today provides a fresh twist to an old favourite!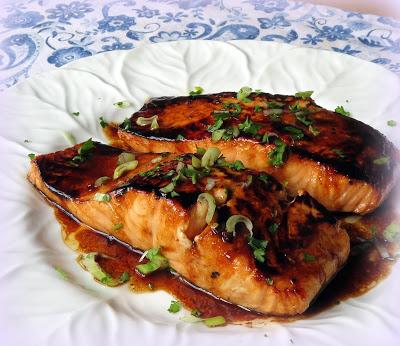 The salmon fillets are first marinated in a fabulously tasty marinade . . .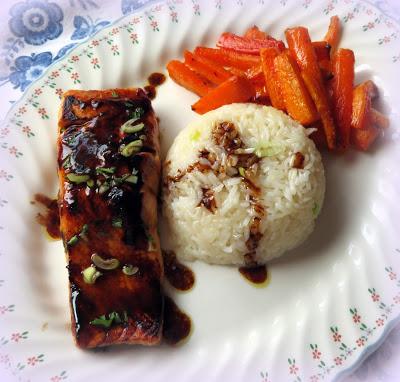 Light soy sauce, rice wine vinegar, light olive oil, orange juice, crushed red chillies along with freshly grated ginger root provide the Asian flavours.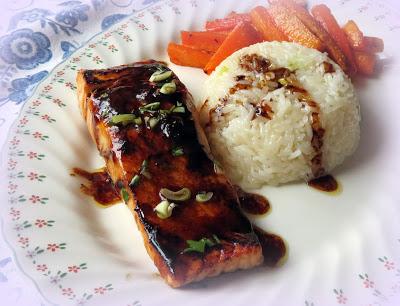 They can be ready to cook after 1/2 an hour in the marinade, but I like to marinade the for a tad bit longer.  I wouldn't leave them in it for any longer than an hour though.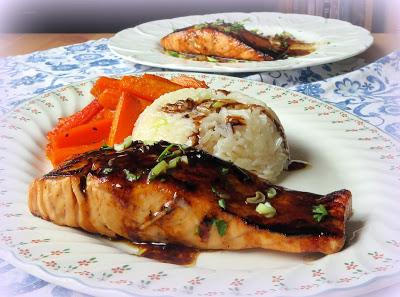 Once marinated you simply flash fry them in some hot olive oil, until golden brown and cooked through. About 3 to 4 minutes per side does the trick.  Remember that they will continue to cook when resting . . .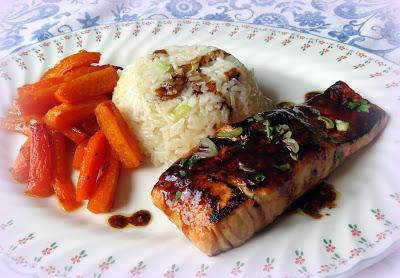 The remaining marinade it then  cooked and thickened into a glaze that you spoon over the finished salmon  . . .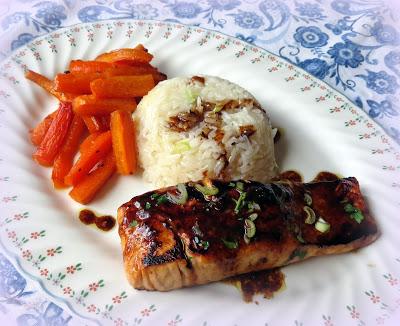 Garnished with some fresh coriander leaf and spring onions, Todd enjoyed his with some Lime & Coriander Rice and glazed carrots  . . .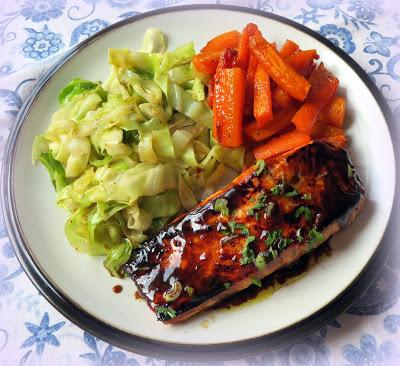 I enjoyed mine with cabbage and carrots.  We were both well pleased.  This is beautiful fish.
Yield:
4
Author:
Marie Rayner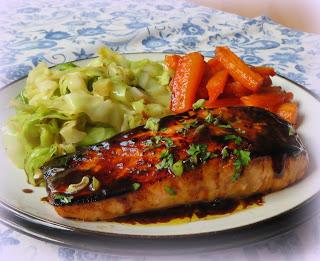 Pan-Seared Salmon with a Sweet & Spicy Asian Glaze
Delicate pieces of salmon fillet, perfectly cooked.  Marinated and glazed with an Asian influence.
ingredients:
For the marinade:
2 TBS light soy sauce
2 TBS light olive oil
the juice of one orange
3 TBS rice wine vinegar
1/2 tsp crushed red chillies
1 TBS finely grated peeled fresh ginger root
You will also need:
4 (6 ounce) salmon fillets, about 1 1/2 inched thick
fine sea salt and freshly ground black pepper
2 TBS light olive oil
2 TBS chopped fresh coriander leaf (cilantro)
1 TBS minced spring onions
instructions:
How to cook Pan-Seared Salmon with a Sweet & Spicy Asian Glaze
Whisk all of the marinade ingredients together in a small plastic container that will hold all of the salmon fillets in one layer.  Add the salmon fillets, turning to coat.  Cover and marinate for at least half an hour.
When you are ready to cook them, remove the salmon from the marinade, reserving the marinade left in the dish. Season the salmon all over with salt and black pepper.  Heat the oil in  a large skillet over medium heat.  Add the salmon fillets, presentation side down.  Cook for 3 to 4 minutes, until golden brown, then flip over and cook for a further 3 to 4 minutes, or until cooked through.  Remove from the pan to a serving platter, tent loosely with foil and keep warm.
Pour the reserved marinade into the skillet.  Simmer for 3 to 4 minutes or until it becomes thick and syrupy.  Drizzle over the salmon on the platter and sprinkle with the coriander leaf and spring onions. Serve immediately.
Created using
The Recipes Generator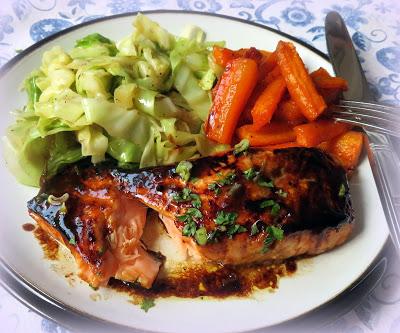 You can see how perfectly cooked it was, using my timings.  If you like it done a bit more you can leave it for a bit longer, but I would not add much to the timings.  Over-cooked dry salmon is about as palatable as overcooked anything! 
A few things about Seafresh:
Same Day dispatch on orders received before 1 PM.
All packages are carefully hand packed.
Free delivery on orders above £50, £8 on orders below that amount. 
Responsibly and sustainably sourced.
Air Blast Frozen at source within 4 hours of being caught.
Wide variety to choose from. 
Do check them out on their
website
to find out more.
Follow them on
Facebook
,
Twitter
and
Instagram
.
Note - Although I was gifted with product free of charge for the purposes of review, I was not required to write a positive review in exchange, nor would my integrity allow me to recommend anything if I did not truly like it. Any and all my opinions are my own entirely.
Up tomorrow, a simple and favorite dish with us,  Curried Chicken Saute!
See you then!