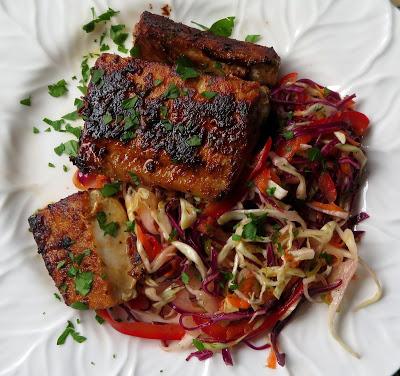 Mahi Mahi, also known as the Dorado or Dolphin fish is a beautiful fish that is not only sustainable but very easy to cook.  It has a firm white flesh that is fairly mild in flavor.  This makes it quite adaptable, hearty enough to grill and yet firm enough to sear, glaze, fry, etc.  making it very versatile. Don't confuse it with the common Dolphin.  This is not Flipper.  Don't worry. Far from being even closely related to its namesake Mahi Mahi is highly sustainable, responsibly fished and harvested due to strong regulations.  They spawn and grow rapidly, which helps to keep their population stable.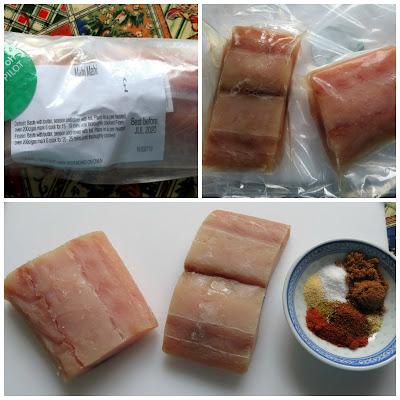 The people at
Seafresh
recently sent me some to try. I was quite excited at the opportunity to try a new fish I had never tried before!  I decided to give it a somewhat simple treatment.  I created a sweet and savoury rub to coat it with and then simply pan seared it  until it was nicely blackened on the outside, but perfectly cooked on the inside.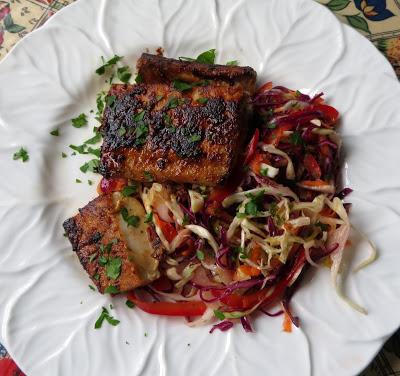 I had to do some research on the fish first so that I knew how to cook it properly.  I learnt a lot about it and about what it might taste like. Having never tasted it before I was flying in the dark here!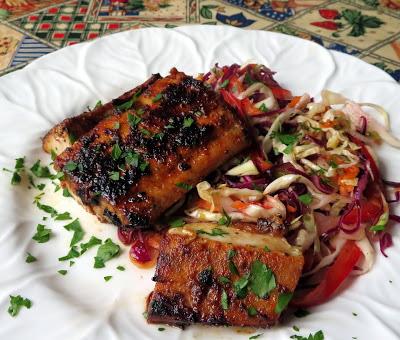 It is a carnivorous fish which gathers in schools which mostly eat forage fish.   The word Mahi (Hawaiian) means strong and these fish are strong and fast swimmers.  
They are brightly coloured and mostly found in Pacific waters, although they can also be found in the Atlantic.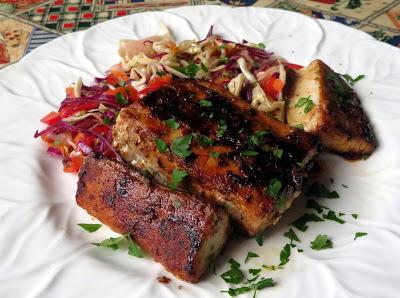 They are considered to be highly nutritious and rich in Iron and low-fat protein. Low in sodium and rich in Omega-3, which not only are good for your heart but also help to combat cancer.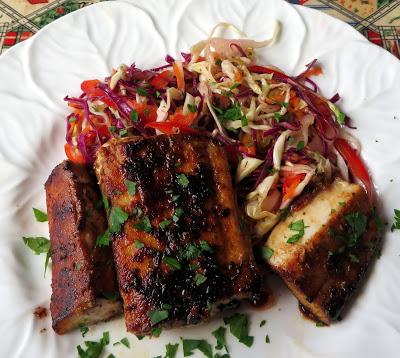 It is also a great source of essential minerals and important B vitamins, so altogether it can be considered a fairly healthy fish to eat.  It is however high in cholesterol so if you are watching yours, you will still want to consume it in moderation.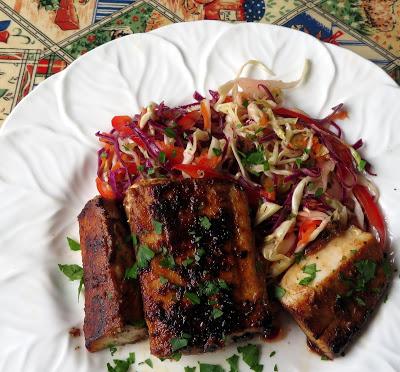 I was told that it had a fairly mild flavour  . . .  not a "strong fishy" flavor.  I am not fond of overly fishy flavoured fish.  I can just about tolerate Salmon.  
So what did it taste like?  
It was definitely not benign in flavor like cod, it was probably more like Halibut, so not unpleasant at all.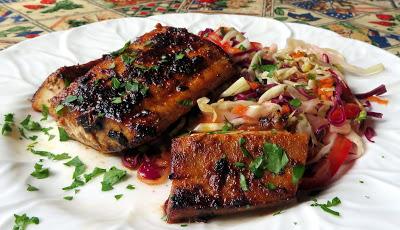 I was quite surprised that the flesh turned out as white as it did when cooked.  It was quite darkish raw so I expected it to cook dark, but it was not dark in the least!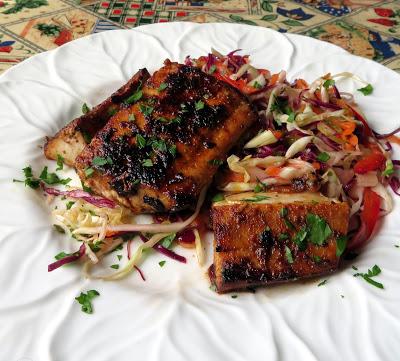 Other than that searing rub I put onto it  . . .  the interior flesh was cream-coloured when cooked . . .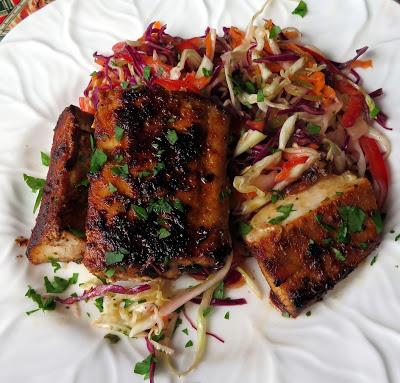 It had a very firm texture, which I think would make it excellent for using in Fish Tacos, or for grilling on the BBQ.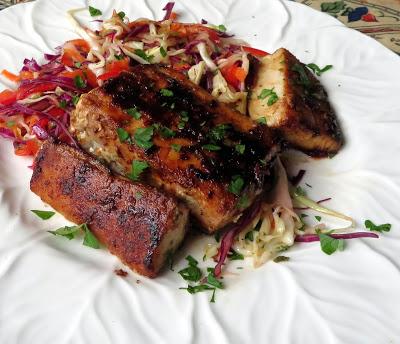 I am thinking it would also be lovely stir fried . . .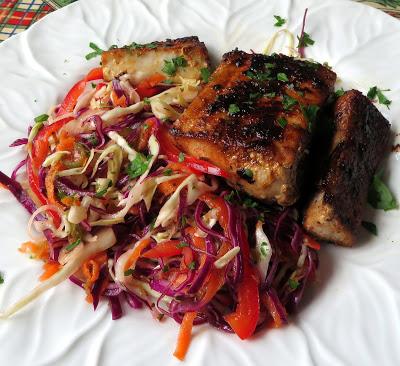 I had made a lime and honey dressed coleslaw to go with it, almost like a pickle, except fresher . . .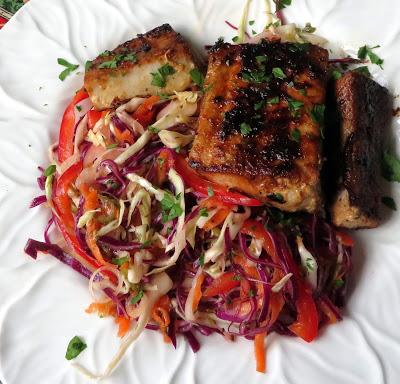 It went very well.  I would highly recommend.  I can't wait to try it again one day! 
Yield:
4
Author:
Marie Rayner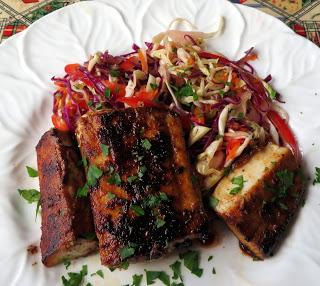 Pan Seared Mahi Mahi
Mahi Mahi rubbed with a delicous blend of savoury and sweet spice and then pan seared to perfection. Delicious!
ingredients:
4 Mahi Mahi fillets (each about 4 - 6 ounces)
1 1/2 tsp smoked Spanish Paprika
1 tsp dark soft brown sugar
1/2 tsp garlic powder (not salt)
1/2 tsp onion powder (not salt)
1/2 tsp fine sea salt
3/4 tsp ground cumin
1/4 tsp chili powder
1/4 tsp ground black pepper
1/4 tsp dried oregano
1 TBS light olive oil for frying
instructions:
How to cook Pan Seared Mahi Mahi
Mix together the paprika, sugar, garlic and onion powders, salt, cumin, chili, black pepper and oregano in a small bowl.  Sprinkle the seasoning over both sides of each fillet and rub it in.
Heat the oil in a large heavy based pa over medium high heat.  Add the fish fillets, presentation side down and cook for 2 to 3 minutes per side, or until  the fish reaches your desired level of doneness, bearing in mind that it will continue to cook while it sits.  Serve hot with your desired accompaniments.
Created using
The Recipes Generator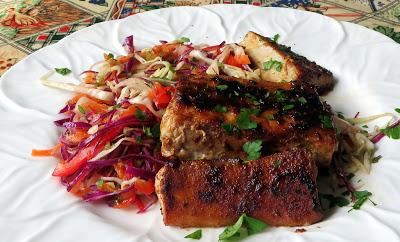 Here is the recipe for the sweet and tangy coleslaw which I made to serve with the fish.  It went down a real treat. Do beware however it is more like a pickle and will not keep well, so whilst you can prep the vegetables ahead of time, you shouldn't dress them until just prior to serving.
Honey Lime Coleslaw
Yield:
4
Author:
Marie Rayner
This is the perfect blend of sweet and tangy.  It doesn't keep well so you will want to eat it on the day. You can prepare the vegetables ahead of time, but don't dress until just prior to serving.
ingredients:
For the salad:
1 cup of green cabbage, thinly sliced
1 cup of red cabbage, thinly sliced
1 medium carrot, peeled and grated
1 small red pepper, trimmed, deseeded and thinly sliced
3 spring onions, finely sliced
For the dressing:
the finely grated zest and juice of one lime
1 TBS liquid honey
1/8 tsp powdered garlic
2 TBS light olive oil
1 TBS dried coriander leaf
instructions:
How to cook Honey Lime Coleslaw
Toss all of the vegetables together in a bowl.  Whisk together the dressing ingredients to amalgamate thoroughly.  Pour over the vegetables and toss all together to combine.  Serve immediately.
Created using
The Recipes Generator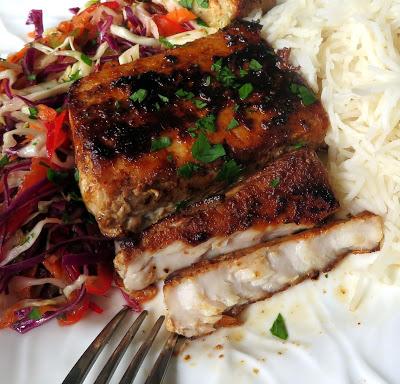 Here you can see how creamy white the flesh actually was when it was cooked, a complete contrast to what I had expected when I first saw this fish raw. Seafresh is an on line fish monger, which sells quality fish, seafood, poultry and meat.  If you can recall, I was very impressed with both their product and their delivery service!  There was absolutely nothing that I could fault with any of it. Feel free to read about
my experience here
. Many thanks to Seafresh for sending me this Mahi Mahi to try.  There doesn't appear to be any  Mahi Mahi available on their page at the moment,but keep checking back to their website to see when it becomes available again.
 A few things about Seafresh:
Same Day dispatch on orders received before 1 PM.
All packages are carefully hand packed.
Free delivery on orders above £50, £8 on orders below that amount. 
Responsibly and sustainably sourced.
Air Blast Frozen at source within 4 hours of being caught.
Wide variety to choose from. 
Do check them out on their
website
to find out more.
Follow them on
Facebook
,
Twitter
and
Instagram
.
Note - Although I was gifted with product free of charge for the purposes of review, I was not required to write a positive review in exchange, nor would my integrity allow me to recommend anything if I did not truly like it. Any and all my opinions are my own entirely.
Up Tomorrow:
Irish Oatmeal Muffins