Have you ever had the chance to see fresh tuna being caught. Or fresh tuna being hauled in from a deep sea fishing boat? Well, if you haven't, then make that one of your 'bucket list' things to see. Can you guess what the top tuna fishing towns are? I mean great places to go for more than just tuna! And, if you have, you know why it's really special to witness the magnificence of tuna. Fresh tuna steak is nothing short of velvety tender and something that's like butter, it melts in your mouth.
You don't need a lot of fru fru when cooking fresh tuna steaks. In fact, all the flavor is there for you. You just have to accentuate it somewhat with some good salt and pepper. And, I always love coarse ground fresh pepper. And, make that kosher or sea salt, large grains rather than fine. Something I think about those larger salt crystals that explode flavor from the tuna!
The key to cooking tuna is a screaming and scorching hot cast iron skillet. And, I don't suggest substituting another skillet like a non-stick. That cast iron has to be well-seasoned. And, if you're doing a large tun steak that's about one and a half to two inches thick, then make that skillet large, ten to twelve inches. Give that tuna lots of room to 'breathe' as it sears on each side for just about two to two and a half minutes. What you see here is two minutes. That yields a perfectly rare finish. The center is barely warm. You think that butter is melting in your mouth with no effort!
I want to thank my good friend Chef Gary, a true seafood guru, for sharing with me this tuna as well as some other seafood delicacies that I'll be making for the next few months!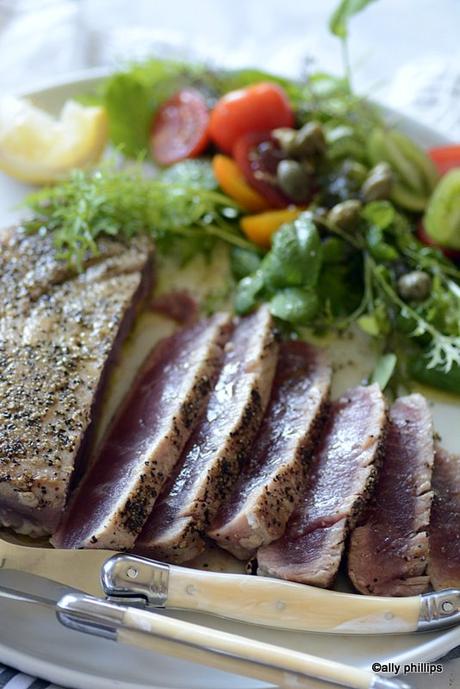 Ingredients
1 fresh tuna steak, 12-14 ounces
2 Tbl. extra virgin olive oil, divided
1 tsp. coarse ground pepper
1 tsp. sea salt
Instructions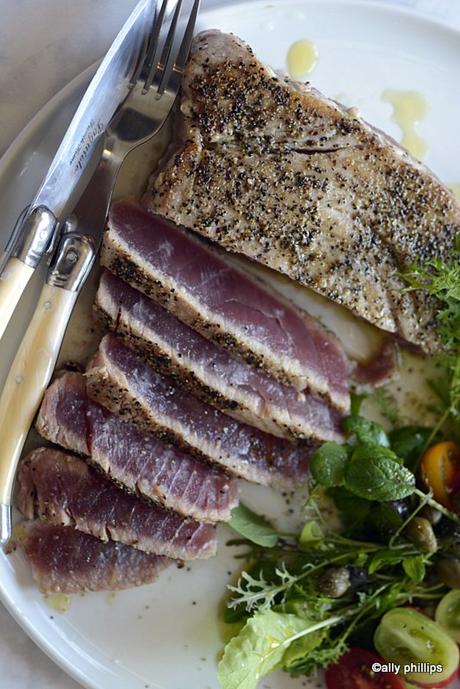 Comments