When I'm shopping at the grocery store, I don't use lists~~I have a mental tally of what I may need to get in terms of staples~~yes, sometimes I end up with 3 cans of baking powder!  And, since I don't sometimes look at the store sale flyers that come on my KeyRing app or in the newspaper typically on Wednesdays for the upcoming week, I leave it to deciding on some food items when I get to the store…what looks good?  What looks fresh?  What's in season?
Today at The Fresh Market, it was cod!  And, I was totally in love w/the nice big pieces I saw, so I had the butcher wrap up my special piece I wanted~~'No, it's the one that's 3rd from the glass **finger pointing on the glass case**…yeah, can you show me that piece?'  After several displays of cod filets, I found Casper who came home with me!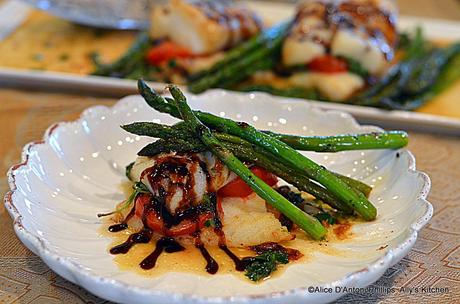 Preheat oven to 375
Serves: 2-3
What you need:
1 to 1 1/2  lb filet of cod—slice into 6 similar size pieces—the thicker nicer pieces will be the tops of the stack
6  tbl butter
1 ½ tsp sea salt
3 Campari tomatoes each cut into 2 thick slices
1 cup arugula (packed)—divided
¼ cup chardonnay
¼ cup fig balsamic glaze (comes in squeeze bottles—I got mine at Fresh Market—you could also most any other flavored or regular balsamic glaze.)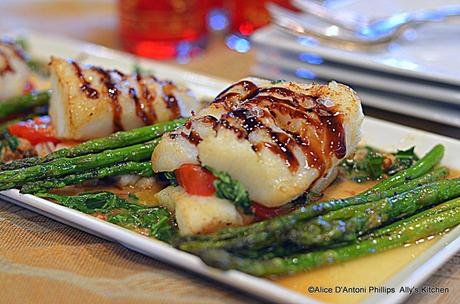 Melt 3 tbl of the butter in a heavy skillet over medium  high heat.  Add the cod turning the sides to show face (up) down first so they can get some golden browning.   Fry for about 90 seconds.
Lay 2 Campari tomato slices  on the bottom piece of the 'stack' (I did this with the less thick and attractive pieces.) Take a little arugula, pinch it together and lay atop the tomatoes.  Now, using a spatula, carefully slide under the top piece.  Flip and put atop the arugula.  Push the stacks to the sides of the skillet so they won't topple.
Add a little butter atop each stack and put in the preheated 375 oven about 5 minutes.
Remove stacks and put on a plate.  Put the skillet back on the blaze, the remaining butter and pour in the wine turning the heat to medium.  Deglaze the pan.  Chop up the remaining arugula and add to this sauce.  Scoop this on the plate with the cod stacks.
Drizzle with the fig balsamic glaze.
(Note:  I served asparagus with this dish.  Just sautéed the asparagus in a cast iron skillet with olive oil,  some lemon pepper, pepper and sea salt for about 5 minutes.  I like to leave them slightly crunchy.)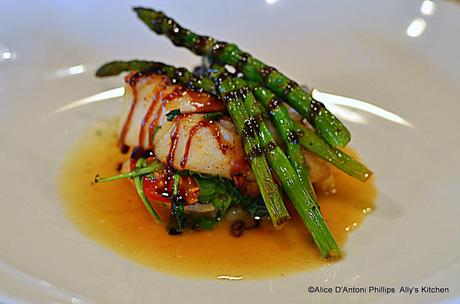 ©Alice D'Antoni Phillips   Ally's Kitchen
Comments
comments