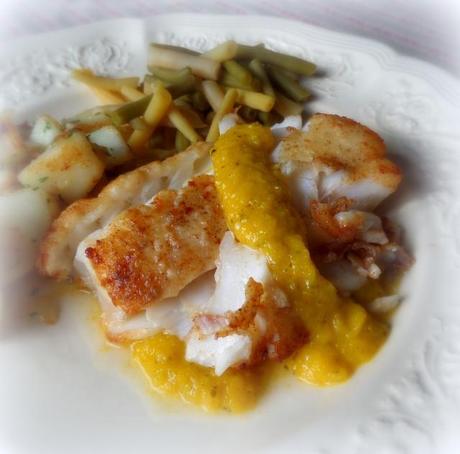 This is my final post about the 

set of Balsamic Vinegars and Olive Oils from  

Vom Fass that I received recently, this time showcasing the Mango Balsam Vinegar which they sent.   Produced in Germany this is a fermented vinegar made from concentrated Carabao-Mango mousse added to white wine balsam vinegar to create a fine and fruity vinegar. It has a rich and strong flavor with a good balance between acidity and sweet flavours, rich and exotic. I thought it would be the perfect match for some really nice Cod Loins which I found at the fish mongers.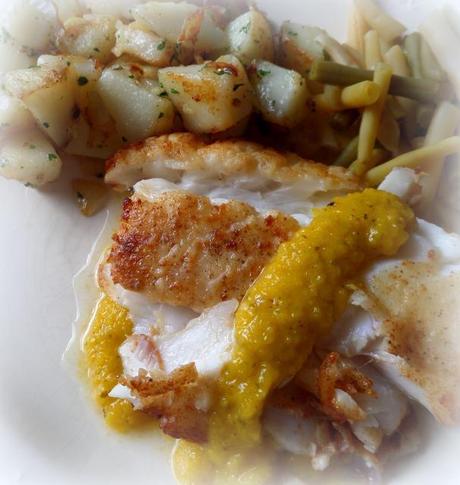 Several years ago I was lucky enough to visit Utah and went to a Brazilian grill restaurant when I was there called Tocanos.  The food was fabulous, but my favorite dish was the Cod with Mango Sauce.  I loved it so much that 5 years later I am still thinking about it!  That's when you know something is really good!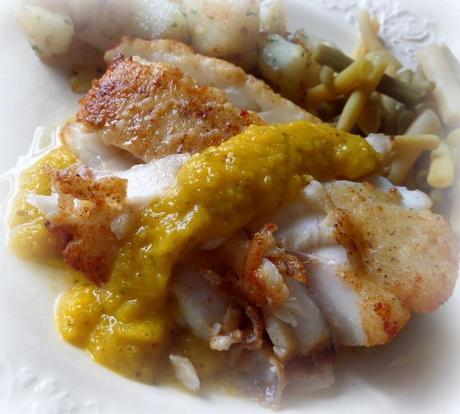 As soon as I saw the Mango Balsam Vinegar from Vom Fass, I knew that I wanted to try to recreate that beautiful dish.  This came pretty close.  I am sure theirs was a cooked sauce, but mine is a raw sauce, which has fresh fruity flavours with a touch of heat from chipotle chilies.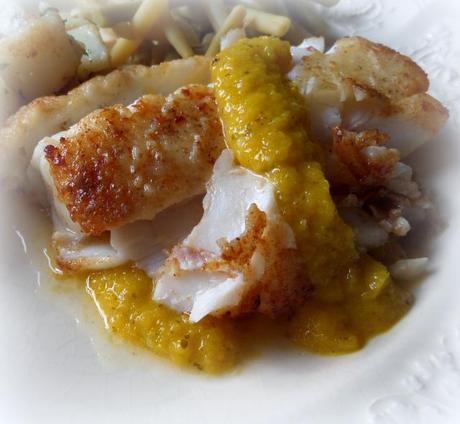 Cod is a really sweet mild fish and goes perfectly with this delicious sauce.  The cod is simply dusted with some seasoning and flour . . . and then pan fried in butter until it is just beginning to fall apart, but is still moist and succulent.  It's a sin to overcook fish.  It really is.  My timings are perfect for a piece of cod that is about one inch thick.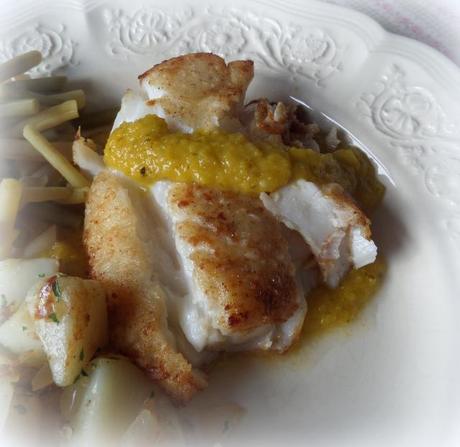 The sauce is fruity with a hint of tang from the vinegar and some mild heat from the chipotles . . .  which of course you can adjust by using more or less as you wish.  Altogether this was a fabulous entrée.   It was very simple to make, and yet at the same time this is something I would not hesitate to serve to my guests.  I think you will love it.  We sure did!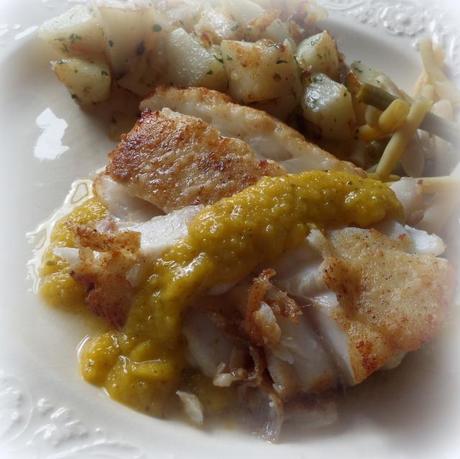 *Pan 
Sautéed
 Cod Loins with a Mango Chipotle Sauce*
Serves 4
Printable Recipe  

Meltingly tender and and sweet cod, simply seasoned and dusted with flour and then cooked in butter, served up with a fresh Mango Chipotle Sauce.   

4 thick fresh Cod loins
fine sea salt and freshly ground black pepper
plain flour for dusting
ground sweet paprika
knob of butter
the juice of half a lemon  
For the Sauce:
1 large mango, peeled and chopped
1/2 tsp chipotle chili paste (I use Discovery)
2 TBS Mango Balsam vinegar
1/4 tsp garlic paste
1 TBS olive oil
1 tsp fresh lime juice
a small handful of fresh coriander leaves, washed and dried (About 1/4 Cup)
fine sea salt and freshly ground black pepper to taste  

Rinse your fish and then dry it very well with some paper kitchen towelling.  Dust each loin lightly with some salt, pepper and paprika.  Roll them in the flour, patting lightly on both sides to help it adhere and shaking off any excess.  Set aside.  To make the sauce put all of the sauce ingredients into a food processor and blitz until smooth.   Set aside.  
Melt a knob of butter in a large skillet over medium high heat.   Once it begins to foam, add the fish, presentation side down, and cook for 2 to 3 minutes on one side, until golden brown, Flip over and cook for a further 2 to 3 minutes, until browned and the fish is just cooked through.  (The edges should flake easily with teased with the tines of a fork.)  Squeeze the lemon over top and remove immediately from the heat.  Swirl the pan to amalgamate the juices of the fish, lemon and butter.  Divide the fish between 4 heated plates.  Spoon some of the butter from the pan over top of each portion of fish along with a dollop of sauce.  Serve immediately.    The Vom Fass Philosphy
"VOM FASS is a Mediterranean way of sampling and savouring premium artisanal products directly from the cask."

Vom Fass Mission
"The VOM FASS mission is to provide our customers with a Mediterranean way of sampling and savouring the finest, premium quality artisanal products, directly from the cask – with a commitment to uncompromising levels of customer satisfaction."
Vom Fass has been created to enhance and meet the demands of a 21st century lifestyle, housing a superb selection of exquisite oils and balsamic vinegars, selected wines, liqueurs and a huge choice of exclusive spirits.   What makes Vom Fass completely unique is that all their products are sold straight from the cask, which means everythingn can be sampled before purchase.
Carefully sourced from leading producers from the Mediterranean to Austria, Vom Fass has selected it's artisan oils and vinegars for their eherapuetic health properties and as versatile cooking ingredients with real nutritional benefits.   Even the more indulgent products in the range have been created to bring something unique to shoe who also really know how to enjoy life.
Vom Fass prides itself on a vast range of high quality style conscious products, stocked by iconic store Selfridges.  Wtih an exceptional range of over 70 different glass bottles and hand inscribed labels or personal messages, Vom Fass will always represent a style choice.
For more information check out 
their web page.
Many thanks to Vom Fass!