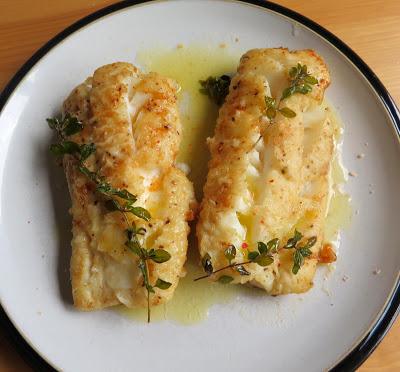 We literally almost had a meltdown in our freezer the other day. (Yes, in addition to the actual melt down we had a few weeks back.) This time it was my fault. Let me begin by saying we have 3 small freezers, each with 3 drawers, which store altogether about as much as a medium sized chest freezer would store.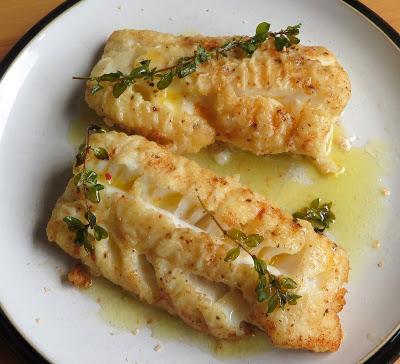 Because of my arhritis and the fact that I am quite short, I was finding it difficult to navigate our chest freezer so we got rid of it a few years back. Anyways, the other day I put something into one of them and did not quite get it closed. DUH! Thankfully I went to get something out the day after and noticed it before we had lost everything. (again) Anyways, All we lost was a tub of ice cream.  Some of my beautiful fish had just about thawed out however.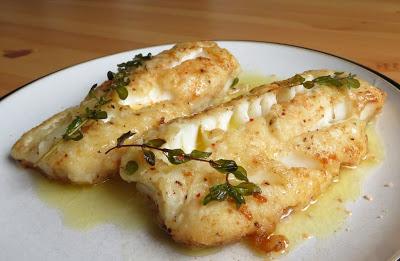 I had just gotten a delivery from
Seafresh
the day before. Beautiful
North Atlantic Cod Loins
(thick, firm and delicately flavoured),
Salmon Fillets
  (which are center cuts and gorgeous),
King Prawns
(peeled, deveined and ready to cook), and fabulous
Sea Bass
(boneless and sustainable).  Thankfully all that was affected was half of the cod. It did still have ice crystals in it, but not enough that I felt safe re-freezing it.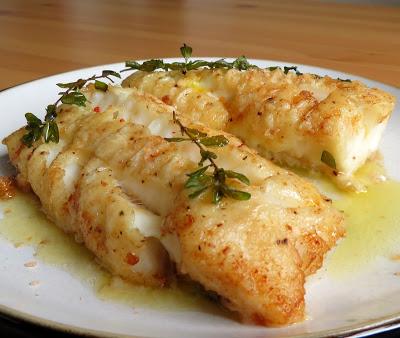 Seafresh is an on line fish monger, which sells quality fish, seafood, poultry and meat. They have access to some of the best quality products from Britain and around the world, largely due to the good relationships they have fostered with their suppliers since 1996, when they began with the very simple concept of selling high quality frozen foods to their customers right in the comfort of their own homes.  I've been enjoying their fabulous products for over a year now and I have to say I have never been disappointed.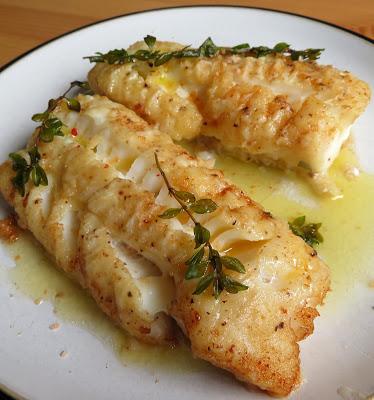 They have been a real God-send throughout this pandemic, with their fast and reliable and efficient delivery and quality products. I have always been able to depend on them.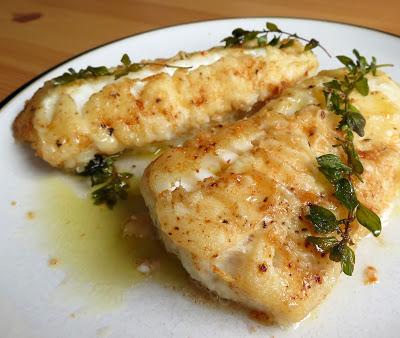 So anyways, although I had not planned on serving fish mid-week, I ended up cooking us some lovely Cod for our dinner that day.  There is nothing more delicious on earth than a beautiful, fresh piece of Cod and theirs is some of the best I have tasted.  We have never been disappointed.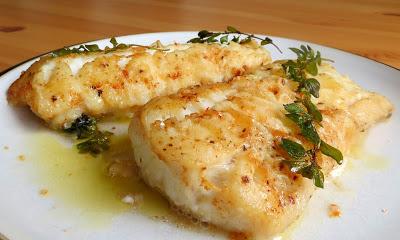 I chose to cook it very simply.  This is one of the easiest ways of cooking fish and yet one of the most delicious. It turns out perfectly every time.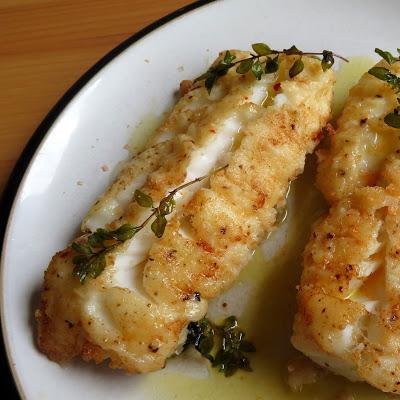 Dusted with flour and seasonings it is simply pan fried in butter along with several sprigs of fresh thyme and marjoram.  You cannot get any easier.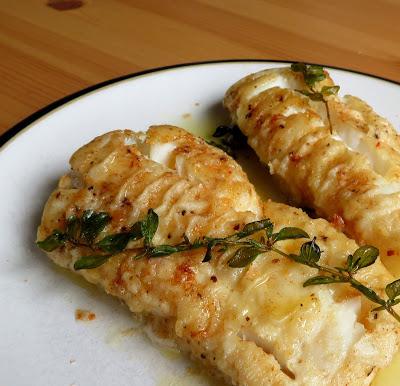 It cooks for two to three minutes per side until golden brown and perfectly cooked.  I then squeeze lemon juice over top.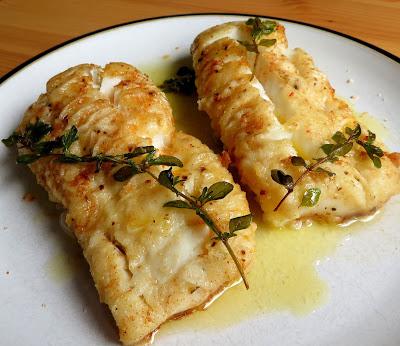 The lemon juice both flavours the fish and then mingles with the delicious juices of the fish in the pan and the butter to create a lush sauce which is beautiful spooned over the finished dish.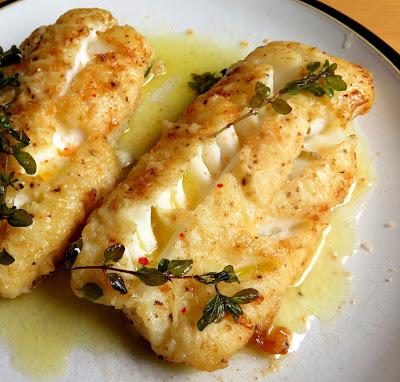 You really don't get much better than this. On this particular day I also sprinkled the fillets with some roasted tomato seasalt that I had gotten with my tomato order.  I thought it would go well with fish and I was right.  Especially Cod.  It was a delicious addition.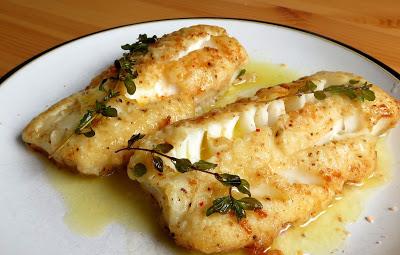 In any case we enjoyed our fish with a simple side salad and some boiled new potatoes.  We felt like we were dining like Kings.  What could have been a tragic accident turned into an unexpected mid-week pleasure!  
Pan Fried Cod
Print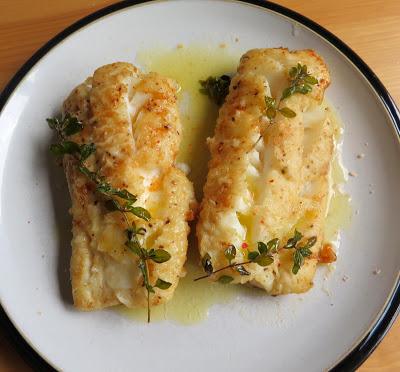 Yield: 2
Author:
Marie RaynerMeltingly tender and sweet cod, cooked  in butter with the addition of several fresh herbs.  Simple, quick and delicious!
Ingredients:
2 thick  Cod loins (thawed if frozen)
2 sprigs of fresh thyme
2 sprigs of fresh marjoram
Some flour for dusting
fine sea salt and freshly ground black pepper
ground sweet paprika
knob of butter
the juice of half a lemon
Instructions:
Dry your cod loins very well with some paper kitchen towelling. Dust each loin lightly with some salt, pepper and paprika. Roll them in the flour, patting lightly on both sides to help it adhere and shaking off any excess. Set aside.
Melt a knob of butter in a large skillet over medium high heat, along with the springs of thyme and marjoram. Once it begins to foam, add the fish, presentation side down, and cook for 2 to 3 minutes on one side, until golden brown. Flip over and cook for a further 2 to 3 minutes, until browned and the fish is just cooked through. (The edges should flake easily with teased with the tines of a fork.)
Squeeze the lemon over top and remove immediately from the heat. Swirl the pan to amalgamate the juices of the fish, lemon and butter.
Divide the fish between 2 heated plates. Spoon some of the butter from the pan and herbs over top of each portion. Serve immediately.
Did you make this recipe?
Tag @marierayner5530 on instagram and hashtag it #EnglishKitchenCreated using
The Recipes Generator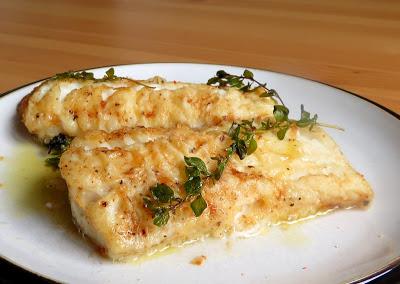 Just look at how nicely cooked that is.  This was one very beautiful piece of fish, thanks to Seafresh.A few things about Seafresh:
Same Day dispatch on orders received before 1 PM.
All packages are carefully hand packed.
Free delivery on orders above £50, £8 on orders below that amount. 
Responsibly and sustainably sourced.
Air

Blast

Frozen at source within 4 hours of being caught.
Wide variety to choose from. 
Do
check
them out on their
website
to find out more.
Follow them on
Facebook
,
Twitter
and
Instagram
.

Follow my blog with Bloglovin