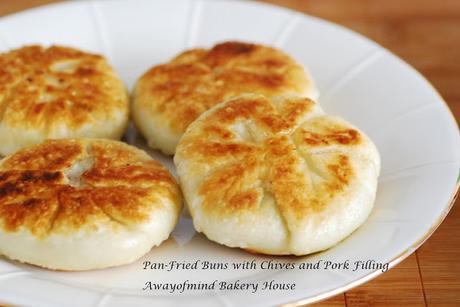 It has been a while since I last make a Chinese bun. This afternoon I made 24 pieces of pan-fried buns with chives and pork filling. This is a delicious juicy meat bun with crispy outer layer. Today the filling is very special because I added about 200g of my leftover roast pork belly in it too! My family love to eat this pan-fried bun with Chinese black vinegar and "Loaganma" brand chili.
The bun dough is without yeast in it, it is consider easy to make.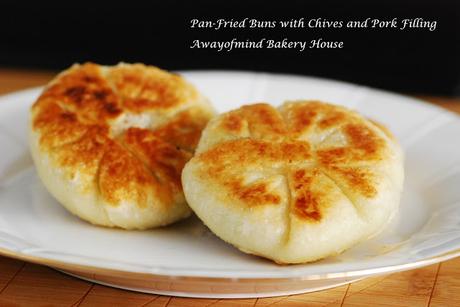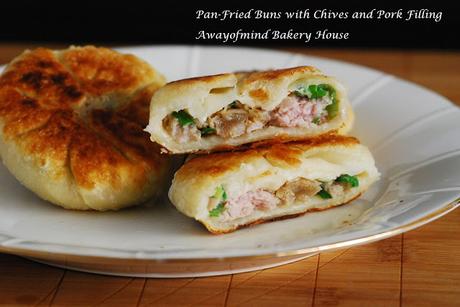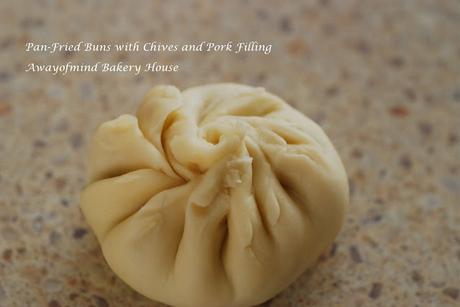 After pleating, use the palm to press on the bun to flatten it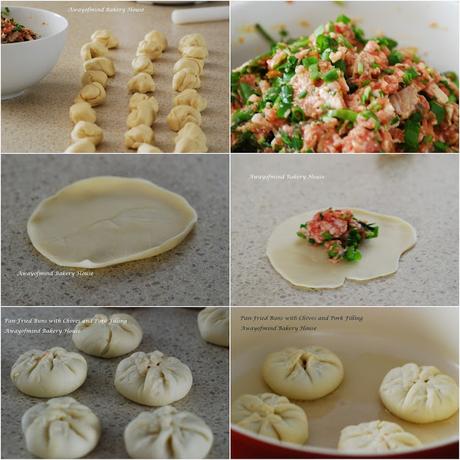 Referring to Carol's recipe with modification on the filling
Ingredients for dough (24 pieces): 
500g all purpose flour
40g vegetable oil
1/2 tsp salt
200ml hot boiling water
50ml cold water (gradually add in, add more if the dough is too dry)
Ingredients for filling:
200g roast pork belly, chopped into small 
200g minced pork
a bunch of spring onion, chopped into small rings
1 tbsp minced ginger
a bunch of chives, chopped into small 
1 egg
Seasoning: 
100ml shao xing jui (Chinese rice wine)
50ml cold water
1 tbsp sesame oil
1/2 tsp salt
1.5 tsp of corn flour
a few days of ground black peppers 
2 tbsp oyster sauce

Method:
1. Prepare filling: In a big bowl, place the minced pork, minced ginger, egg and all seasoning in it. Use a pair of chopstick to stir the meat mixture in one direction until all liquid is absorbed by the meat and the meat turn a bit gooey. Add the chopped roast pork belly, chopped spring onion and chives in it, mix well. Keep in the fridge for later use. 
2. Prepare the dough: In a mixing bowl, place the flour, vegetable oil, salt, and pour in the hot boiling water, using electric mixer, mix in low speed, gradually add the cold water. (on and off use the hand to feel the dough texture, if the dough is dry, add a bit more cold water) When the dough come together and form a soft rough dough, stop the electric mixer. 
Take the dough out and place on a clean worktop, knead the dough with hands until the dough is smooth. Place the dough in a lightly grease container and let it rest for an hour. 
After resting the dough, take the dough out and knead it into a long log, divide into 24 small dough balls. Take a small dough ball, flatten it with rolling pin and place a tablespoon of filling in the middle. Pleat and seal the bun. Use the palm to flatten the bun a bit. Doing the same for remaining dough.
3. Cooking the bun: Heat up a flat pan with 3 tablespoon cooking oil, place and arrange the bun neatly in the flat pan, lower the heat to medium-low, pan fried the buns until golden brown on both side. Serve warm.