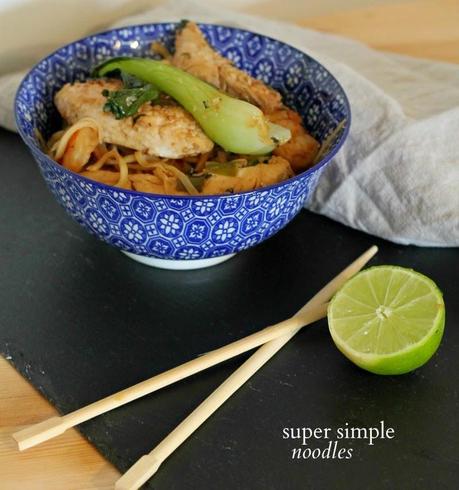 I love me a bit of Pan Asian cuisine. Wagamama and Dim T are two of my go-to chains if I fancy some noodles, ramen or rice and I've been keen to recreate something equally as tasty at home. I love to cook with the fresh, fragrant flavours of Asia - no heavy oil or deep frying needed! I've adapted this recipe from Jamie Oliver's 15 Minute Meals book, it's so simple to throw together and really packs a punch flavour-wise. Here I've used chicken and prawns but we also have it with salmon, and Jamie Oliver's original recipe uses steak. Take your pick! You'll see I have't really stated exact quantities in the ingredients - I explain a little about what I use in the instructions, but feel free to adapt to your taste, and throw in/substitute anything you think would be a good addition.

You will need

Dried egg noodles 

Chicken breasts

Sesame seeds

Handful of prawns

GingerGarlicRed chilliSpring onionsMushroomsLime juiceCorianderSoy sauce (reduced salt)Hoisin saucePak choi
Start by coating your chicken - I use a breast per person, cut into strips - in sesame seeds before frying a little oil or Fry Light. If you're using salmon, pop it in some foil and in the oven for about 20 minutes until cooked through. Rub a little five spice on if you fancy! Into the chicken throw in a couple of crushed garlic cloves, a squeeze of ginger paste (I use this), a handful of chopped coriander, a chopped red chilli, a few diced spring onions and mushrooms and a squeeze of lime juice. Cook all together on a medium heat until the chicken is cooked through. 
In a separate pan cook your noodles in boiling water according to pack instructions. 
Add a couple of tablespoons of soy sauce and a couple of hoisin sauce to the chicken and vegetables, stir through and then throw in your prawns (I use frozen cooked prawns, defrosted in a bowl of water) and pak choi. Leave to cook on a medium heat for a few minutes until the pak choi has softened and prawns have turned pink and opaque. Drizzle on a little more soy sauce if you think it needs it. Drain the cooked noodles and stir into the pan with the chicken and sauce. Serve in warm bowls with another squeeze of lime juice.
Most of Jamie's 15 minute meals seem to take me far longer than 15 minutes to cook, but this really doesn't take long at all! There are a load of shortcuts you can take to ensure you have these ingredients ready to use after a busy day at work: ginger paste, frozen chopped chillis and garlic, freezing your own coriander cubes or this frozen coriander. I buy my frozen prawns from Lidl (around £2 something) which I keep in the freezer and just grab a handful when I need them. 
For those Slimming World folk interested, everything in this meal is free (even the noodles!) apart from the hoisin sauce, which is two syns per level tablespoon. Make sure you use Fry Light rather than oil.