This was my first time at an Aloft property and I must say I was thoroughly impressed. This star property at Marathalli (inside Cessna Business Park, Bangalore) is known for being the most vibrant, colorful and lively among all. The lobby is beautiful and free for anyone to walk in and enjoy the small joints like Re:fuel or W XYZ Bar. Aloft also houses, its signature restaurant 'Nook' that works on a global cuisine model and changes it menu every few weeks. The ambiance at 'Nook' replicated that of the property and is simple pleasing. We visit Nook to try the 'Pan Asian Food Festival', which accumulates the very best of Asian dishes into one spread.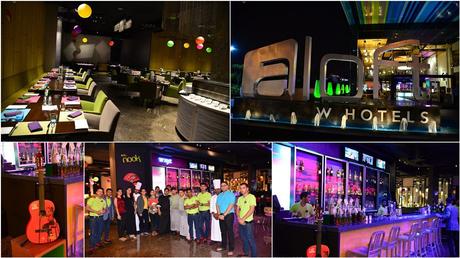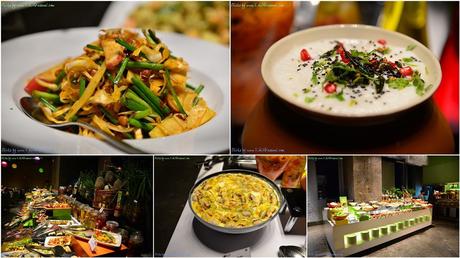 The kitchen is headed by Chef Sandeep Kumar who has managed to give customers variety as well as great taste at the same time. The range of dishes span from India to China and from Japan to Middle-East. The buffet had more than 10 types of salad and I loved the Thai Raw Papaya Salad. It had the right amount of sweetness and well balance texture from the Raw Papaya and peanuts.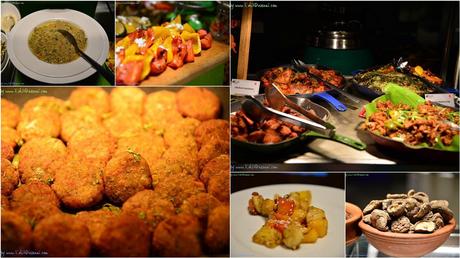 We also tried a variety of signature cocktails from the W XYZ Bar. The Classic Mojito was truly legendary with fresh mint, lime and orange. Also loved Park Avenue, Black Russian, Mellon Martini among others. The W XYZ Bar is the perfect place for quick bites, amazing ambiance and delicious drinks. The bar also showcases a live band every Wednesday! You can simple spend hours here and enjoy your evenings.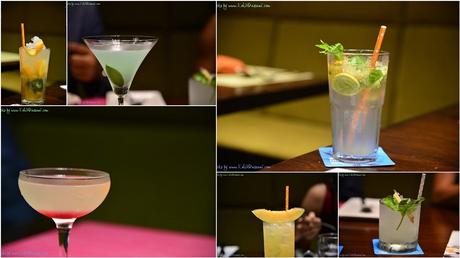 The range of appetizers is also wide with the addition of a few live counters. We tried the Seekh Kebab, Vegetable Dumplings, Hummus and Baba Ghanoush with Pita Bread. But the best was the Vietnamese Spring Rolls made with transparent rice paper. The whole dish was just stunning and I can eat them all day long! My other favorite was the Mongolian Fruit Salad made at one of the live counters. The fruit salad was cooked in caramel and tossed with brandy and finished with sesame seeds. Look at the video below: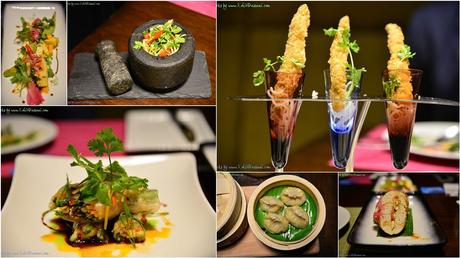 The main course also had a wide variety of dishes from Indian, Chinese, Korean and Thai cuisines. Special mention about the Korean noodles which had a very unique taste and texture. You also get plenty of Indian gravies to try different bread with like Rotis, Naans and Parathas.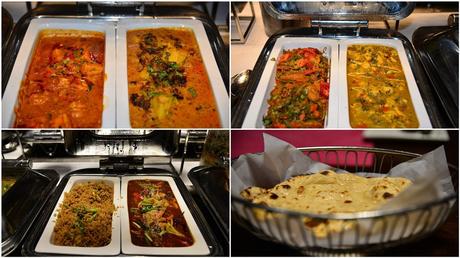 One of the best instant to look for in any buffet is ofcourse the desserts. And at 'Nook' desserts take the center stage. The Chef created a special dessert for us, out of which the Tub Tim Krop was exceptional. I was so impressed with it that I ordered another. You can also try different cakes and pasteries, icecreams and not to mention a variety of baked items. I loved the Pineapple sandwich and the dates cake along with Gajar ka Halwa.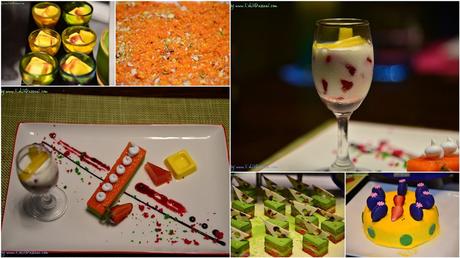 The Pan Asian Food Festival should be on your weekend list simply because of extraordinary spread and taste. Thanks to Chef Sandeep for all his amazing creations! Also thanks to Ms. Saranya and Mr. Ahmar for their hospitality.
Pan Asian Food Festival – Aloft
Date: 14th March till 24th March 2017 (between 12 to 3pm and 7 to 11pm)
Price: 1099 + taxes
Aloft – Nook – Pan Asian Food – Scorecard –
Food/Taste – 9/10
Service/Hospitality – 9/10
Value for Money –9/10
Ambiance – 10/10
Quantity/Quality – 9/10

Overall Rating – 4.6/5
Stunning dishes and colorful spread.