This year has gone by so fast for both Pammy and myself, partly because it has been so eventful in a positive way. For Pam, it has been an incredibly busy year, partly because she has been working hard to complete the 52 paintings which are on show now at the Eden Gardens Art Gallery, which is inside the Eden Gardens Centre on Lane Cove Road in North Ryde, here in Sydney.

edengardens.com.au
Tomorrow afternoon (Sunday December 8) from 2-4pm we are having a nice little 'opening' event (with the usual gourmet cheese, wine and crackers) so if any gardening blog readers who are in the area want to come along and say "hello", please feel very welcome to do so. I'd love to meet some of my blog readers, and so would Pammy.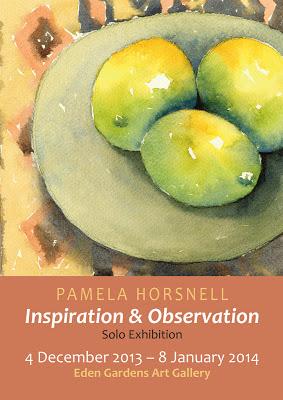 Here's your official 'invite' to the show. It's
on from now until January 8, so there is
plenty of time to pop in and have a look.
Pictured below is a small sample of Pammy's work that will be for sale at her solo show (an original artwork makes a great Christmas gift!). She works in a variety of mediums, including watercolours, pencil and linocuts, and her treatment of each subject differs depending on how she responds to it. You can also see more of Pam's artwork at her new website,
www.pamelahorsnell.wordpress.com
AND, Pam will be back at the Eden Gardens Gallery on December 22, from 2-4pm, doing a demonstration of how she works. So if you can't make it to the opening tomorrow, this is another good opportunity to pop in and say hello. We'd love to meet you.