Wow, what a wonderful day it was! Pammy's first solo art exhibition, and at the end of the first day she has sold 16 of the 32 paintings in the show.
Such a thrill for both of us, and the memorable bonus on the day was the stream of friends who showed up to say hello. Such a lovely, friend-filled day.
We're already talking about Pammy's next exhibition, when we get back from America. But before we get too far ahead of ourselves, here's my little blog-report on this marvellous day for my darling girl (and if Sydney readers are interested in having a look, you can combine it with some garden shopping, as the exhibition is at the art gallery that's within the Eden Gardens centre on Lane Cove Road, North Ryde, and it's on from now until September 28). On with the show...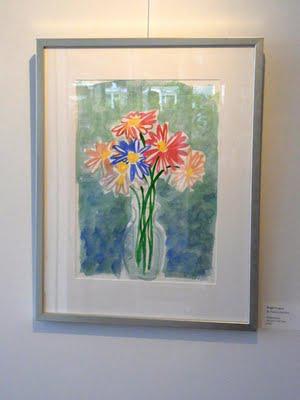 Three friends wanted to buy this one, so it was first in best dressed (well done, Eric and Jane!). It's not exactly typical of Pammy's work, but then again, the theme of her first exhibition was the diversity of styles she works with.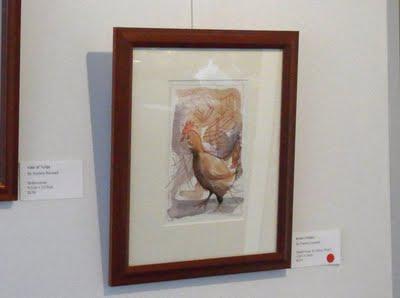 The red dot shows that it's 'sold' and this very simple one of a chook actually sold before the show even opened; the person setting up the exhibition liked it so much she bought it that day. Pammy came home beaming from the 'set up day', saying "I've already sold one!" She had such low expectations that this sale was almost a shock to her. 'Nonsense darling, you'll sell heaps of them', I opined, and for once I've been proved right!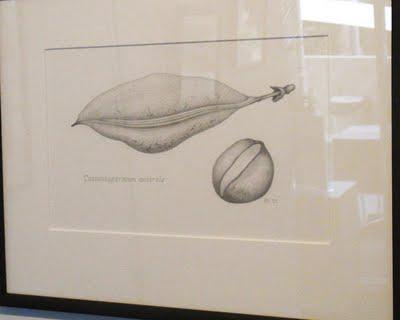 Pam found this giant bean pod (it's over a foot long) in a local park and liked it so much she did a drawing of it. Over the week or so that she did the drawing, the pod opened and the seed fell out. It's from Castanospermum australe, the black bean tree, a native of Australian rainforests.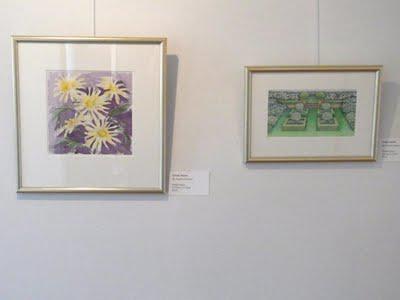 This and the next few shots can all be entitled 'different styles' because that's what's on display.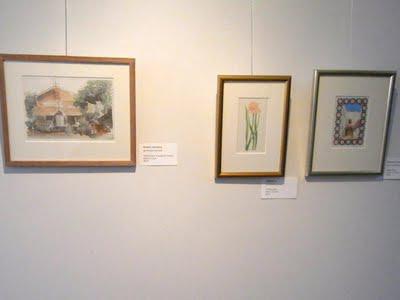 The one on the left here is one of her '10-minute' paintings, done as quick watercolour impressions as practice for our travels. She's bringing a traveller's painting kit with her to America, a small watercolour pad and we'll see what she comes up with when we get back. (Well, hopefully I'll at least get some sneak previews along the way, but me hovering while she's painting isn't exactly a good move on my part.)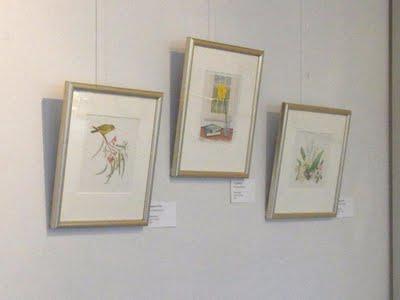 The one on the left here was another popular one where one friend gazumped another by buying it while the other lined up to buy. It's of a native noisy miner on our Eucalyptus leucoxylon 'Rosea' street tree.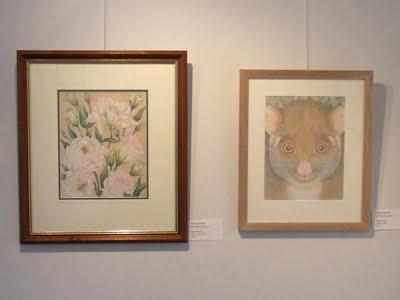 One the left, some of Pammy's favourite flowers, lisianthus, and on the right, hello possum.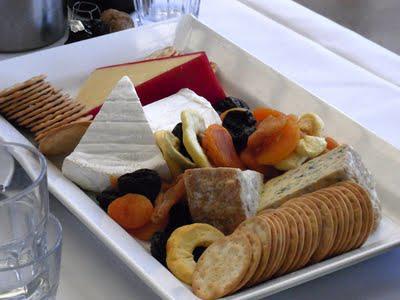 It being her first art show, Pammy did everything right. Cheese platter? Tick!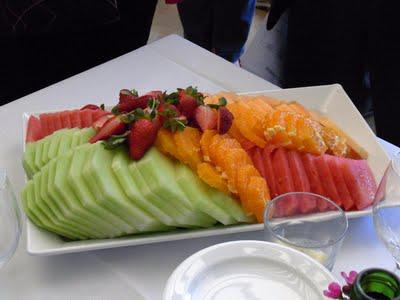 Fruit platter? Tick!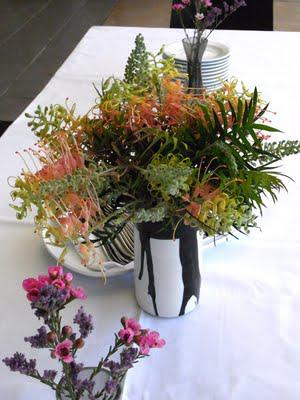 Flowers for the table? Tick! Well, to give credit where it's due, the fab fruit and cheese platters (along with champagne, wine and mineral water etc) were supplied by the very friendly and efficient caterers at the Dragonfly Cafe at Eden Gardens, who do a booming business in lunches at their very pleasant (and quite big and airy) cafe. Even when we came up midweek to hang the paintings, the joint was jumping, so it's a popular spot for people to do some quality garden shopping, then adjourn to the cafe for equally good quality refreshments.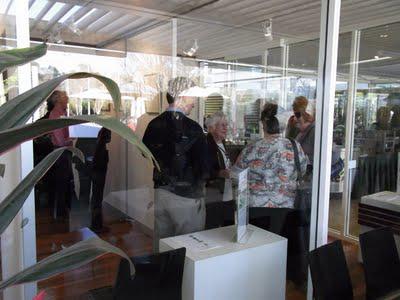 We had friends dropping in all Saturday afternoon, and that was such a big part of making this day so memorable.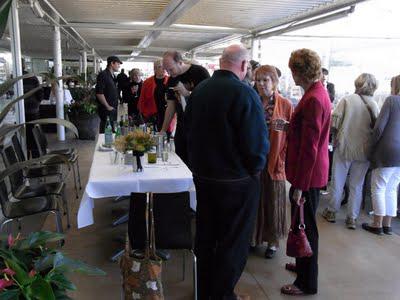 Pammy had sent invitations far and wide, hoping that a few would come, and virtually everyone she contacted showed up. It was like being at a wedding, seeing so many old friends who we hadn't seen for a couple of years (one old motorcycling mate of mine, John and his wife, Deborah, we hadn't seen for 10 years, even though the Christmas cards have been flowing steadily all that time. I guess the lesson is 'never lose touch with old friends' and the longer the gap between get togethers just makes those grand reunions all the more wonderful). So a big thanks to everyone who took the trouble to come along (some drove over 100km to the show), but it was also such a pleasure for Pam's mum, also an accomplished artist herself, to be there to see her daughter's first art show go so well.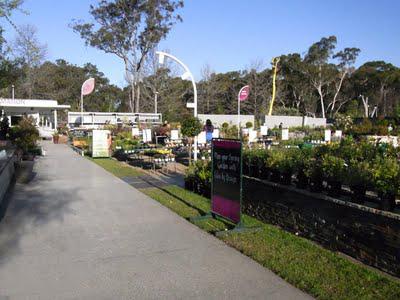 Before I sign off, for Sydney readers I can easily recommend a visit to Eden Gardens if you haven't been there already. It really is an exceptional garden centre, very big, beautifully laid out and a lovely spot to visit for a bit of garden browsing and relaxing afterwards in the cafe.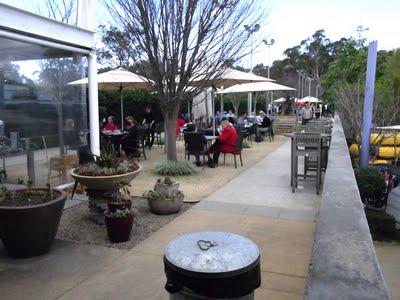 As I mentioned earlier, the Dragonfly Cafe is large and well-run. There is plenty of indoor seating, but the dining areas extend out into the gardens as well. Everywhere you look there is garden art and interesting planters. They've done it so well here.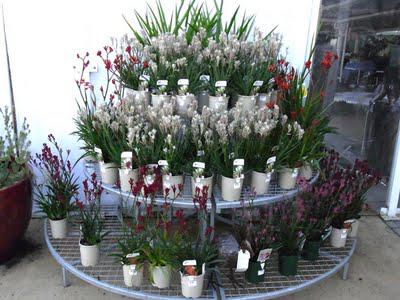 They present plants for sale very pleasingly in so many spots, but this stand of kangaroo paws caught my eye, and judging by the gaps in the display, it has caught the eye of shoppers there, too.
Finally, for Sydney readers, a linky to the

Eden Gardens website

, which includes info on getting there, plus in the 'What's On' calendar section, a little rundown on Pammy's exhibition.