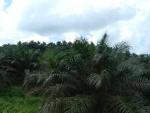 Palm oil is found in an increasing number of products on our supermarket shelves from our daily foods to cosmetics, baby products and even pet food. Sadly it is almost impossible to determine which products do actually contain it as palm oil is rarely labelled as such but is instead masked as vegetable oil or fat or a multitude of other things in cosmetics.
We all know that palm oil plantations have contributed to drastic deforestation in biologically sensitive areas particularly in Malaysia and Indonesia, with the biggest concern being that much of the palm oil that is grown is done so un-sustainably and even illegally in some cases. Travelling through areas in these countries can result in passing through areas of over 100km where nothing other than palm oil plantations can be seen.
Please visit the A-Z Animals Palm Oil Campaign to find out more about the industry and to sign the petiton to change labelling legislation so that Palm Oil would have to be listed as such on product packaging rather being masked as other things.
The following gallery shows oil palm planatations in Malasyia and Malaysian Borneo both from the air and on the ground. All images are the legal property and Copyright of A-Z-Animals.